Giving Back
The Bride's Guide to Fabulous Wedding Favors
Truly great wedding favors have one or more of 4 essential qualities. They're  either edible, practical, useful or unique—preferably all 4 combined! Some couples feel that their souvenirs are essential because they're the most tangible connection guests will make to their wedding. For sure you'll want your guests to love their takeaway gifts, so your wedding favors need to be either useful so they won't be discarded or consumable so they'll thoroughly be enjoyed.
When brainstorming wedding favor ideas, ask yourself the following questions:
Is this item edible and/or useful in everyday life?
Will I find it—or the materials for it—in most stores?
Is it easy to customize or personalize?
Would I like to get one of these

myself

?
If your answer to all four of the above questions is yes, then your idea will most likely make for a great souvenir.
You can either customize store bought favors or have fun with DIY souvenirs, but your decision hinges on what you want your guests to remember most. Personalized store bought wedding favors commemorate the date in an enduring way while handmade souvenirs are definitely a gesture of gratitude and express your appreciation for the time that your guests took to celebrate with you.
Check out these ideas for wedding souvenirs and favors that will make your wedding truly stand out in your guests' memories: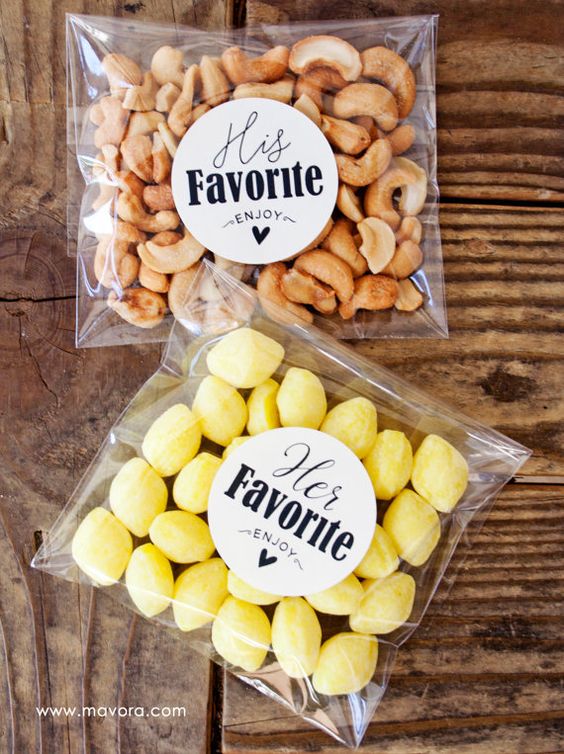 Food items are always a practical choice for a wedding favor, and they can be customized to your heart's content. You can add a touch of the romantic by offering honey in little vials to symbolize the sweetness of a newly married couple sharing their lives with one another.
Candies and mints are perhaps the most popular choice, and both the container and the candies themselves can be personalized if you wish. You can package heart shaped mints in a heart shaped tin, or make old-fashioned Bomboniere—favors wrapped in net—but use monogrammed candies instead of almonds.
Creative Idea: Check out M&M's totally customizable wedding candies—you can even have them imprinted with your photo if you want!
https://www.mymms.com/category/shop+by+celebration/wedding.do
Coffee—either beans or already ground—is an excellent choice, and you can either personalize your own blend or order something not usually available like Ethiopian beans or pure Hawaiian Kona. Loose tea leaves can also be blended in an unusual combination for a one of a kind brew.
For the ultimate personal touch, make homemade treats in your kitchen. You could make a special granola, bake your favorite cookies or even make condiments like ketchup or infused cooking oil. Wedding favors created in the kitchen by the two of you are a wonderful way spend quality time together.
There is one mandatory rule when it comes to homemade edible treats, though: Taste Test before Giving!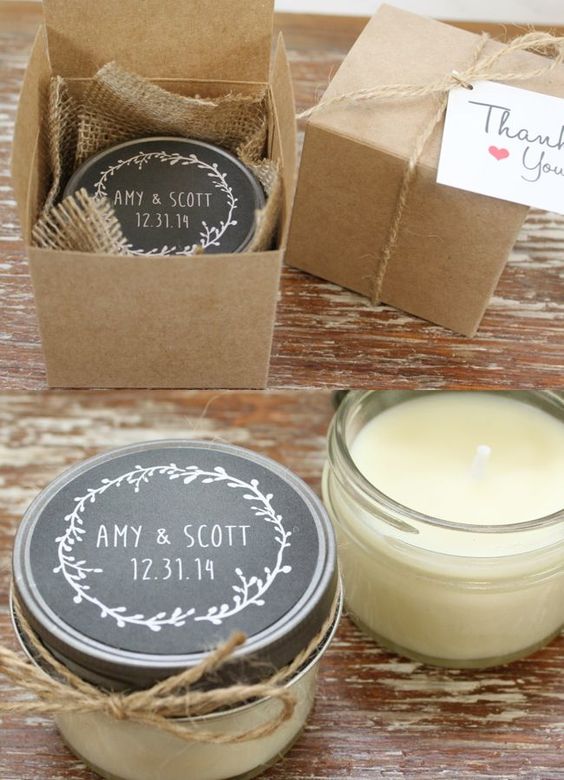 If you want something to remind your guests of your wedding farther into the future, give them something useful for their office, car, or home. You can choose anything from scented candles to bottle openers to flash drives to calendars.
Either choose something you can engrave with your names or initials and the date of your wedding, or opt for something neutral that goes with your wedding theme and doesn't need personalization. Sunglasses and hats are fabulous for an outdoor wedding. Decorated tote bags are useful and will work for any theme. Scented candles, artisan soaps, and lotions are perfect for destination weddings. You can put a few of these in a tote bag and then add small hand towels in your wedding colors to make a complete travel kit.
Shot glasses or stemless wine glasses are ultra-classy and can be engraved any number of ways—monogram, names and date, even a short quote.
Tip: If you like the idea of customized drinkware and want something fun for a casual reception, consider plastic cups. You can get anything from a simple 8-ounce cup to plastic champagne flutes. http://crazyaboutcups.com/index.php/personalized-clear-plastic-cups.html
Tiny plants as wedding favors, perfect for a garden wedding or a woodsy outdoor celebration, symbolize the start of a new life and also represent the concept that love must grow. You can give miniature cactus or air plants that can be kept indoors, or herbs like mint or basil in starter pots for either a windowsill garden or to plant outside. If you're having a beach wedding, you can add a tiny starfish or seashell or use crushed seashells as mulch.
For a spiritual touch, give coffee mugs customized with your initials and wedding date, then add either a short Bible verse or the scripture reference that you used in your ceremony as your wedding theme verse.
For wild wedding bashes, burn custom CDs with the dance playlist from your reception, and put out clever hangover kits with all the essentials for the morning after.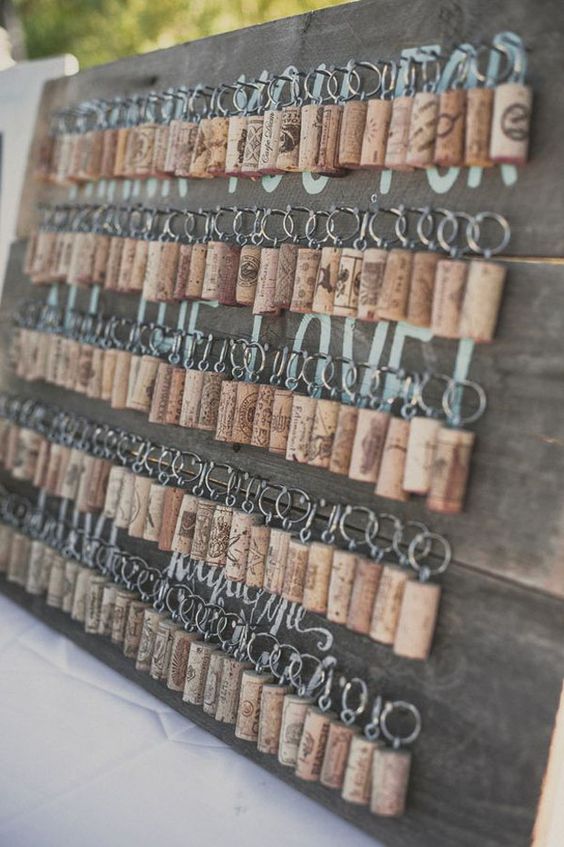 Glass stemware engraved with your wedding date and initials are lovely, but for an intimate reception how about stemless chalkboard glasses that can double as escort cards? For the connoisseur set, give a decorative cork along with an engraved wine bottle opener.
If your friends love to play card games, give out decks of cards with a photo featuring the two of you in your wedding attire, a classy portrait from your engagement shoot, or a clever wedding design in your theme colors with your names and the date.
Here's a link for all kinds of decorated wedding playing cards:
https://www.customwedding.com/cards.htm
When it comes to choosing the best favor for your wedding, don't let your budget stand in your way. The majority of souvenirs require much more love, time, and creative effort than money, and making things together is a wonderful way for you and your partner to forget about the other details of planning your wedding and just spend time together. DIY projects are also an excellent way to take the edge off the stress that naturally comes with anticipating a wedding.
Your souvenirs can even be as simple as buying your favorite candy or chocolates and packaging them in a tiny paper bag, then attaching a tag with  your wedding date and initials.
Whether your wedding favors are store bought or homemade, for sure they'll be treasured by your guests as a reminder of the love you shared on your special day. So get personal with your souvenirs! Let your choice of favors reflect who you are and what you're interested in as a couple. After all, these little giveaways commemorate the new life that you'll begin together on your wedding day, so take time and find a way to make them your own!
For more ideas on wedding favors by theme, check out our blog on the Top 10 DIY wedding favors: http://www.davincibridal.com/blog/top-10-diy-wedding-favors-to-make-at-home/
Check this out for ideas for wedding favors by wedding theme: http://www.davincibridal.com/blog/wedding-favors-for-every-theme/