The thought of planning your wedding usually brings a load of traditions you've seen your friends and family adhere to, but must all wedding day traditions be strictly followed? Not necessarily! There's no reason why modern couples can't ditch some old customs and start new ones of their own. You can add plenty of personality while still keeping you wedding classy and elegant. There will always be some traditions you'll want to stick with because after all, "something old, something new, something borrowed, and something blue" is just too good to let go of! But let's bust 5 of the most common bridal myths, and see how you can add a new take on them for your big day.
Myth No. 1: All Your Girls Need Glitz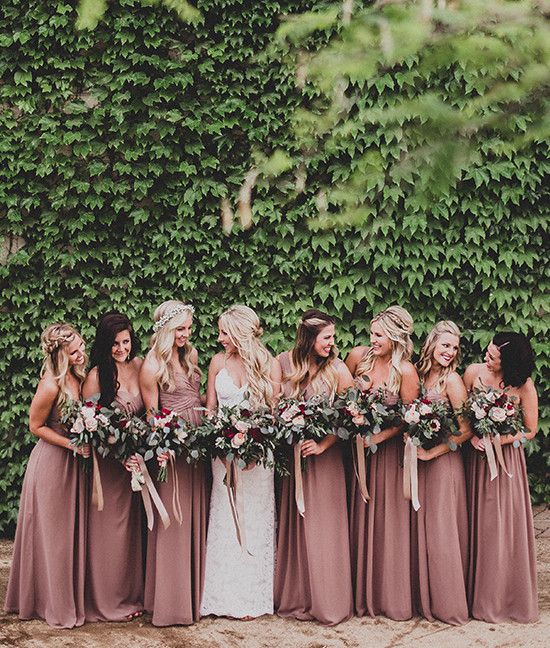 Once you've looked around a while, you'll notice that the standing trend is to outfit your entourage in sequined and beaded gowns for a traditional ceremony. Otherwise, you fear you'll be told the dresses are "not formal enough." It's easy to buy into this myth that your wedding will look less elegant. But contrary to popular belief, the simplicity of a gown can actually make your bridesmaids look just as sophisticated, if not even more so.
A newer trend in bridal fashion that you'll see even in celebrity weddings is the beadless gown. Unadorned dresses made of quality fabrics give off a younger, freshe, and more effortless look. Besides, the simpler the dress, the more your girls can glam it up themselves and show even more personal flavor! They'll feel more free to spice up their own outfit with a trendy hair piece, some statement jewelry or even a decorative evening bag.  
Myth #2: Matching Bridal Shoes are Obligatory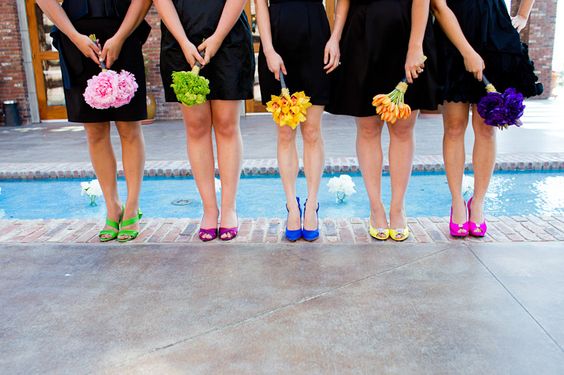 Starting in the 1980's and continuing through the early 2000's it was considered almost mandatory for a bride's wedding shoes to match her dress perfectly. Not only were shoes dyed to match, but some brides took it as far as to use the same dress fabric and turn it into a pair of shoes for their big day. The styles available were also limited mostly to pumps and classic kitten heel sandals, and if there were switch out reception shoes, they were usually plain ballerina flats.
But in 2016, an era that may well be the most fun to be a bride, so many designers and boutiques are promoting individual style that choosing the right pair of shoes—in just the right color, style and embellishment—has easily become just as important as the dress!
Although we still admire and will always pay respect to the traditional white/cream/nude bridal shoe, nowadays it's more than acceptable to go for a pair out of the ordinary. Incorporating modern designs, a rainbow of colors, and more textures that you can count, the wedding day shoe has been elevated to the status of a crucial symbol of individual personality. And if you can pick a pair for your wedding that you can use long after the wedding, you'll get even more bang for your bridal shoe buck!
Fun resource: If you want a pair of affordable knockoffs of Carrie Bradshaw's Manolo Blahnik Something Blue wedding shoes, check out this site. It's got the Manolo knockoff pair, plus a dozen more fabulous Blue Shoe styles that will knock your bridal socks off! http://www.thebrokeassbride.com/tag/manolo-blahnik-knock-off/
Myth #3: Bigger is Always Better (we mean your Dress)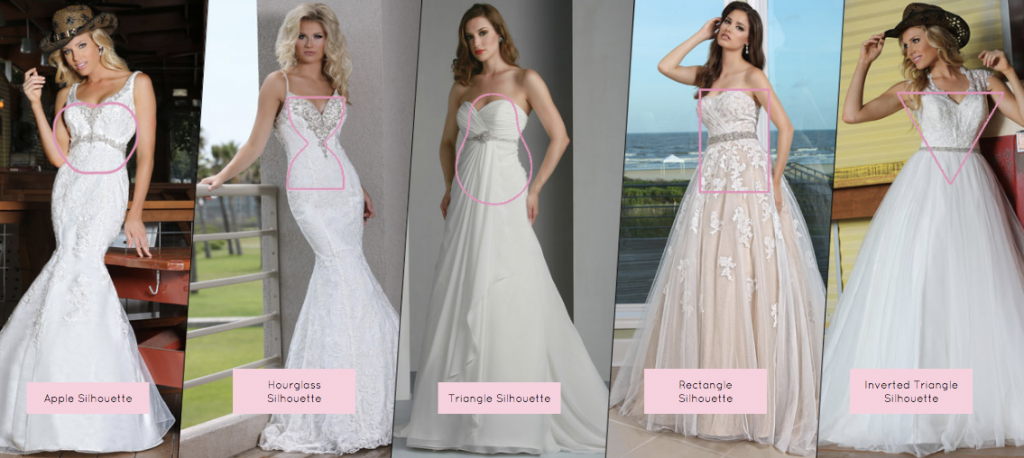 Desiring that perfect beginning to their happily ever after—and heavily influenced once again by the British monarchy via Kate Middleton, as well as far too many recent princess movies—many brides feel that they must opt for an over the top ball gown. While we have nothing against the concept—because seriously, what little girl hasn't had at least one wedding fantasy involving a dress straight out of a fairytale?—in reality, bigger does not always mean better.
Your body type is a crucial consideration when choosing the most flattering wedding dress because, believe it or not, not every woman looks good in a ball gown. For example, if you have a pear-shaped figure, or an inverted triangle silhouette, a dress with an A-Line profile would probably work best, as opposed to a dress with a heavier skirt.
For some excellent advice and guidelines as to which dress styles look best on which body type, check out our style guide:
http://davincibridal.com/style_guide.php
Also, while we're on the topic of selecting the perfect wedding dress, tradition also holds that brides should only marry in white, or, at the very least, a pale pastel. But much like the myth that lies behind your bridal shoes, today's bridal attire comes in an entire array of different colors and cuts.
Myth #4: Flower Girls are Just Flower Girls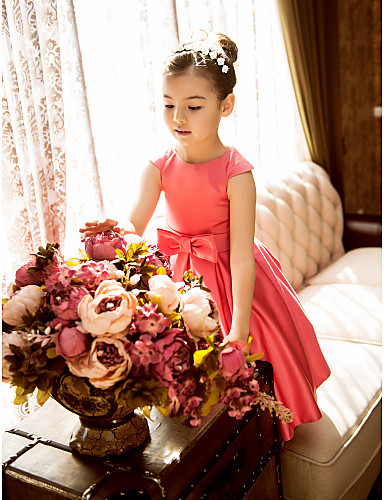 With the power of social media sending everyone into a frenzy, the eyes of guests are no longer solely on the bride, but also on the adorable flower girls and junior bridesmaids in the wedding party. Their innocence is immediately captivating, and often their antics will spark an instant good mood in everyone. After all, what could be cuter than a confident little girl strutting her stuff?
So just as you've ditched the idea of a white princess dress complete with glass—rather, exactly matching white—slippers, embrace something fresh, new and colorful for your younger attendants, too! Pastels are still charming, providing the design has a lot of personality. But if you want something more modern and up to date, go for bold and vibrant colors. Then compliment this contemporary look with a traditional flower crown, and you'll have an entourage truly worth watching!
Myth #5: Simple Suits are Too Informal for a Wedding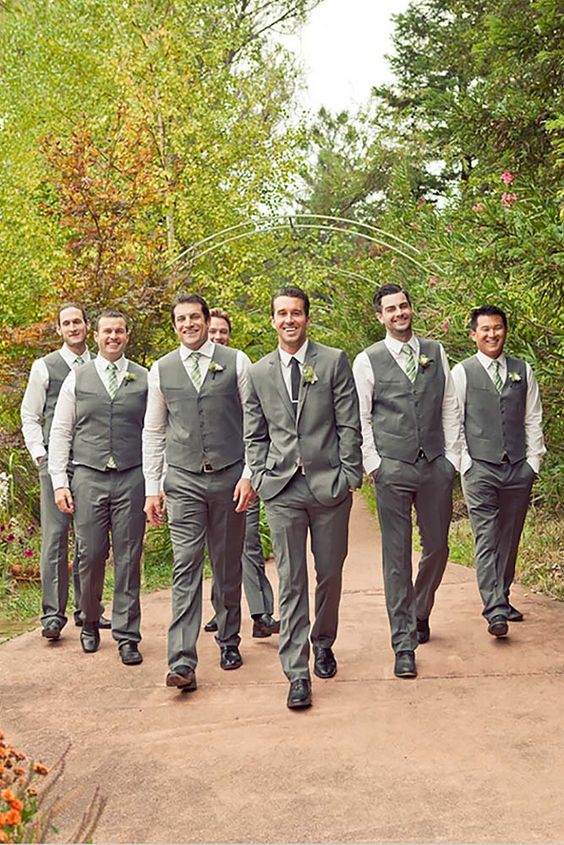 Tradition has it that grooms should either dress  to the teeth in tuxedos or, if he just has to wear a suit, it should have a gleam like sharkskin. But remember, the wedding is his as it is as much yours. So if you want your modern groom looking dapper and straight out of a men's magazine, try suggesting something a bit more "wedding unconventional." Maybe a nice linen shirt paired with a light jacket for your outdoor wedding, or even a gray suit if it won't be too warm.
Now, we know what you're thinking; Will this be formal enough for a traditional ceremony? Absolutely, and you'll even have your groom feeling dapper because he's comfortable!
Also let him suggest accessories, like the color of the ties or suspenders or vests minor jackets for his groomsmen. If you as the bride can have fun with your dress, there's no reason your groom can't display a little creativity of his own!
So that's a wrap on the 5 myths we really do think you should bust. We hope we were able to give you a new perspective on how to ditch the old and add something a little more fresh and cutting edge!
Love the looks we used? Shop for your own through our website:  www.davincibridal.com.