Theme & Decor
The Ultimate Guide to Save-the- Dates and Wedding Invitations
In spite of the fact that almost all your guests will have heard of your engagement and/or wedding already, and will know a lot of the details as they're made, it's still best to send out formal save-the-dates and wedding invitations. These two things make the announcement of your wedding official, and you want them to speak well of you, your groom, and the wedding itself. Also, a lot of people love to keep a wedding invitation as a souvenir, which makes this one of the must-haves on your wedding to-do list.
Depending on your wedding date, consider sending save-the-dates early. Especially if your wedding will be held during a long holiday, or is a destination wedding, it's best to send out save-the-dates about nine months before. This will give your guests plenty time to pen (and not just pencil!) your wedding into their schedules, and make all the necessary plans to attend. On the other hand, if your location is easily accessible, six months' notice should do, just to make sure that your guests won't inadvertently plan something else for that day.
Send save-the-dates to the people you especially want to see at your wedding and share the day with. While you don't necessarily need to send all your guests save-the-dates, do send them to close friends and relatives, including the wedding party. After all, the whole point of sending these out is so that they can block off the time to make it to your big day.
Because most details won't yet be finalized by the time the samples go to print, there isn't much information you can put on your save-the-date. However, do make sure to include your name and your groom's, the date, whether it'll be a morning or afternoon wedding, and the general location even if you're not quite sure yet.
The save-the-date doesn't need to be grand or formal. If you haven't chosen your theme yet, it doesn't need to match your wedding invitation. You can even use the save-the-date to try out a theme and see if others like it. You can also use the save-the-date to let people know a bit about what kind of couple you are, or showcase a common interest you share with your groom.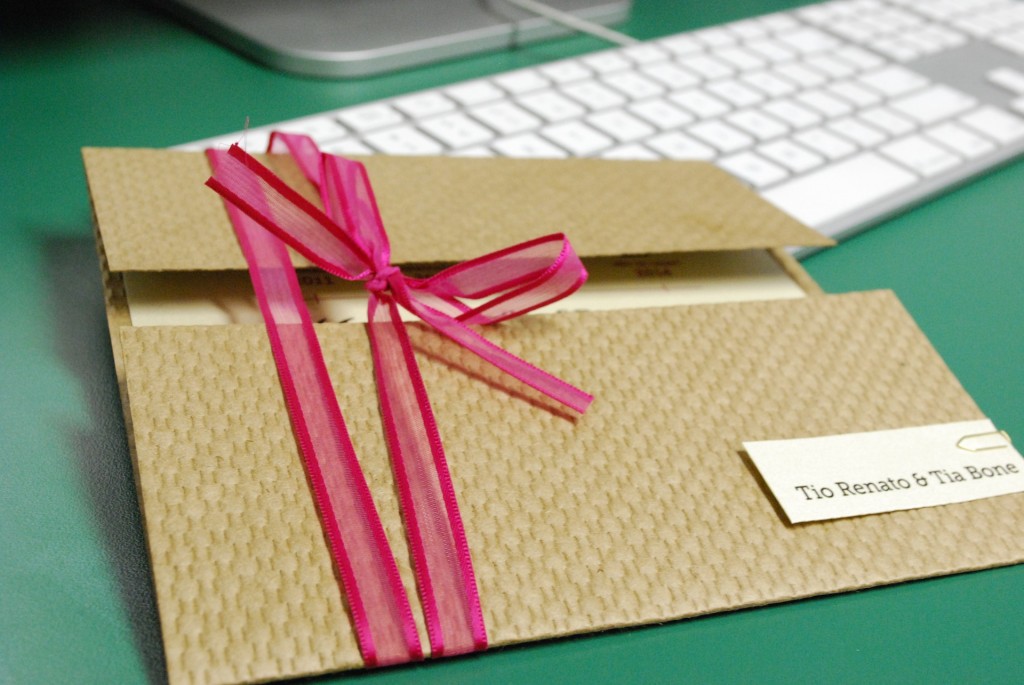 Wedding invitations set the style of your celebration. With this said, the invitations need to match the formality of the wedding itself. Especially if you're having a black-tie or cocktail event, make sure your invitations set the stage.
You can certainly incorporate your theme and color scheme into the invitation. Don't feel you have to succumb to the pressures of a classic color – e.g. white, cream or ivory – simply because it's classic. You can play up the colors from your bouquet, or your bridesmaid dresses, or the location of your ceremony or reception.
You can also get creative with the invitation design. There's more involved than just choosing a font. You'll need to take into consideration borders, images, and the cut and texture of the paper stock. A 4.5-inch by 6.25-inch rectangular card is typical for a wedding invitation, but again, you don't have to stick with tradition. Some invitations these days are circular, square, or have scalloped edges.
No matter what the design, make sure the font is legible. If you're having doubts whether or not that 'C' may look like an 'E,' or if the yellow lettering can be seen against the white paper, consider a different combination. Not all your guests will have an easy time deciphering the text. Be careful when choosing the font and the color. A general rule is that, if the text is darker, use a lighter background and vice versa. It's much harder to read pale text on a light sheet of paper.
Set your deadline for guests to RSVP no later than two full weeks before the wedding itself. This is the one time tradition counts and counts to your advantage. You need time to finalize seating arrangements and give your caterer and location manager your final headcount.
Follow the Who-What-Where-When rule when placing text on the invitation card.
Who: the names of you two who are getting married (if a formal wording, then also your parents' names).

What: although it should be obvious, you do have to indicate somehow that it's a wedding.

Where: the specific location (sometimes the full address) of both ceremony and reception.

When: the specific date and time of the ceremony.

The RSVP card should also include the name and phone number of whoever you've put in charge of helping you keep track of who's coming. That person can also field any general questions guests might have.
Triple check the samples and the drafts! Make sure all names are spelled correctly, that the grammar is dead-on, and the information is correct.
The general rule is: Everybody gets an invitation. However… You really do need to give one to your parents and each member of the wedding party. That's just good form. But to save a little money, if you have entire families on the guest list, you can send just one formal invitation per household.
Consider ordering your menu cards, programs, and thank-you notes when you finalize the order for the invitations. This will ensure a consistent look and will help you wrap up your theme very nicely.  
As a general rule, it's considered extremely bad form to list your gift registry on the wedding invitation itself. Guests will ask your folks or your friends or members of the wedding party where you're registered. They could also talk to the RSVP person you listed on the invitation.
Remember: If you send a save-the-date, that person gets an invitation as well. So keep track of your address lists, and triple check them, too!
Hint: The person you list as your RSVP liaison could double as an invitation address checker and make sure everyone on the save-the-date list is on the invitation list. This is also a great job for someone who you really wanted to include in the wedding party but just didn't have room. Also, to make them feel truly included, make a point to thank this person publicly at the reception.