Depending on where you are in your planning, you might need help. But Day-of Coordinator or Wedding Planner: How to Choose the right one to help you?
Your choice will probably depend on how many people you want to invite, but do you really know the difference between a day-of wedding coordinator and a wedding planner?
Some couples who don't know the difference end up hiring either one or the other without thinking it through & are then disappointed on some level.
To help you to make the best decision, let's talk about the specific differences between a wedding planner and a day-of wedding coordinator and how each one can—and can not—help you with your wedding.
Day-of Coordinator or Wedding Planner: A Fun & Easy Example from the Movies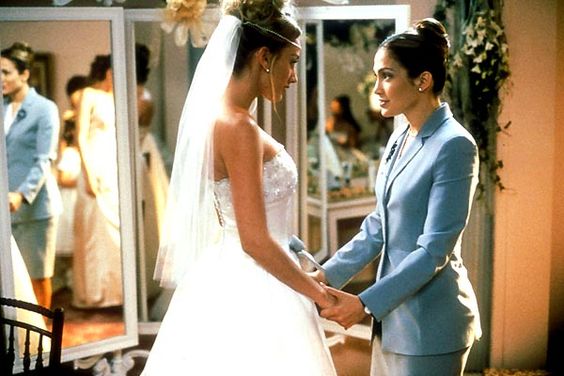 Have you ever seen the movie "The Wedding Planner" with Jennifer Lopez? In the opening scene, Jennifer—who plays a full-time start to finish wedding planner—is shown with an earpiece running around orchestrating everything. She straightens the floral arrangements, calms the nervous bride, and cues the bridesmaids. That is what a day-of wedding coordinator does: Runs your wedding day like a Broadway stage manager.
But Jennifer was also a regular wedding planner, helping to choose flowers and invitations and venues, etc. So let's talk about the difference between these two roles—which Ms.Lopez played to the hilt!
Wedding Planner Overview  
Unlike you, your wedding planner will look far from glamorous. He or she spends most of the time in flat shoes and work clothes, usually with a Bluetooth permanently attached to one ear and a cell phone with instant messaging super-glued to one hand.
This full-service person is responsible for helping you throughout the preparation of your entire wedding—from sending invitations, talking to different people, setting times and dates, they will do the bulk of the work for you. All you need to do is to sit back, relax and wait for your upcoming big day. Not only that but they can often help you organize things after the wedding is over.
Day-of Coordinator Overview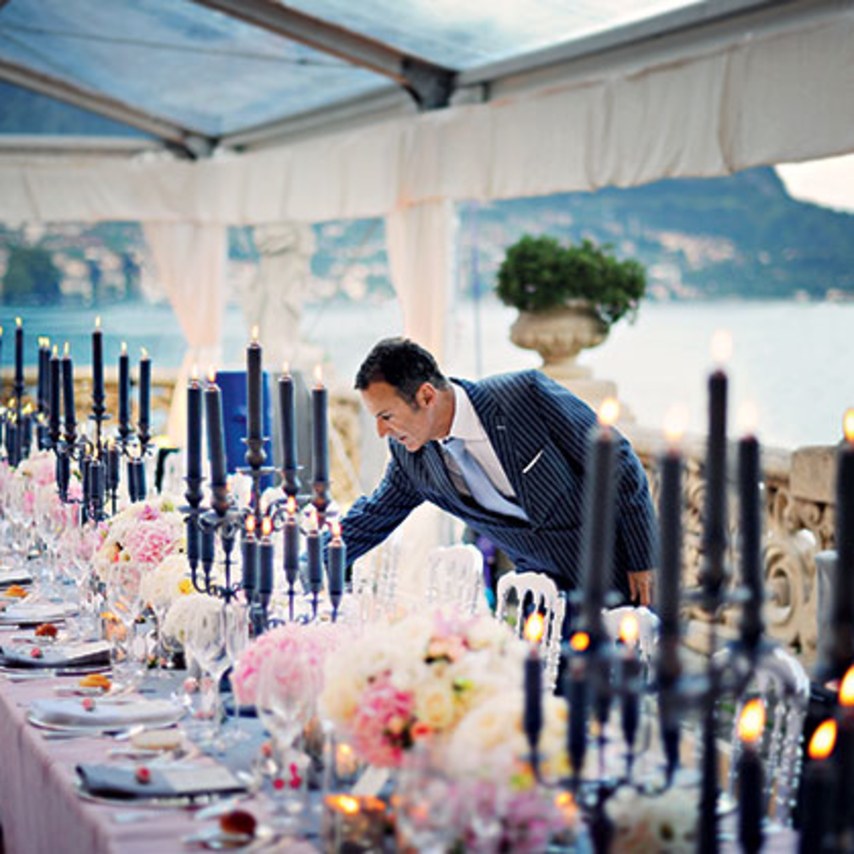 A day-of wedding coordinator can be hired a couple of different ways.
First, you can hire a coordinator on your own. You'll have personally planned nearly everything for your wedding—hired the vendors, booked the venues, chosen invitations, flowers, etc.—then you'll sit down with the day-of coordinator and discuss what needs to happen and when. Then that person will take over the reigns on your wedding day so you can relax.
Second is to hire a day-of coordinator that will work together with your wedding planner in order to ensure that everything is running smoothly. Some full-service wedding planners are partnered with day-of coordinators, and this can make your choice easier.
Either way, once the wedding is over, the day-of coordinator's job is done. They only provide their services during the ceremony and reception. Although there are some day-of wedding coordinators who will stay after the wedding to help organize things, frequently their job is just to make sure that everything on your wedding day went correctly and that's it.
Day-of Coordinator or Wedding Planner: Day-of Coordinator Responsibilities
B

efore
your wedding day:
Preview the wedding and reception site
Introduce you to trustworthy wedding vendors and venues
Help with vendor negotiation
Serve as point person for every vendor (so you don't have to)
Help direct your wedding rehearsal
On
your wedding day:
Help organize and space the processional line-up
Greet guests and/or supervise your ushers
Help pin boutonnières and corsages
Manage your marriage license, ketubah, ritual items, and rings
Gather and distribute ceremony items at the site
Ensure setup and décor for ceremony & reception are correct
Serve as last-minute point person with vendors
Verify that small things like favors and place cards receive proper placement
Light any candles
Confirm set up of the guest book, gift table, cake table, and rentals
Direct events to keep the wedding flowing smoothly and on schedule
Assist with guest management
Determine who will be responsible for getting gifts from reception to final destination
Respond to any last-minute emergencies or changes
Depending on the terms of that particular coordinator's contract, they may also help you with other wedding-related things—music selections, lodging, and possibly whether or not the wedding month that you have chosen is appropriate to the season.
They usually will not help with dress selection, color themes, and small things like what specifically to choose for favors.
Also, once the wedding is over and the last guest leaves the reception, their job is done.
Day-of Coordinator or Wedding Planner: Wedding Planner Responsibilities
A full-service wedding planner will do much more. Here's a short list:
Consult with you to understand and help shape your overall plan, sometimes including the rehearsal dinner, bridesmaid parties, day-after brunches, and other wedding-related events
Help you review your budget
Get to know your taste in style, colors, & the feel you want for your wedding
Give you regular progress updates
Create & review vendor contracts
Help you with your wedding day timeline
Organize vendor arrivals & deliveries to your venues
Avoid expensive mistakes like rush shipping or other changes
Be your "personal assistant"of sorts & remind you of obligations, appointments, budget, etc.
Help with style ideas & current trends
Pull things together for a unified look
Be your watchdog for any details you might miss
Manage almost all of the following: florist, caterer, invitations, musicians, site decor and more
Help you choose wedding party fashion inc. bridesmaid dresses, your gown, possibly your mother's dresses, and groom & groomsmen attire
Help you find stylish favors
Suggest ideas for table design, special lighting & other esthetic details
Act as peacemaker when it comes to attire, etiquette, budget disagreements, etc.
Almost unlimited resources for venues and vendors
Can often procure insider discounts & even freebies
You also may have another choice:
Use your wedding planner as your day-of coordinator.
Use a day-of person that the planner works with, or even hire a separate day-of planner.
If you have the money: It's probably your best bet to use your wedding planner as day-of. Nobody but nobody will know exactly what needs to happen and when better than the person who helped you pull it all together in the first place!

Day-of Coordinator or Wedding Planner: If you want what you see on TV, go Full-Scale Planner
They really do handle everything it takes—pretty much every minute detail—to create a lavish event while you, the happy couple, sit back and relax and enjoy your wedding day. This type of planner will also focus on only one or two clients at a time, and never try to manage two weddings on the same day.
A day-of coordinator may book two weddings on the same day, but only if one is early in the day, the other later, and the contracts for both are limited.
Tip: Ask Your Venue about a Day-of Coordinator
Some couples don't think to hire a wedding planner because the venue already provides an on-site wedding coordinator. But remember: You will need a wedding planner of some sort, be it professional or amateur. Everybody does. Don't trust your on-site wedding coordinator with everything because just as what we have mentioned previously, their duties are limited only to your wedding venue. They don't mind if you and your groom are prepared or not, let alone any other issues that your wedding planner could offer.
Day-of Coordinator or Wedding Planner: Hire One, the Other, or Both?
The bottom line is this: If you want everything to be smooth sailing, hire both a wedding planner and a day-of coordinator or include day-of duties in your wedding planner contract.
If you can, you should use the day-of coordinator recommended by your wedding planner. But if you must choose two different people, make sure they get together to coordinate what you want (and you might have to pay for that meeting so be prepared).
No, these helpers don't come cheap but the larger your wedding, the better off you'll be to have help. Even if you have an intimate wedding, if it's a lavish affair, you'll rest easier knowing that everything will be handled to your utmost satisfaction.
Either way—large wedding or small, wedding planner or day-of coordinator—having an experienced helper will ensure that your wedding will be as perfect as it possibly can be.
Did you have to postpone your wedding another few months? Don't let your original day pass by without at least a small celebration! Click HERE or on the image below for 8 Ways to Celebrate Your Original Wedding Date: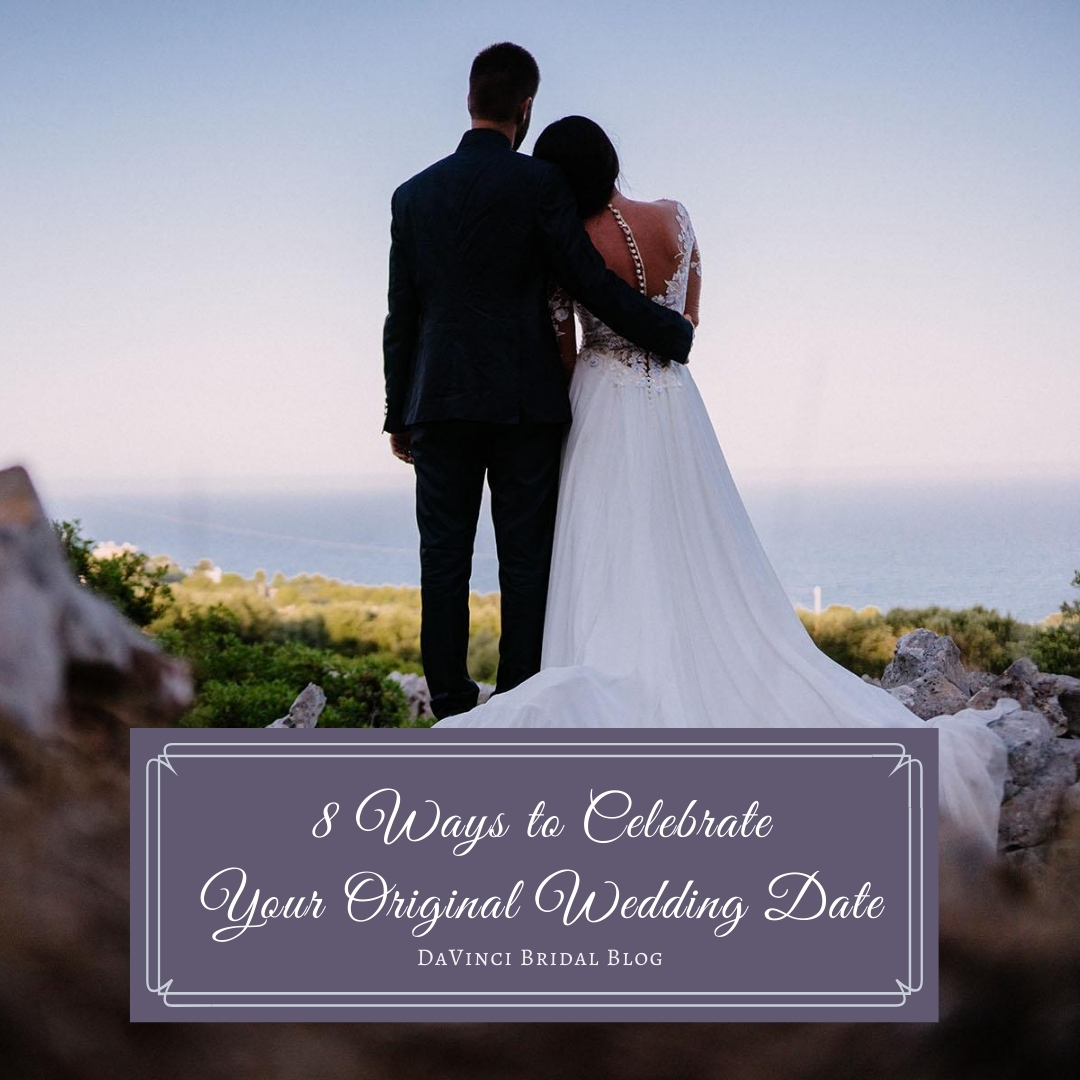 For the very best ideas for planning your wedding and adapting to circumstances that may have delayed your big day, Click HEREor on the image below for DaVinci Bridal Blog: