Giving Back
10 Outrageously Creative (and Easy!) DIY Wedding Ideas
Are you the premiere DIY bride who's scratching her head to find just one more distinctive touch for your wedding? Or are you the bride who's happily delegated 99% of your wedding details to a professional event planner, only to discover there's a little touch of DIY Bride hiding inside you? Either way, you've come to the right place! Here are 10 utterly charming, super-simple and unquestionably creative ideas that will add the perfect "I Did It Myself!" Touch to your wedding.
1. Calendar Guestbook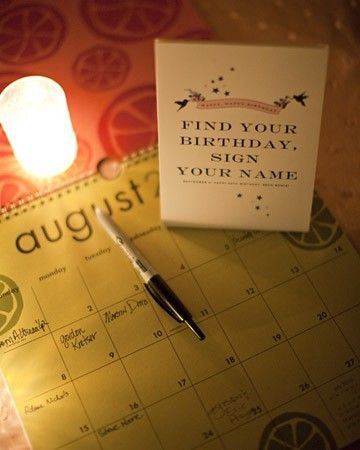 This couldn't possibly be any easier! All you need is a pretty calendar, a fine tip marker, and an instruction card asking your guests to sign their names in their birthday square—or a couple can fill in their anniversary date. Not only will you have a lovely memento of your guests' well wishes, but you'll also never miss another birthday or anniversary ever again!
2. Personalized Guest Glasses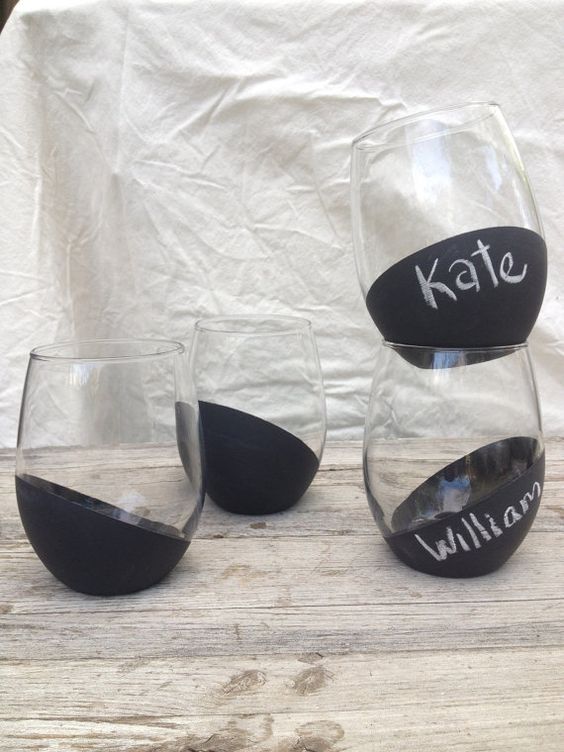 Give your guests something distinctive to remember your big day by letting your them do the work for you! Choose any type of glass you want—shot glass, old fashioned, highball, wine glass—and either tape off the part you want to paint or, if you're artistic, use a brush to paint a heart or flower or any other shape you like. Put out chalk for each guest to write their name or you can pre-write the names and table numbers and use the glasses as escort cards.
This tutorial shows you everything you need to know:
https://www.youtube.com/watch?v=mo7JWUOqY-Y
3. Baby Food Jar Mug Cake
For take home gifts in a variety that your guests can choose from, make individual mug cake mixes. (If you haven't had a mug cake yet, just Google "3 2 1 mug cake.")
You can use baby food jars as individual giveaways or make a beautiful guest gift basket with a variety of baby food jars plus a thank you mug with your names or initials and the date!
For a starter list of recipes, click here: http://www.mylittleme.com/baby-food-jar-mug-cake-recipes-gift-basket/
4. Ribbon Wedding Garter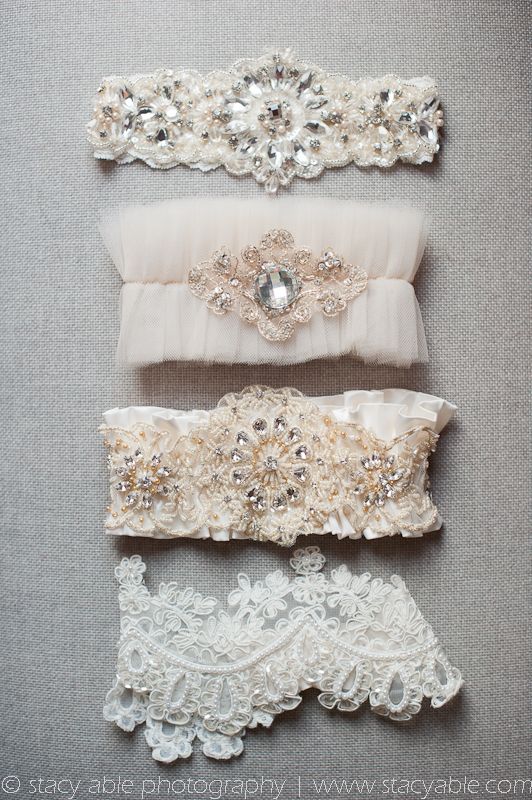 This DIY is perfect for a last-minute garter for yourself or as gift garters for your bridesmaids.
5. The Easiest Ever Table Flowers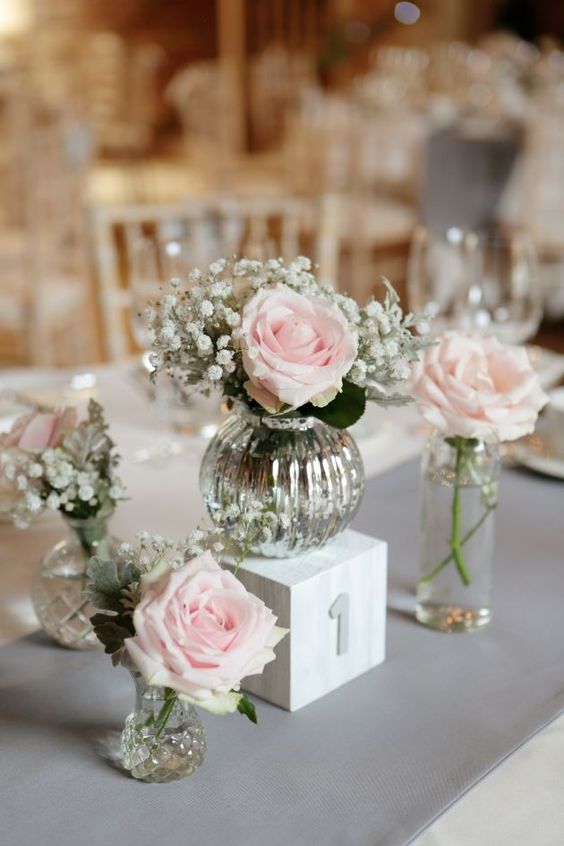 What could be simpler? One small vase or flower holder, a little baby's breath and one rose in whatever color you wish! You can make one per table or cluster them for a statement.
You can even make your own flowers (see #6!).
6. Tissue Paper Garden Flowers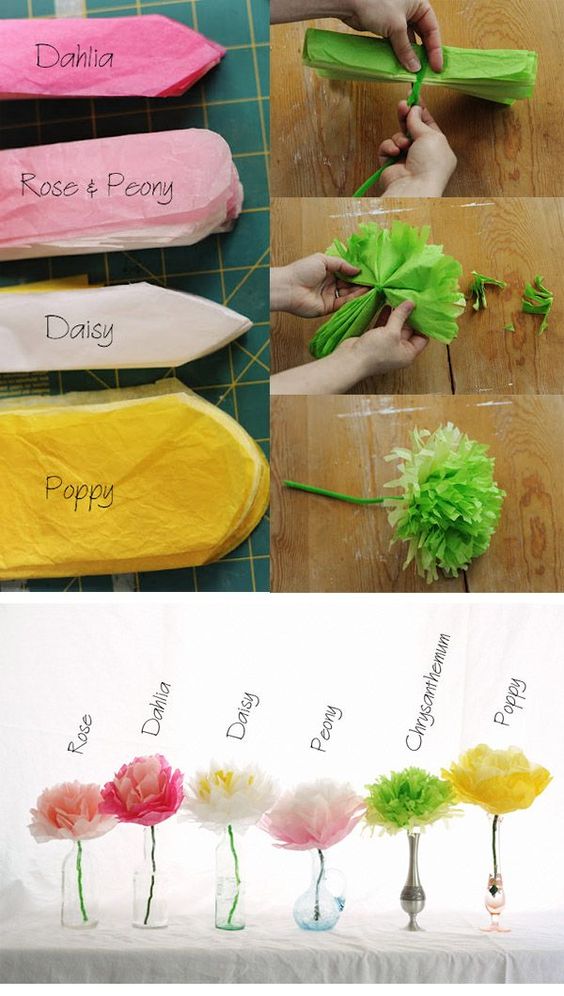 Make your own single flowers to use in the arrangements in #5 above. You can still use fresh baby's breath because it doesn't require water. With at least 6 different flowers to choose from, these little blooms can also be made in varying sizes depending on the paper you work with.
Find the tutorial here:  http://www.rustandsunshine.com/2012/05/tissue-paper-flowers.html

7. Fancy Flip Flops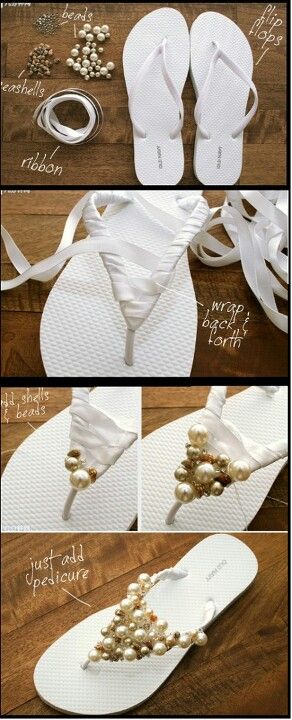 Buy flip-flops in any color, add a little ribbon and some mix 'n match pearls and beads, and sit down for an evening with your favorite movie. The pearls and beads can be sewn on or you can use your handy mini glue gun to make the work go faster.
Click here to see the Pinterest full color photo DIY instructions: https://www.pinterest.com/pin/559009372480347527/
And click here for 30 more Creative Life Hacks from Buzzfeed: https://www.buzzfeed.com/readcommentbackwards/45-lifehacks-that-every-girl-should-know-dmjk?utm_term=.pbQl852nJ#.hnNXZ1lB7
8. Farmer's Market Fruit Giveaways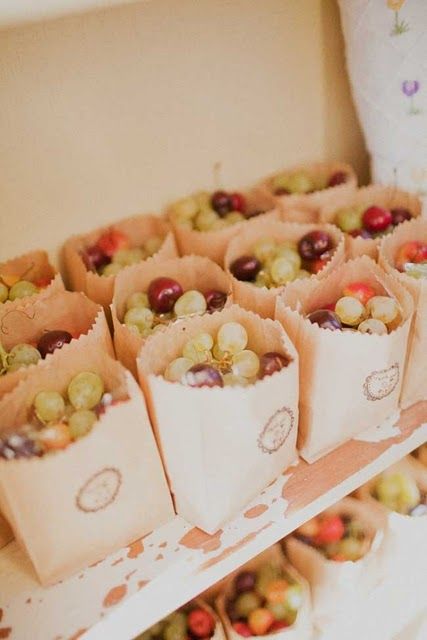 Treat your guests with scrumptious fresh produce! Just prepare super simple paper gift bags with little handles, apply a sticker with your names and date or initial, then fill with anything from fresh strawberries and grapes to miniature herb plants.
9. Wedding Wands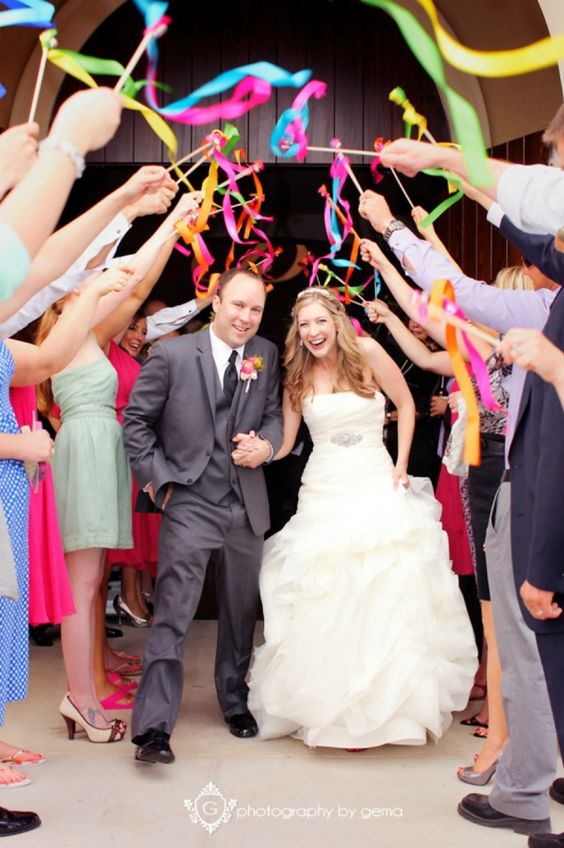 Wedding wands are fabulous in any number of ways. They're great to use instead of having your guests clink their glasses to get you to kiss. They make a beautiful send-off, everyone waving wands instead of throwing rice. You can put one at each place setting as a giveaway. You can even hand them out at your ceremony for everyone to wave as you have your first kiss!
Nothing could be simpler to make. All you need is:
Wood dowel rods

Eye hooks

Jump rings

Small jingle bells

Thin ribbon

Spray paint (if you don't want a plain wood dowel)
Here's the super-simple tutorial: http://ourlittlebabywl.blogspot.ru/2012/08/wedding-ribbon-wand-diy.html
10. "Designer" Decorated Wedding Shoes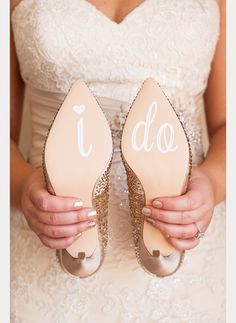 These unbelievably adorable shoe stickers are the perfect touch, especially if you want all your bridesmaids to wear the same shoes but have them personalized. You can make at least 5 different types of stickers for your shoes—put them on the soles, the back of the heels, the side of the shoes, anywhere you like. Plus you can combine them—a different sticker type on each shoe! Here are some of the possibilities:
Name (bride or bridesmaid—or groom on his shoe sole)

Wedding date

Monogram (the couple's or the attendant's)

Small heart

Script "I Do!"
Here's the tutorial:
http://somethingturquoise.com/2015/09/25/diy-wedding-shoe-stickers/
For more great DIY wedding favor ideas, check out our blog:
http://www.davincibridal.com/blog/top-10-diy-wedding-favors-to-make-at-home/