For a bold, romantic ceremony look plus a dress for dancing & enjoying your wedding reception, you can't beat our Wedding Dresses with Detachable Skirts.
How does a detachable wedding dress skirt work?
A wedding dress with a detachable skirt is intended to change the vibe & silhouette of the dress without changing into a completely different one.
Most detachable wedding dress skirts have buttons or a waistband that makes the skirt quick & easy to remove.
Considering you're getting two dresses in one, you can't beat this creative wedding vibe.
When you buy your Glamorous Wedding Dress from DaVinci Flagship Bridal Dress Collection…
You know that your gown will be created by one of the premiere bridal dress companies in the world. We use only top-quality fabrics fashioned into high fashion design using high-end construction. We guarantee you'll love their affordable prices. A DaVinci is the bridal dress retailers love to carry because best of all, most of these dresses are available for rush delivery at no extra charge!
Wedding Dresses with Detachable Bridal Skirts: Fit & Flare with Ball Gown Skirt
DaVinci Bridal Style #50720: Tulle & Lace Fit & Flare Sheath Wedding Dress with Plunging V-Neckline, Open V-Back, Covered Buttons. Lace Applique Bodice, Chapel Train, Detachable Ball Gown Bridal Skirt with Lace Trimmed Chapel Train & Open Front.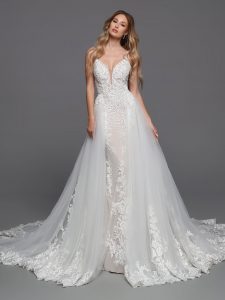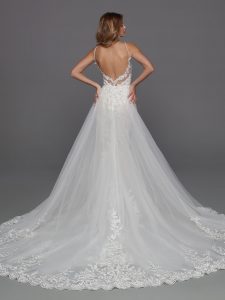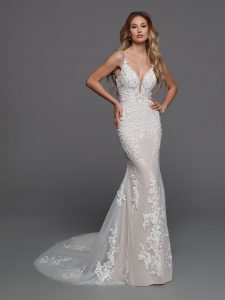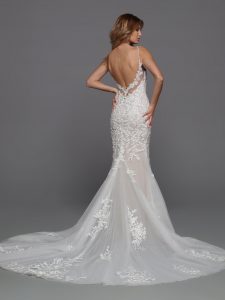 Available in: Ivory/Ivory or Ivory/Latte/Nude
To see more details Click HERE for DaVinci Bridal Style #50720
DaVinci Bridal Style #50738: Tulle & Lace Fit & Flare Sheath Wedding Dress with Fitted Lace Bodice, Sweetheart Neckline, Lace Straps, Corset Back. Detachable Bridal Skirt with Lace Applique & Chapel Train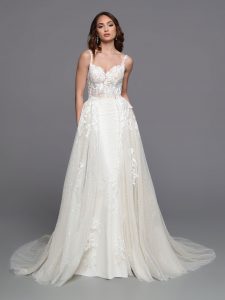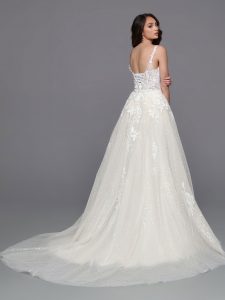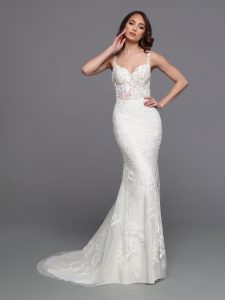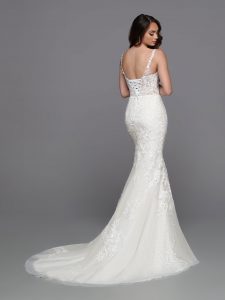 Available in: Ivory/Ivory or Ivory/Nude
To see more details Click HERE for DaVinci Bridal Style #50738
Wedding Dresses with Detachable Skirts: Dresses with Detachable Trains
DaVinci Bridal Style #50697: Soft Satin Fit & Flare Sheath Wedding Dress with Strapless Sweetheart Neckline, Ruched Faux-Wrap Bodice, Sweep Train, Detachable Chapel Train, Sheer Lace Hem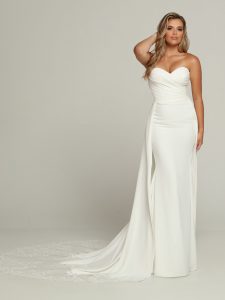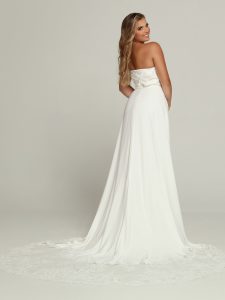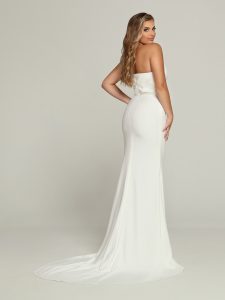 Available in: Ivory
To see more details Click HERE for DaVinci Bridal Style #50697
Informal by DaVinci Style #F7073: Informal A-Line Wedding Dress with Sweetheart Bodice, Sheer Bateau Neckline, Sheer Back with Keyhole. Flared A-Line Skirt with Scalloped Eyelash Lace & Floor Length Hem. Detachable Tulle Ball Gown Skirt with a Sweep Train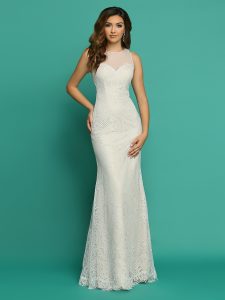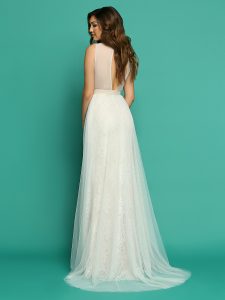 Available in: Ivory, White or Two-Tone Ivory/Champagne, White/Champagne
To see more details Click HERE for Informal by DaVinci Style #F7073
Wedding Dresses with Detachable Skirts: Two Dresses in One
DaVinci Bridal Style #50685: Two-Piece Satin & Tulle A-Line Ball Gown Wedding Dress with Plunging V-Neckline, Deep Scoop Back, Satin Bodice with Sheer Side Panels. Two Layer Skirt with Removable Chapel Train over Tea Length Dress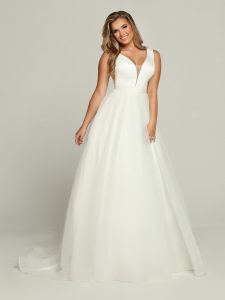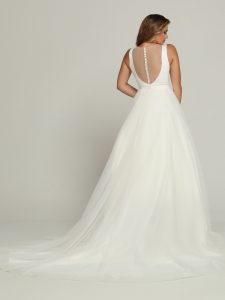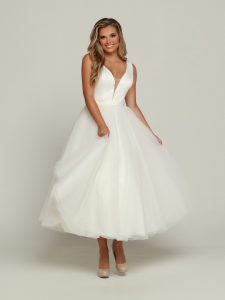 Available in: Ivory, White
To see more details Click HERE for DaVinci Bridal Style #50685
Informal by DaVinci Style #F7065: Two Piece Soft Tulle Informal Wedding Dress, Knee-Length Lace Sheath, Sheer Bateau Neckline & Sheer Back. Detachable Ball Gown-Style Skirt with Sweep Train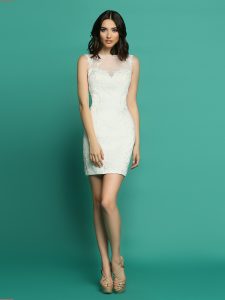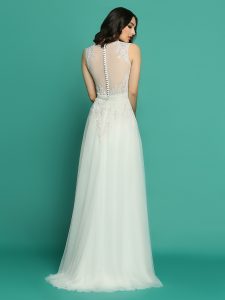 Available in: Ivory or White
To see more details Click HERE for Informal by DaVinci Style #F7065
For the best ideas for wedding planning, beautiful on-trend dresses, classic styles & more, Click HERE on the link below for DaVinci Bridal Blog: