Dresses
Hollywood Romance: 12 Ultra-Dreamy Wedding Gowns
The rustle of taffeta, the shimmer of charmeuse, the sheen of satin, the float of organza—what else could make you feel more like a bride straight out of a movie? As lustrous as the frosting on your wedding cake—as creamy as the pearls around your neck—there's nothing like generous layers of fabric to make you look and feel like a movie star on your wedding day. Here are 12 luscious and comfortable wedding dresses, all created with DaVinci's top quality fabrics, high-end construction, and more than affordable prices. And if you're planning your Hollywood-worthy wedding in a hurry, ask about our super-fast delivery. We're the best in the business!
1. Clouds of Satin: Style #50204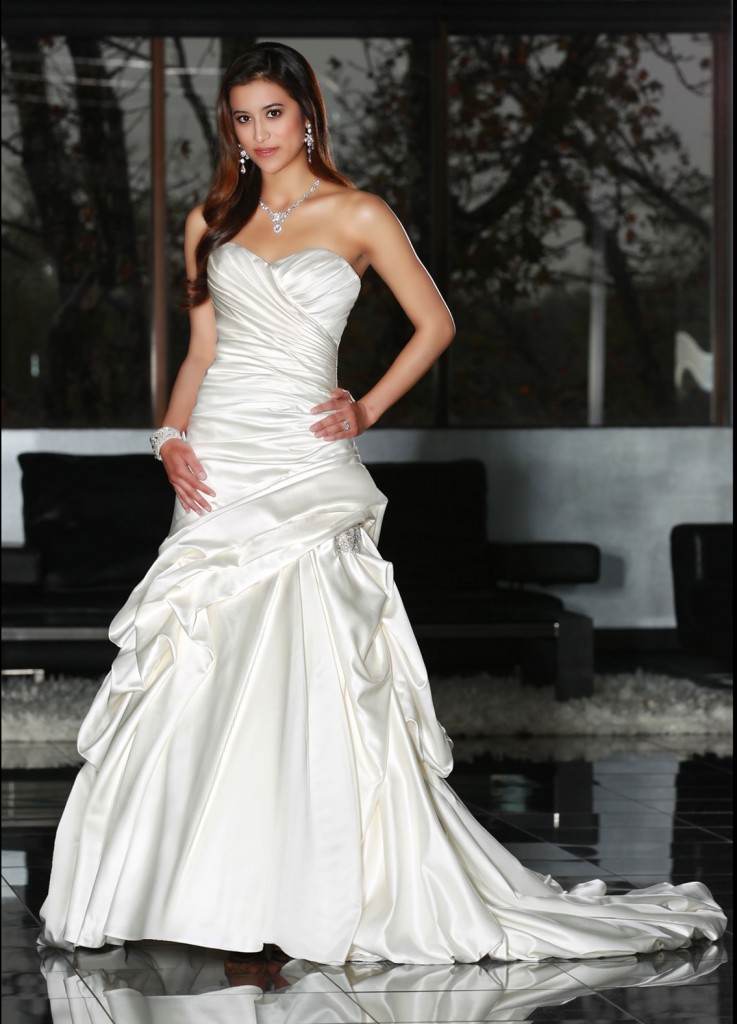 Available in both Ivory and White, this curvy strapless sheath features a sleek satin silhouette with just a hint of bling in a beaded applique at the hip that peeks out from under the skirt's diagonal pickup. The sweetheart neckline is also ruched on the diagonal and has a comfortable corset back. Strategically placed diagonal pickups grace the skirt and create clouds of soft satin that fall in a modified mermaid with just a touch of an A-line lower skirt and then finishes with a lovely chapel length train.
2. Beautiful Bling on Charmeuse: Style #50239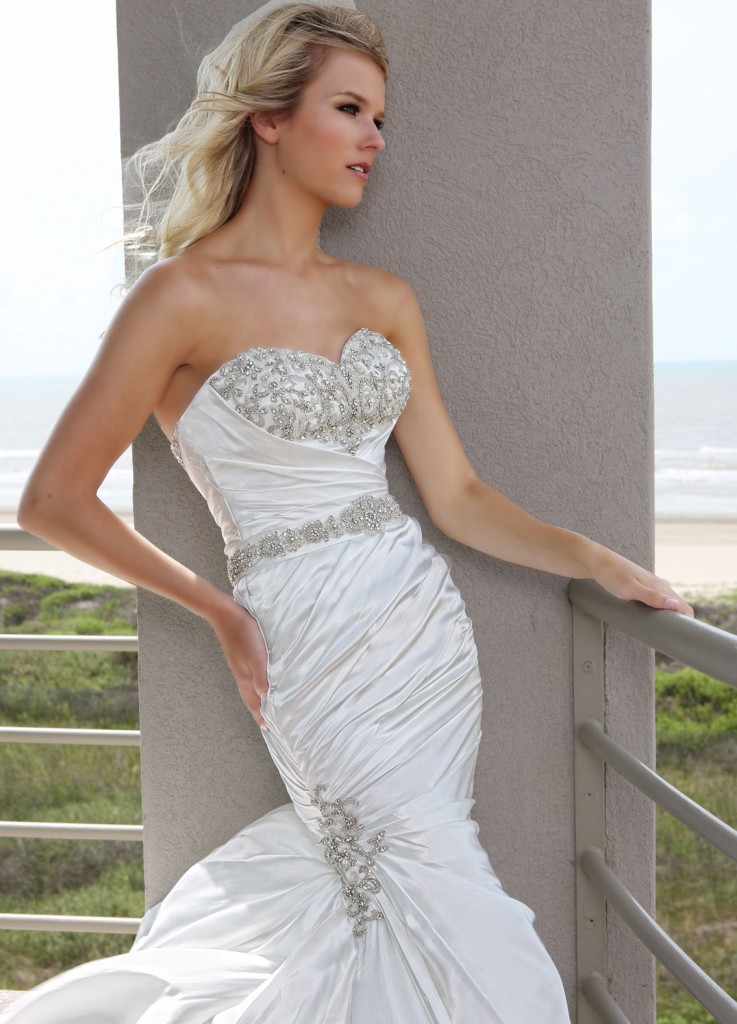 Be a vision in glamorous charmeuse with this strapless fit and flare mermaid sheath. The bodice features ruching on the diagonal with a heart-shaped beaded accent at the sweetheart neckline. More beading follows across the top of the bodice to the slightly lower open back. A beaded belt accentuates the waist while a stunning beaded applique at the hip highlights the skirt where it then falls in smoothly to a generous chapel-length train. Choose Ivory or White for this stunning, sophisticated gown.
3. Unassuming Organza: Style #50281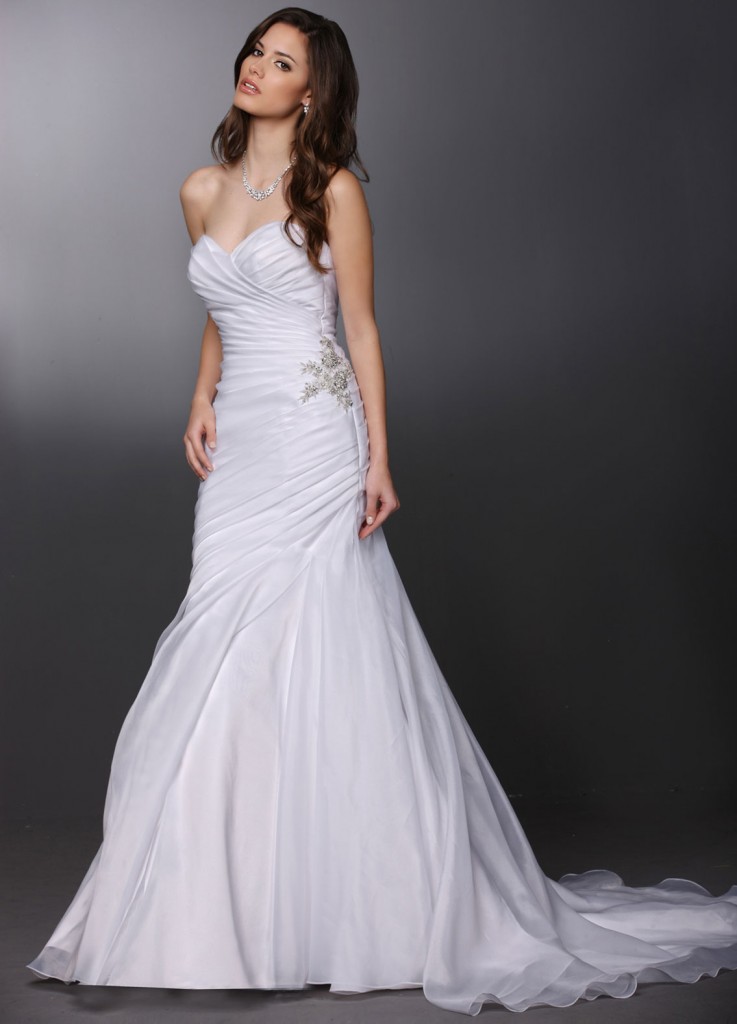 If you're looking for understated appeal, you can't go wrong with this fit and flare mermaid sheath. Fashioned from layers of delicate organza, the dress features a strapless sweetheart bodice that's ruched on the diagonal and is accented by one perfect beaded applique at the hip. The low V-back bodice with its hidden zipper hugs the hip in mermaid fashion then falls to a soft chapel train. Choose Ivory or White to complement your skin tone and make you even more radiant on your special day.
4. Minimalist Satin Sheath: Style #50305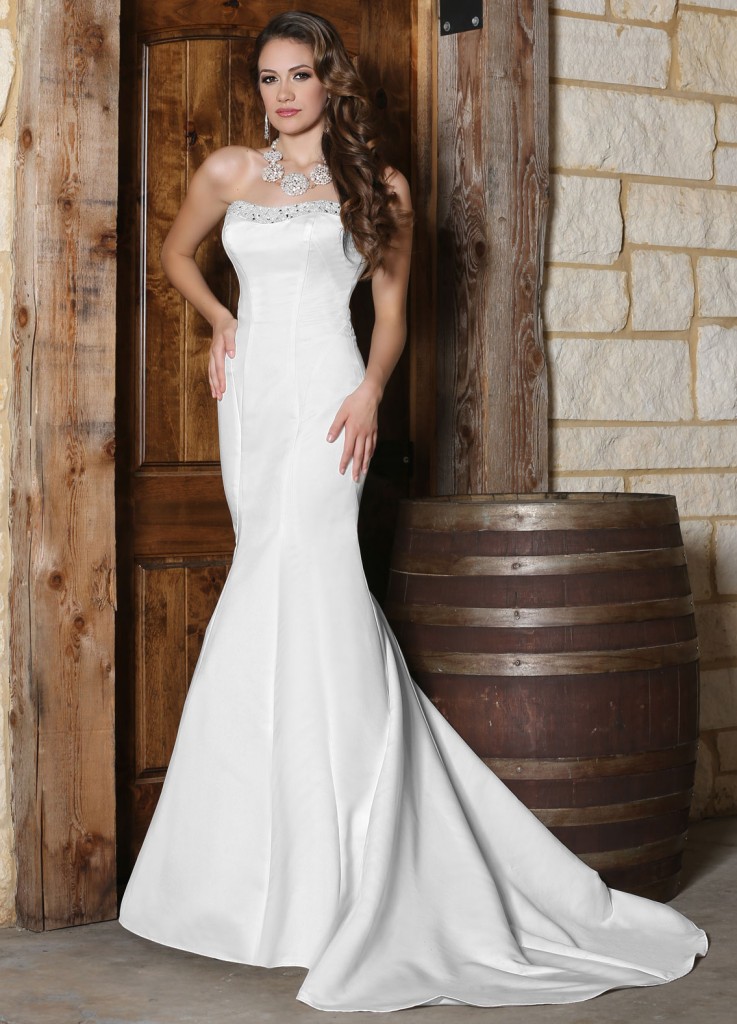 Soft satin and uncluttered lines give this fit and flare sheath understated glamor. The straight across strapless bodice is cut just a bit higher, both in front and back, with a touch of modest charm. A delicate line of beading follows the upper neckline while the back, hugging the hips to create just the hint of a mermaid silhouette, flows into a smooth, uninterrupted semi-cathedral train. Available in both Ivory and White, you're sure to shine as you walk down the aisle in this beautiful dress.
5. Glamorous Gathered Charmeuse: Style #50179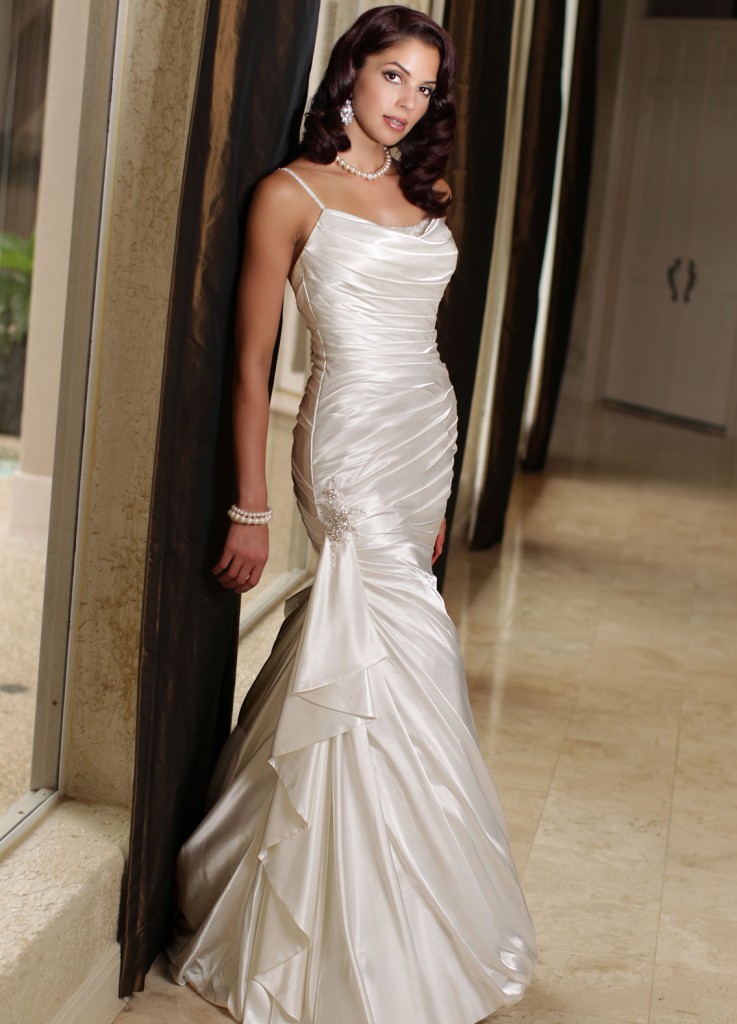 This undeniably stylish charmeuse sheath hides a lovely, delicate detail under the draped front bodice: A soft line of lace that creates just the hint of a modesty panel. The bodice is ruched, both front and back, then secured with spaghetti straps that follow to the modestly low V-back. The skirt is then gathered to one side to create a figure-hugging fit and flare mermaid silhouette. A single waterfall panel falls from the beaded applique accent then swirls into a chapel length train. Available in Ivory and White, this dress finishes with a row of covered buttons over the hidden back zipper.
6. Bow & Beaded Belt: Style #50032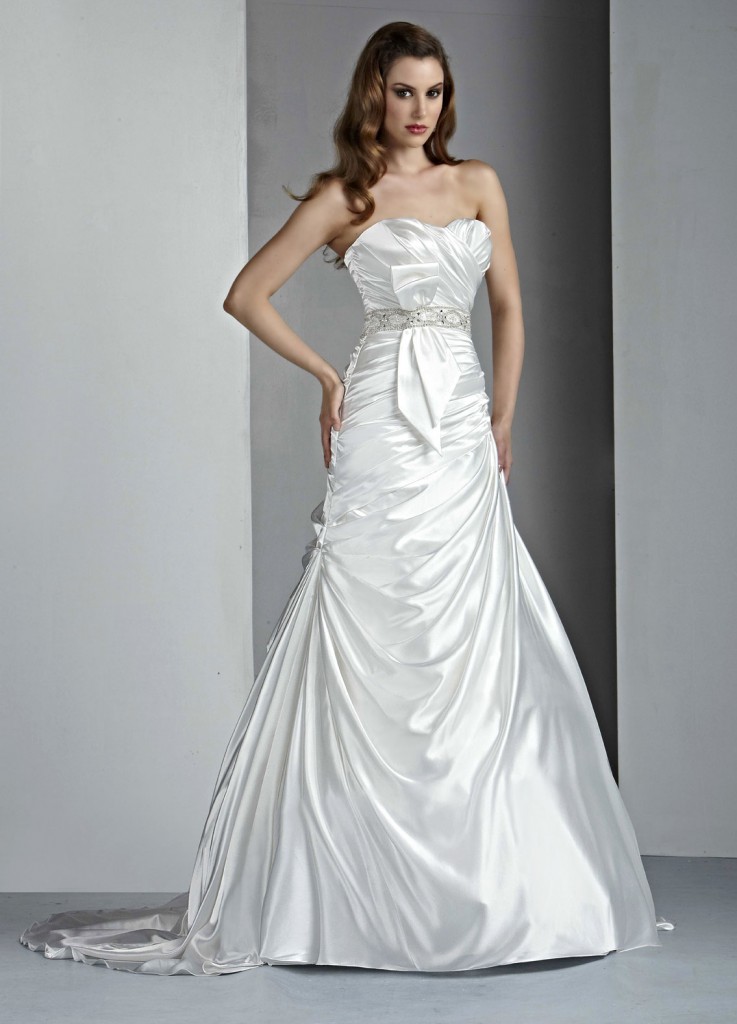 Shimmering charmeuse and an eye-catching bow at the waistline give this A-line sheath unique flair. The strapless sweetheart bodice is ruched above the waist with a comfortable corset at the back. Below the wide beaded belt, the skirt falls in gentle folds and is gathered at either side to create an apron effect. A single bow is tucked off-center behind the belt while the dress, available in both Ivory and White, finishes with a chapel train and a subtly ruffled hem.
7. Empire Fit & Flare: Style #50024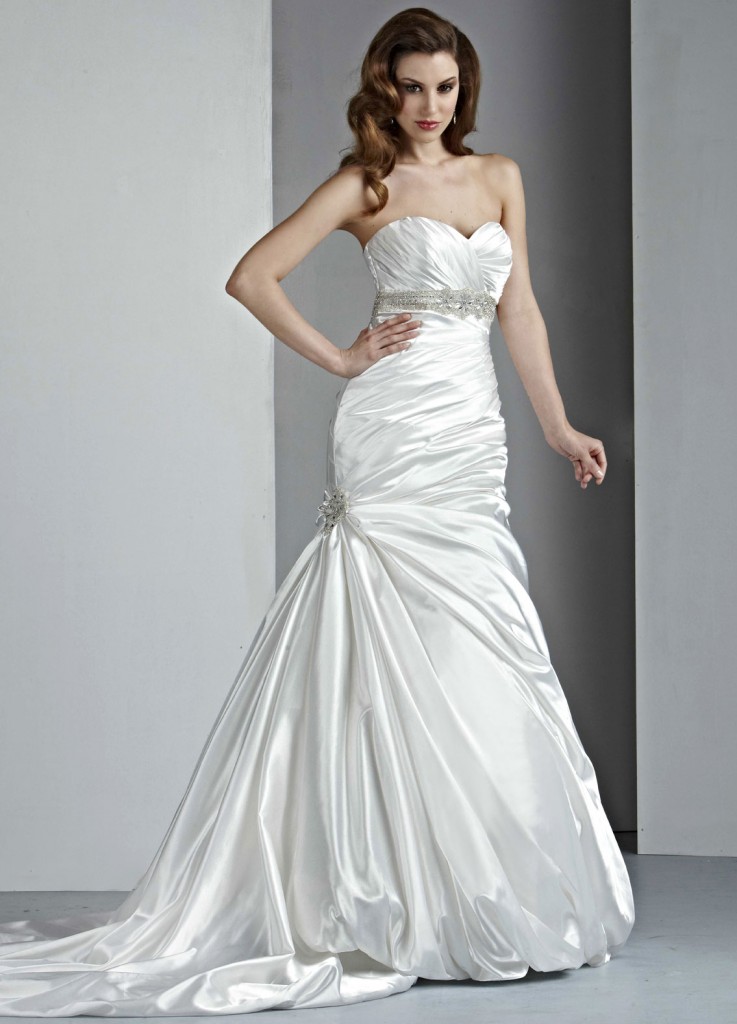 Silky charmeuse gathered coquettishly to one side creates a sophisticated silhouette on this fit and flare mermaid sheath. The strapless sweetheart corset back bodice is diagonally ruched and accented with a belt set at Empire height. A single beaded applique glitters just below the hip where the skirt gathers and then falls to a chapel train. Order this dress in either White or dazzling Diamond White and cut a silken profile on your big day.
8. Three Tier Train: Style #50004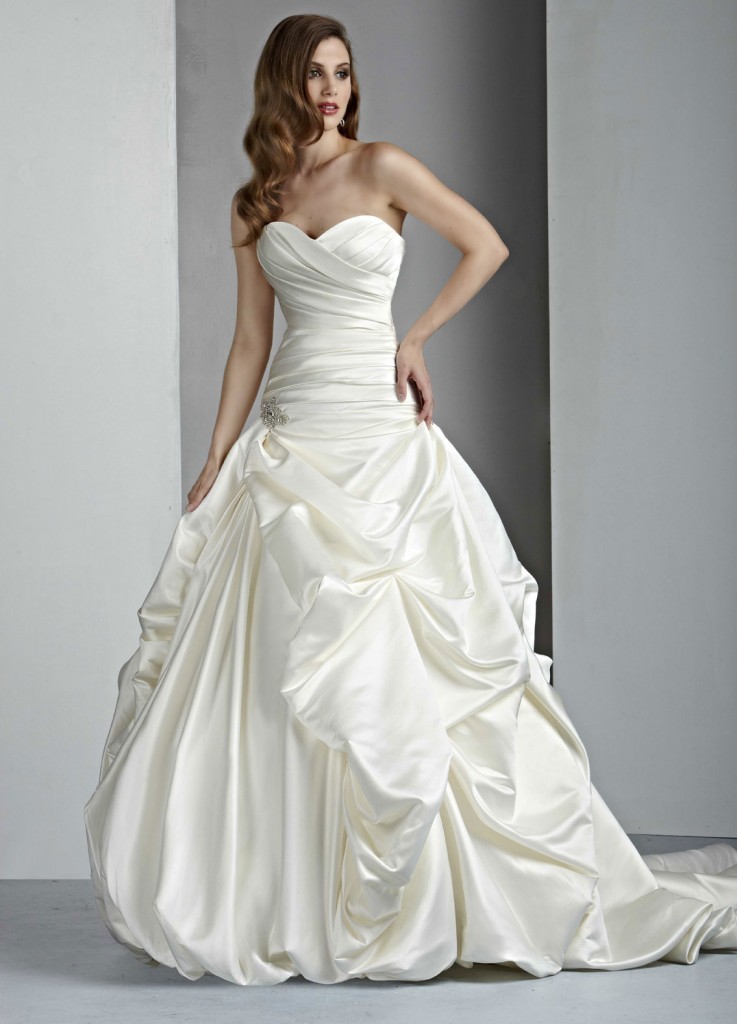 Subtle pickups at the front combined with a fabulous tiered train make this mermaid sheath a standout. The strapless sweetheart neckline is ruched on the diagonal then continues uninterrupted down the figure-flattering bodice all the way to the hip and then finishes with a comfortable corset back. A single embellished applique at the hip accents the front of the dress with its combination of smoothly flowing satin and gentle pickups. Another applique at center back highlights the beginning of the train. Available in Ivory or White, this gown will make you feel like you're floating down the aisle on a cloud.  
9. Taffeta & Lace: Style #50084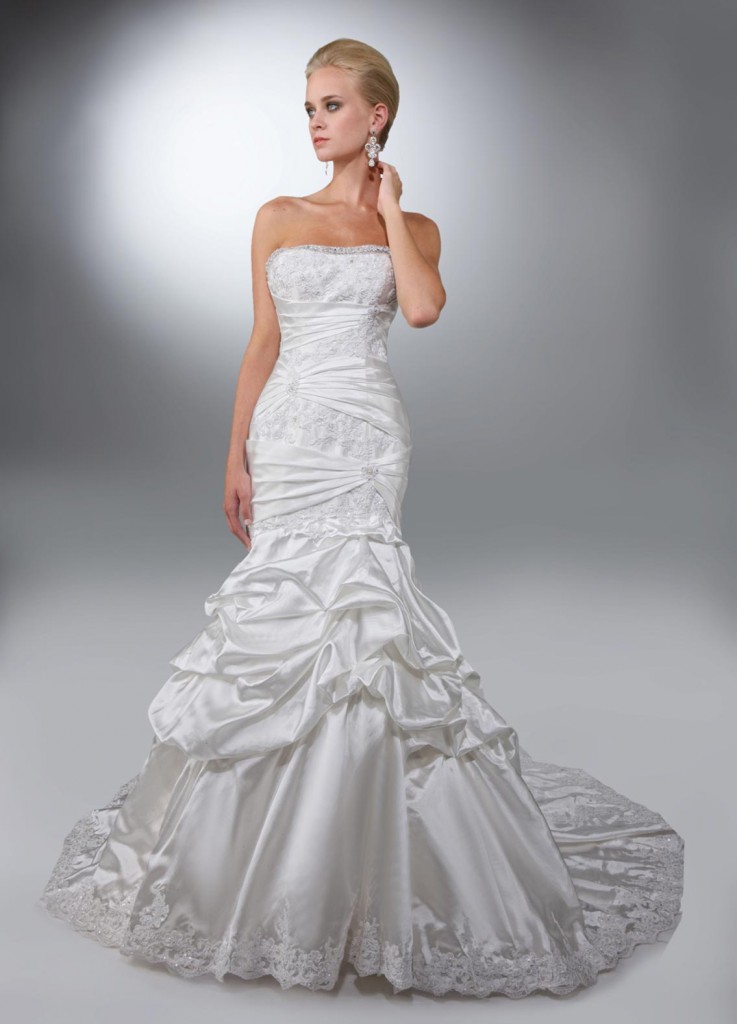 Combine glamorous Hollywood taffeta with soft, feminine lace, and you'll get this glorious dress! A modest, strapless sheath with a corset back and straight across bodice, this gown features bands of ruched taffeta that create the perfect figure flattering line. A delicate band of beading follows the neckline all around and is echoed in the small beaded medallions that highlight the artistic ruching design. The bodice hugs the torso to just below the hips where the taffeta skirt then billows into a classic mermaid silhouette with a tier of soft pickups all around, then falls to a scalloped lace hemline and a chapel train. Choose Ivory or White and feel like a star on the runway in this fabulous dress.
10. Satin Sash Detail: Style #50097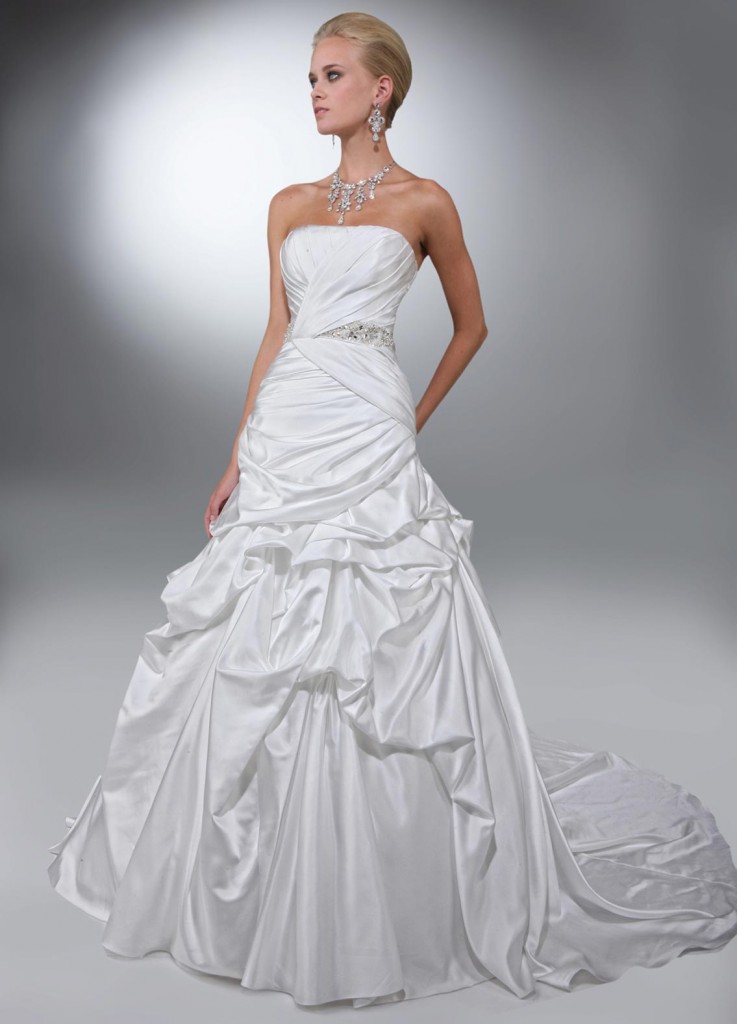 Stately and stunning, this strapless sheath softens the classic mermaid silhouette into a combination fit and flare with a hint of flattering A-line. The modest, straight across bodice with a corset back features ruching in contrasting diagonal lines to create a sash effect over the wide beaded waist detail. The satin skirt drapes gently into soft pickups that frame a smooth front panel and then continue around the back to create a semi-cathedral length train. Choose White or glistening Diamond White for this dignified dress.
11. Floral One-Shoulder Charmeuse: Style #50094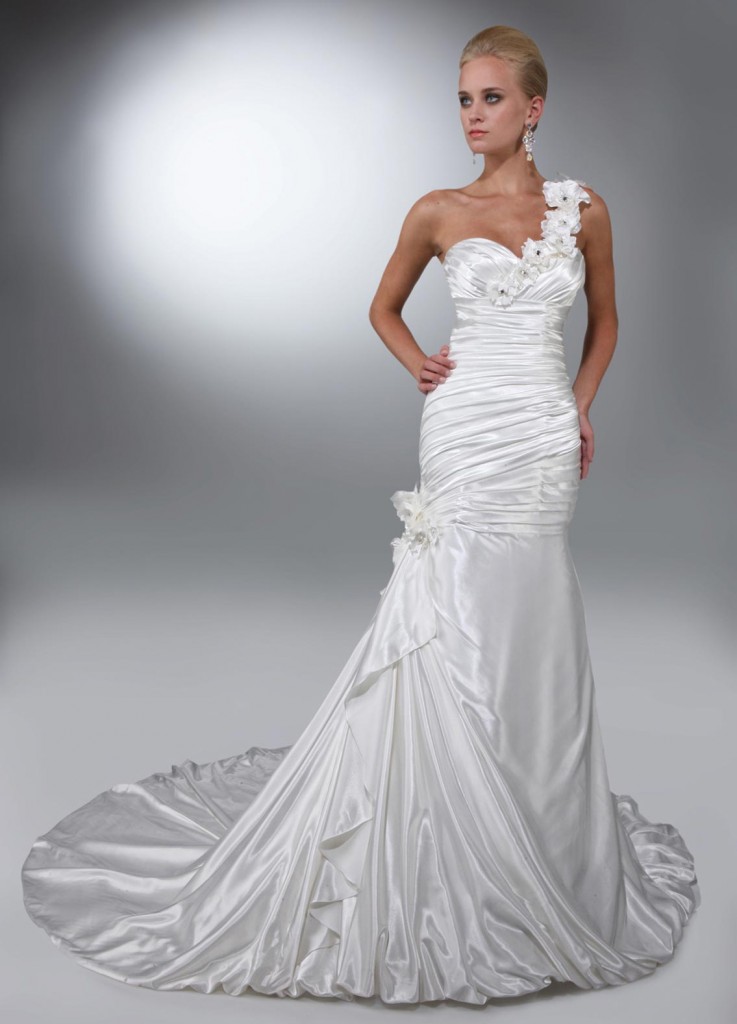 Bold flowers sweep from the center front, across one shoulder, and then down the back of this magnificent strapless sweetheart dress. Generously ruched charmeuse hugs the bodice to a classic, below the hip mermaid length, then flares gently from the dramatic side gather that's accented with more flowers and a graceful waterfall ruffle. Each flower is embellished with a delicate beaded center while the skirt falls to a beautiful chapel train. This gown is available in both Ivory and White and will make a stunning statement for your walk down the aisle.
12. Understated Taffeta A-Line: Style #50177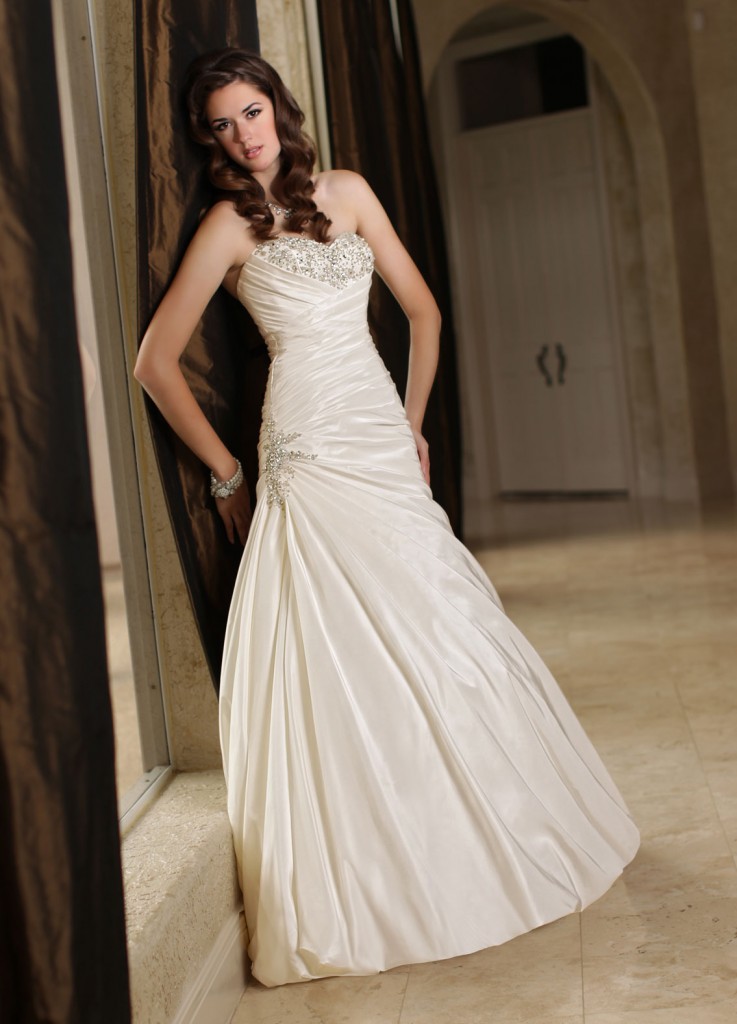 This elegant A-line sheath has all the low-key glamor you're looking for with just the right amount of bling for excitement. The entire bodice is ruched on the diagonal to create and accentuate your curves and has a convenient corset back for easy fitting. The upper bodice is encrusted with beading and bling along the sweetheart neckline. The embellishment is picked up again in the beaded applique that accents the hip at the point where the ruching falls straight into a softly flared skirt and then into a generous chapel train. Fashioned entirely of luscious taffeta that will rustle elegantly as you walk down the aisle, this gown is available in both Ivory and White.
Share Your Wedding Day with Us!
http://www.davincibridal.com/real_brides.php
About this Gown: This is dress 50179, live and in person—isn't it gorgeous?!
Share your favorite photos from your wedding day featuring you in your dreamy DaVinci gown, and you'll have a chance to be featured on our website and social media. And as a special bonus, you'll automatically be entered into a sweepstakes to win a framed sketch of your wedding dress!
To see our new collection of demure wedding gowns, click here:
http://www.davincibridal.com/blog/delightfully-demure-10-new-wedding-dresses-for-2017/
For more daring and dramatic dresses from our new line, click here:
http://www.davincibridal.com/blog/daring-delightful-7-brand-new-wedding-gowns-for-2017/