Indulge your inner hopeless romantic on your wedding day with an ultra-feminine gown from our Ruffled Wedding Dresses 2021-2022 collection.
There's nothing more romantic than the frilly details on these dresses. A ruffled skirt adds interest & dimension to any wedding dress silhouette. A cloud of fluffy, cascading ruffles gives a look that's whimsical while still being fashion-forward.
Here we offer a curated group of dreamy designs to put stars in your eyes & romance in your heart:
Classic fairy tale ball gowns with ruffled skirts in waterfall tulle or rustling organza
A-line ball gowns with tiered ruffle layers of pleated tulle or delicate lace applique
Drop waist dresses with feathered tulle, wavy organza or sleek satin pickups
When you buy your Wedding Dress from DaVinci Bridal's Ruffled Wedding Dress  Collection …
You know that your gown will be created by one of the premier bridal dress companies in the world. We use only top quality fabrics fashioned into high fashion design using high-end construction. We guarantee you'll love their affordable prices. A DaVinci is the bridal dress retailers love to carry because, best of all, most of these dresses are available for rush delivery at no extra charge!
Ruffled Wedding Dresses 2021-2022: Ruffled Ball Gowns
DaVinci Bridal Style #50489: Strapless Sweetheart Ball Gown Wedding Dress, Ruched Tulle Bodice, Open Back, Beaded Waistband. Waterfall Ruffled Tiered Tulle Skirt, Wide Banded Edging, Chapel Train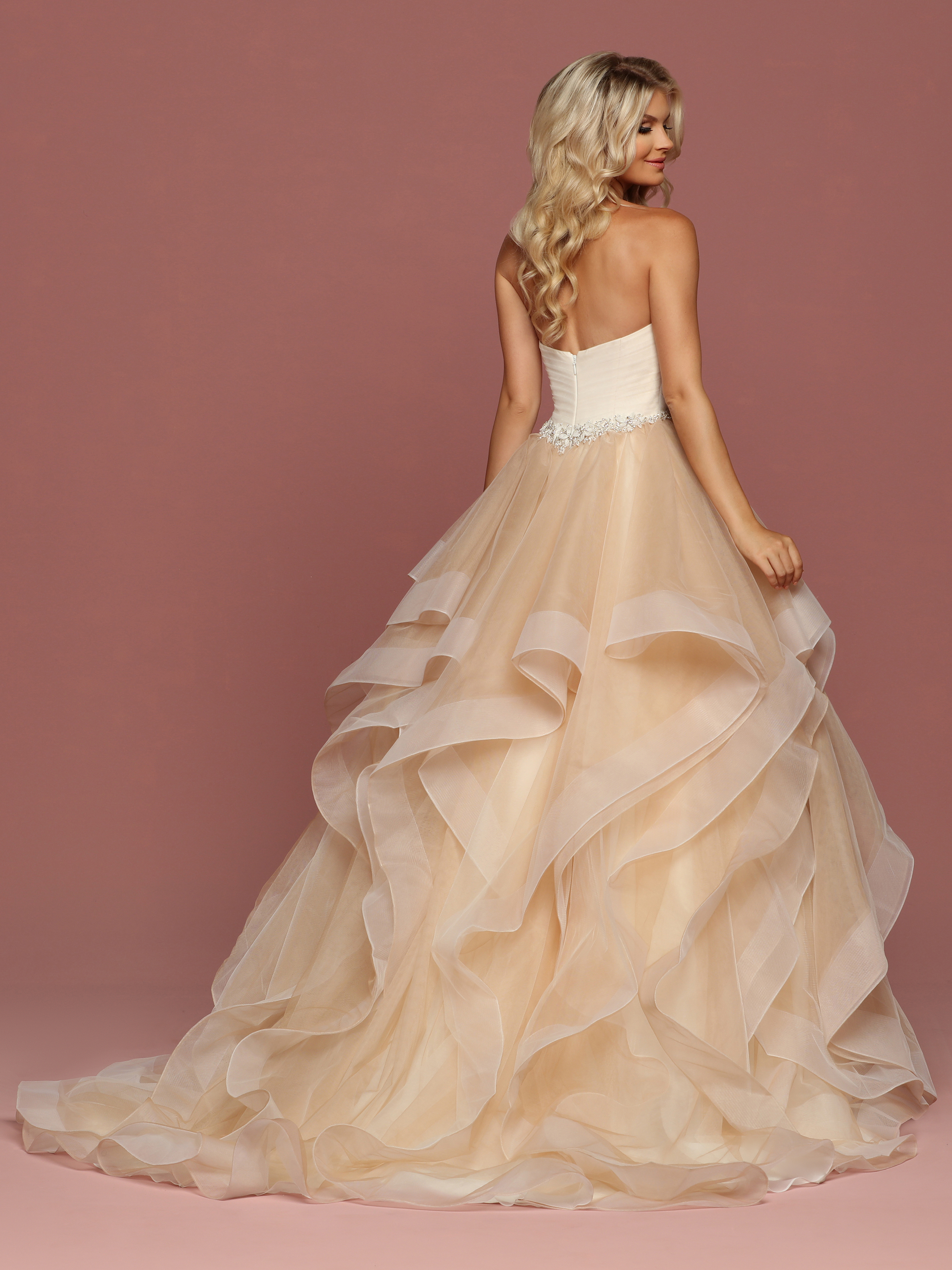 Available in: White, Ivory or Two-Tone Ivory Bodice/Nude Skirt, White Bodice/Nude Skirt
To see more details Click HERE for DaVinci Bridal Style #50489
DaVinci Bridal Style #50442: Organza & Lace A-Line Wedding Dress, Lace Bodice, Sweetheart Neckline, Lace Straps, Sheer Lace Back, Covered Buttons. Multi-Tier Organza Ball Gown Style Skirt, Chapel Train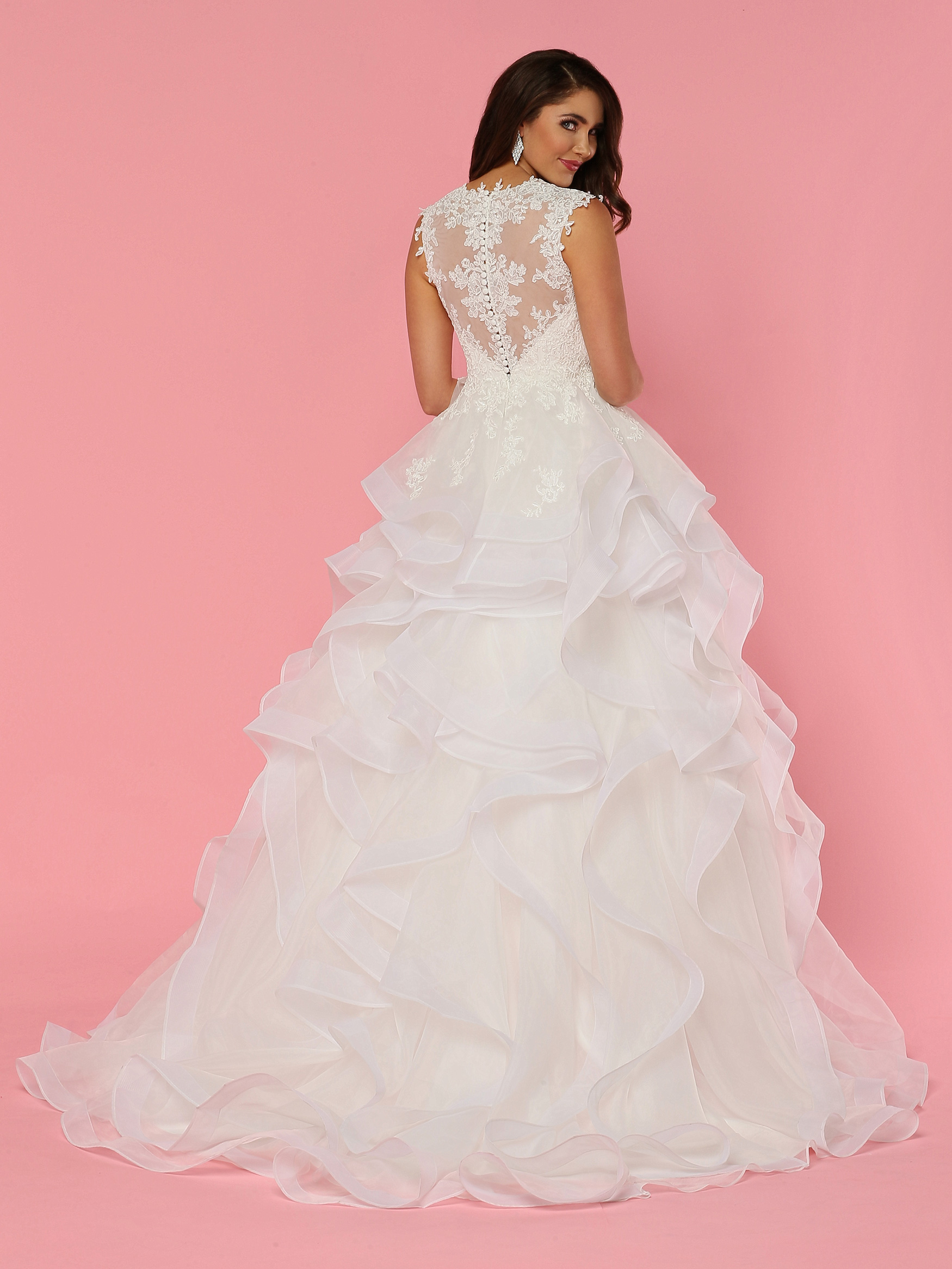 Available in: Ivory, White
To see more, Click HERE for DaVinci Bridal Style #50442
Ruffled Wedding Dresses 2021-2022: Ruffled A-Line Ball Gown Dresses
DaVinci Bridal Style # 50601: Soft Tulle A-Line Ball Gown Wedding Dress, Modest V-Neck. Lace Applique on Bodice & Front Skirt Hem. Tiered Tulle Skirt with Chapel Train. Available in Two-Tone Color Option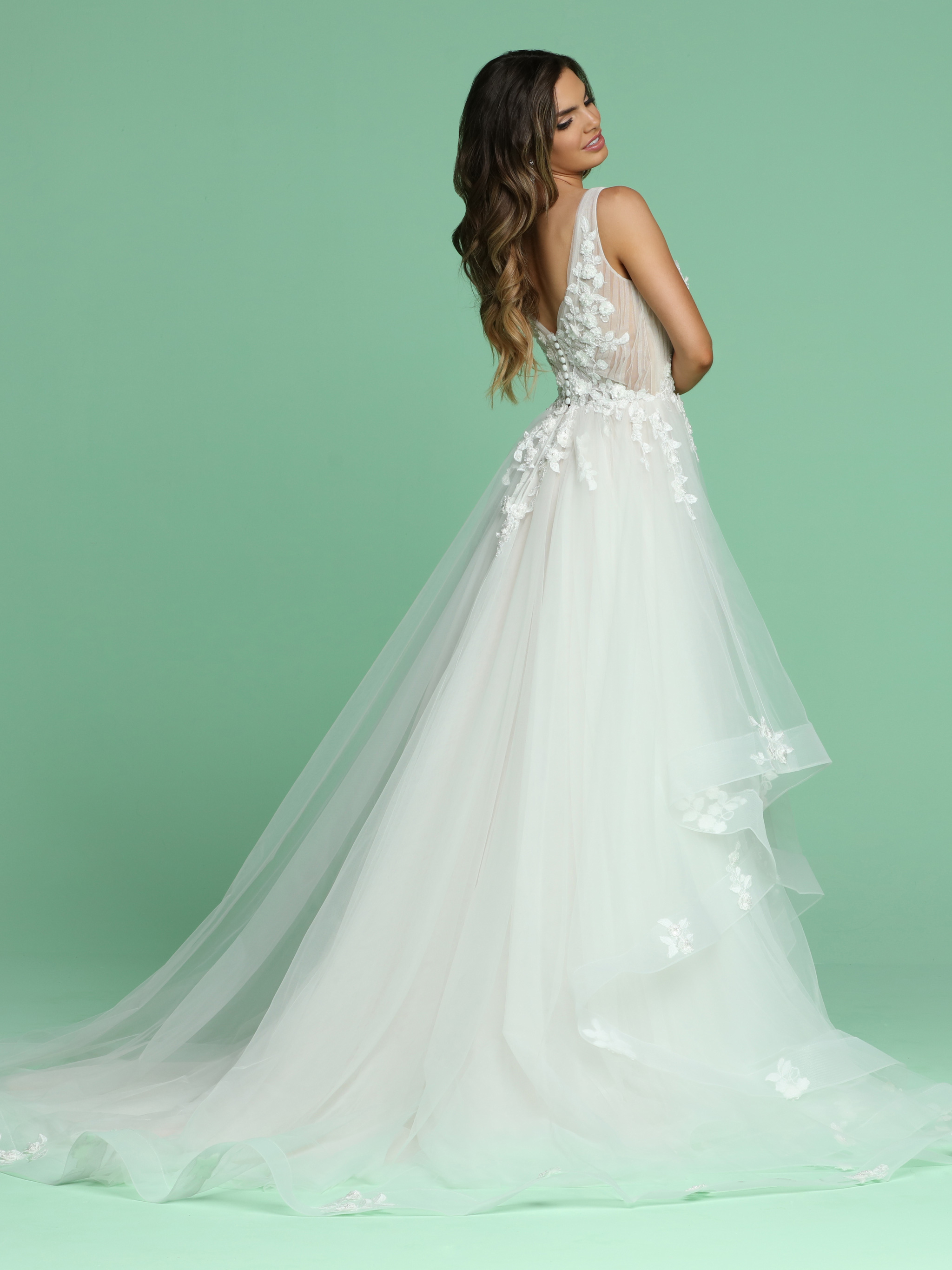 Available in: Ivory or Two-Tone Ivory/Blush
To see more details Click HERE for DaVinci Bridal Style #50601
DaVinci Bridal Style #50411: Lace, Organza & Tulle A-Line Wedding Dress, Lace Bodice, Sweetheart Neckline, Plunging V-Neck Detail, Modesty Panel, Spaghetti Straps. Multi-Tiered Organza Ball Gown Style Skirt, Chapel Train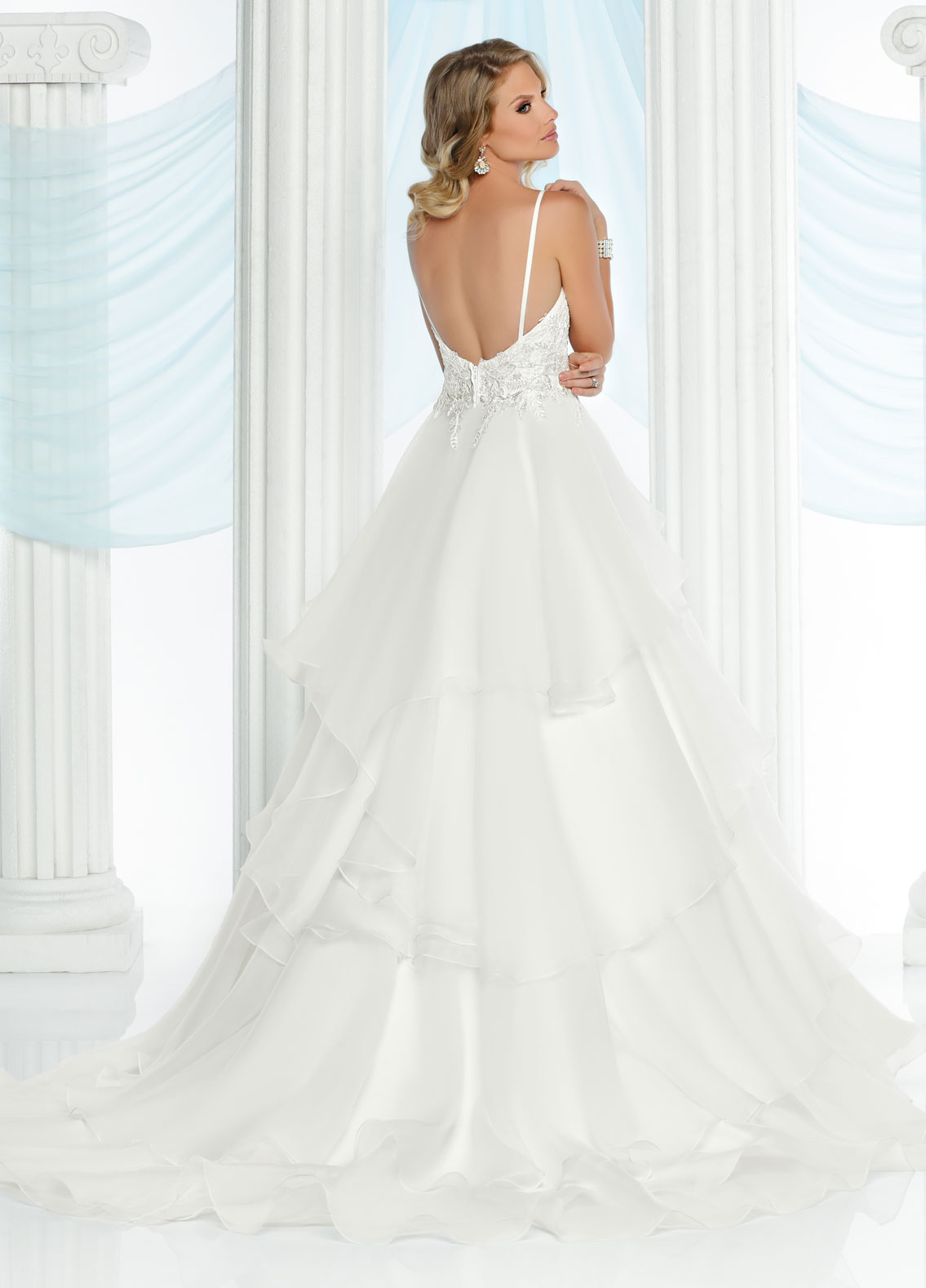 Available in: Ivory, White
To see more details Click HERE for DaVinci Bridal Style #50411
DaVinci Bridal Style #50501: Tulle & Lace Wedding Dress, Lace Bodice, V-Neckline, Sheer Lace Straps, Sheer Lace V-Back, Covered Buttons. Pleated Tulle Tiered Ball Gown Style Skirt, Chapel Train
Available in: Ivory, White
To see more details Click HERE for DaVinci Bridal Style #50501
Ruffled Wedding Dresses 2021-2022: Ruffled Dropped Waist & Mermaid Dresses
DaVinci Bridal Style #50325: Lace & Tulle Mermaid Wedding Dress, Beaded Lace Bodice, Strapless Sweetheart Neckline, Dropped Waist, Corset Back. Multi-Tier Feathered Tulle Skirt, Chapel Train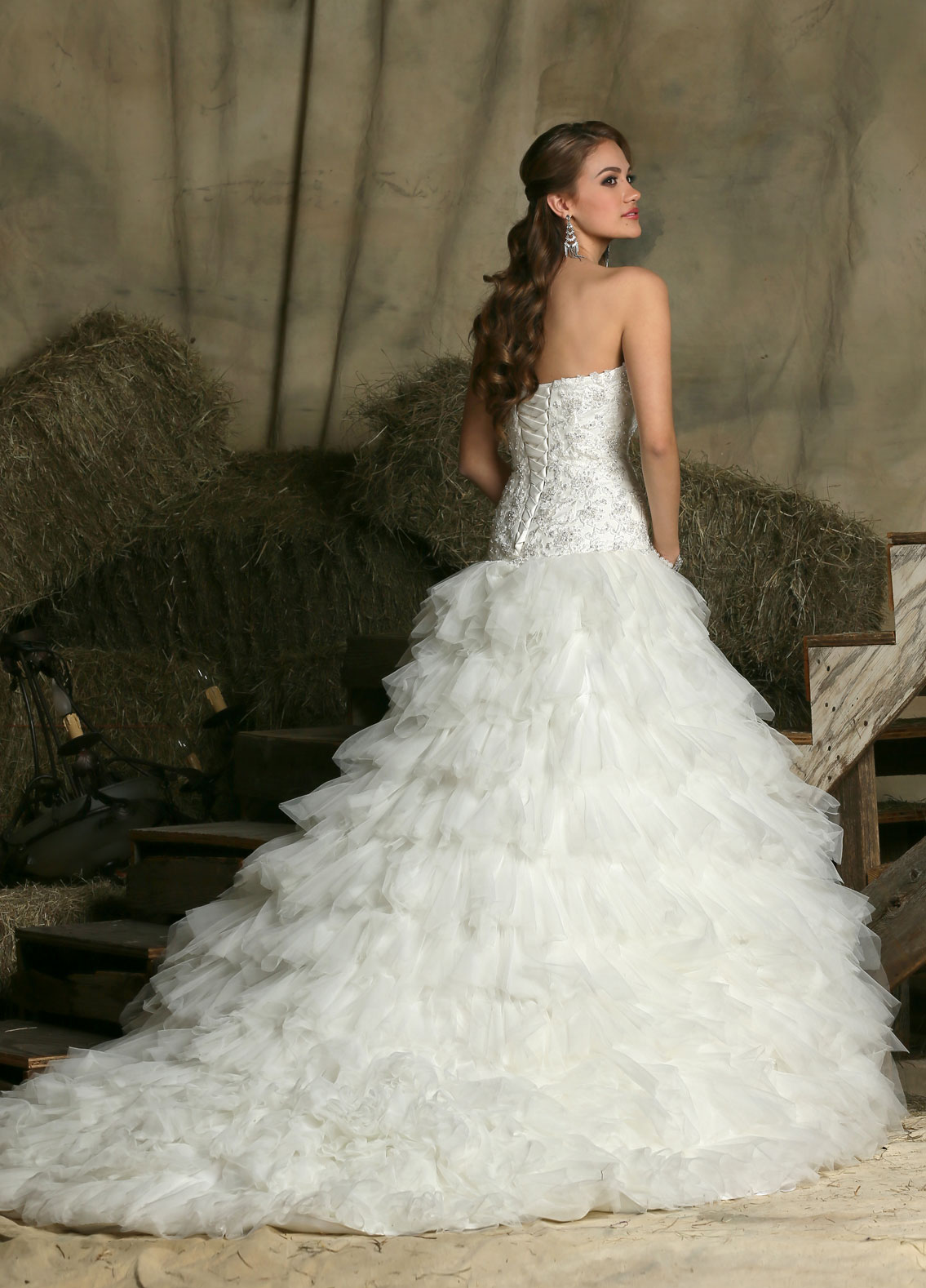 Available in: Ivory, White
To see more details Click HERE for DaVinci Bridal Style #50325
DaVinci Bridal Style #50178: Organza Mermaid Wedding Dress, Diagonal Ruched Bodice, Faux Wrap Strapless Sweetheart Neckline, Corset Back. Tiered & Layered Wavy Organza Mermaid Skirt, Beaded Applique Hip Accent, Chapel Train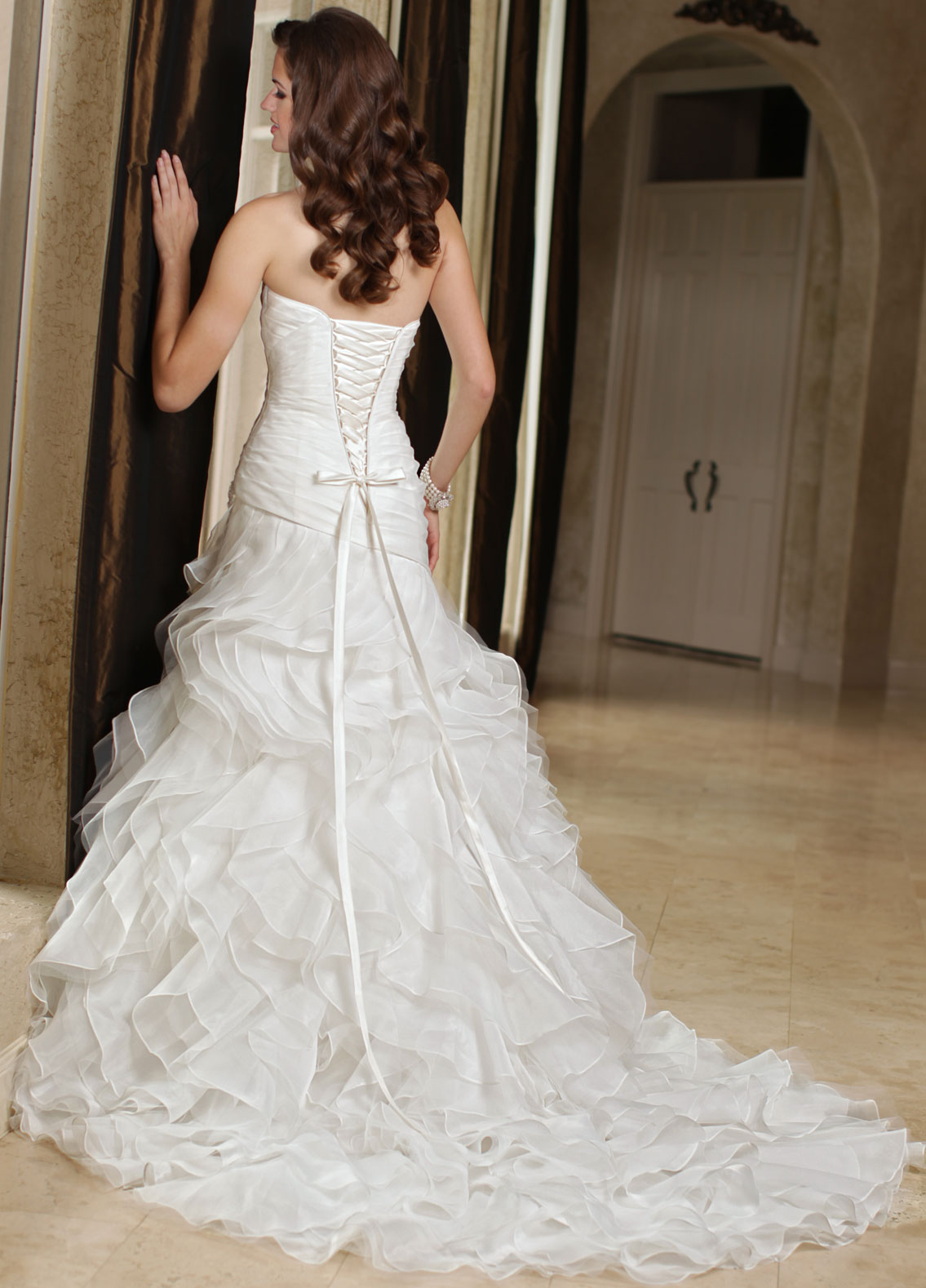 Available in: Ivory, White
To see more details Click HERE for DaVinci Bridal Style #50178
Ruffled Wedding Dresses 2021-2022: Dropped Waist Satin with Tiered Pickups
DaVinci Bridal Style #50004: Satin A-Line Wedding Dress, Ruched Drop Waist Bodice, Strapless Sweetheart Neckline, Corset Back. Asymmetrical Gathered Skirt with Pickups, Three-Tier Bustled Back, Chapel Train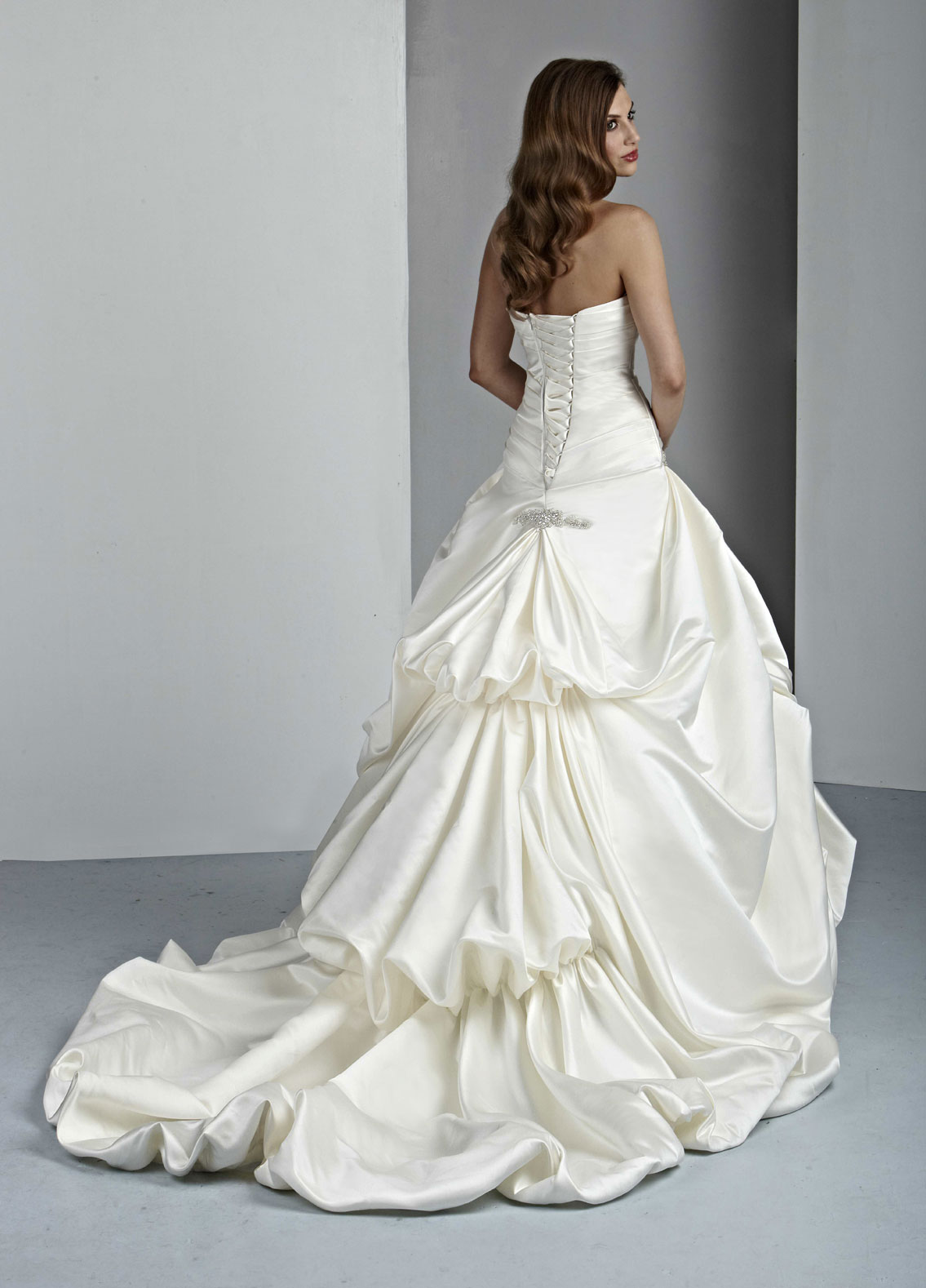 Available in: Ivory, White
To see more details Click HERE for DaVinci Bridal Style #50004
We have more beautiful dresses where these came from, plus brand new wedding dresses. Click HERE or on the image below for a Sneak Peek at our latest Formal Wedding Dress designs: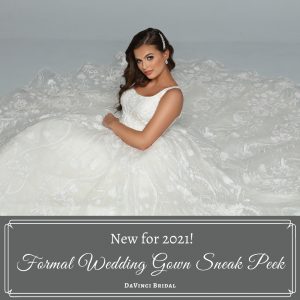 For the best ideas for wedding planning, beautiful on-trend dresses, classic styles & more, Click HERE or on the link below for DaVinci Bridal Blog: