It's the four words on your wedding planning checklist that can inspire either squeals of delight or a panic-induced cold sweat. Perhaps even both.
"Go Wedding Dress Shopping."
Whether or not you've been dreaming of those four words your entire life, and whether or not you consider your wedding gown to be the most important dress you will ever wear, finding The Dress is still a monumental task to complete. After all, bridal gowns aren't exactly something one shops for every day and they represent a whole new world of unique terms, silhouettes, fabrics, sizes, shapes, details, and style options. (Header Image Via Huffington Post)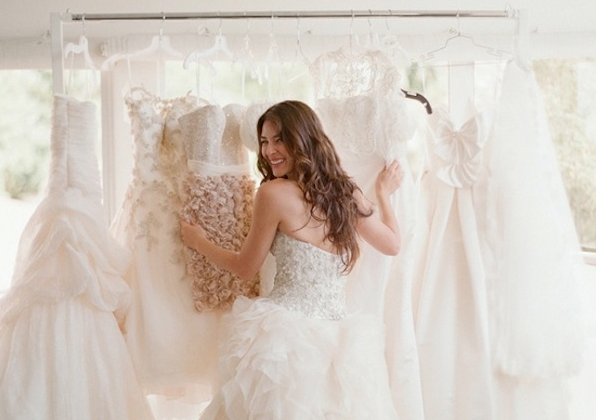 Not to worry, though! We have created a compilation of all the wedding dress shopping advice you should keep in mind before, during, and after the process right here for your convenience. Read it all if you're feeling particularly clueless or overwhelmed about the whole process, or simply print it off and keep it on hand for reference.
Before the Store: What to do Prior to Shopping
One of the best tips for wedding dress shopping we can offer brides ready to find the perfect wedding dress is to actually start the process way ahead of when you actually plan to visit a store. Remember, you should do your best to order your dress 6-8 months in advance. Try to allow for some prep time before you go, but not too much. Don't let yourself get overwhelmed. Do try to do at least some, if not all, of the following: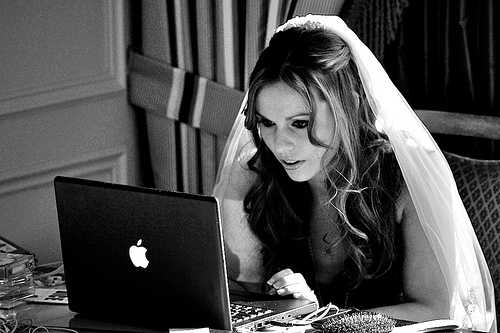 Learn the language. Remember how we said that bridal gowns represent a whole new world of terms that are most likely foreign to you? It's time to do your research and learn how to speak "wedding dress." This will be really important when it comes to speaking with your consultant about what you like and don't like. The web is full of handy bridal style guides to help you understand the differences in necklines, silhouettes, sleeves, train lengths, details, fabrics, etc. You don't have to memorize all of them, but at least be familiar with the names of things you're attracted to in a wedding dress.
Form an opinion. Doing your research isn't just about studying all these new fashion terms. It's also about figuring out your likes and dislikes. Flip through bridal magazines, Pinterest, The Knot, Instagram, or wedding blogs and save your favorites. Browse different designers to find the point of view, price point, quality, and delivery that fits you best. Combine learning the language with figuring out your preferences to save time. Make it fun and turn it into a party! Invite your closest friends, family members, and favorite fashionistas over for a fun night of virtual dress shopping. No task is daunting when it involves your favorite snacks, tasty drinks and a little bonding.
Do some salon recon. Before you make an appointment, find out all you can about the wedding dress stores in your area. Get recommendations from trusted sources in your network like friends, family, coworkers, or even the wedding professionals you've already contracted with. Read plenty of online reviews from sites like Yelp, Foursquare, Google+, and Yellowpages. That being said, be wary of only reading a small selection of polarized reviews. Make sure to look at several no-star, all-star, and middle-of-the-road reviews for a balanced perspective. Call the salon and ask some basic questions. Is the associate friendly, patient, and knowledgeable? Good customer service on the phone usually indicates good in-store service.
Buying online? Verify the site is an authentic, authorized retailer and not a peddler of copycat dresses. Copycat sellers use stolen images and offer dresses at limited-time, sounds-too-good-to-be-true prices. Remember, if it sounds too good to be true, it usually is. Brides who order through these websites rarely end up with a dress that looks anything like the picture. Avoid heartache and added stress by verifying the online store with the designer or manufacturer and reading vetted reviews. Many brick-and-mortar stores also have an online store, so calling to verify is simple. Try before you buy or at the very least, get properly measured. Try the dress on at a brick-and-mortar store or choose an online retailer with a try-on-at-home program.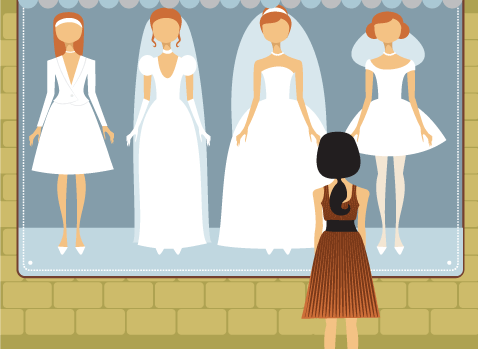 (Sample) size matters. First of all, before you even go falling in love with a dress, be sure the designer makes your size. Bridal sizes are often very different than regular sizes and not all manufacturers use the same size chart. Make sure to get your correct measurements and have them on hand for comparison. Once you're ready to try on dresses, call ahead to find out which stores on your list can effectively accommodate you with a wide range of samples. Most salon sample gowns are a bridal size 8 or 10, but a bigger store may carry more sizes in more styles. Also ask if they have clips, laces, and experienced consultants on hand for helping you try on gowns in smaller or larger sizes.
Budget is everything – or is it? This is where some of that research comes in handy. Once you have an idea of how much different kinds of wedding dresses cost, it's time to decide on a budget. Before you start crunching numbers, though, consider how important your wedding dress is to you compared to the other items on your budget checklist. This will help you determine if your dress budget is absolutely finite or a bit flexible when faced with a higher price tag. If it's finite, be prepared to stick to it and say no to anything outside of your budget no matter how gorgeous. If it's a bit flexible, be prepared to sacrifice escort cards, an appetizer, or something lower priority to get The Dress. When setting your numbers, be practical and select a price range instead of a single number to account for any extra costs.
Make an appointment! Bridal salons are busy places – especially on Saturdays and during peak wedding season (blahblah). Even big stores recommend making an appointment. If you don't, you risk getting turned away or having a rushed or otherwise low-quality experience. That being said, even if you have an appointment a higher traffic day can still result in a less-than-ideal trip. If you have the time, willingness, and ability, consider making an appointment during the week or on a Sunday.
Mission NOT Impossible: Shopping Tips for Finding The Dress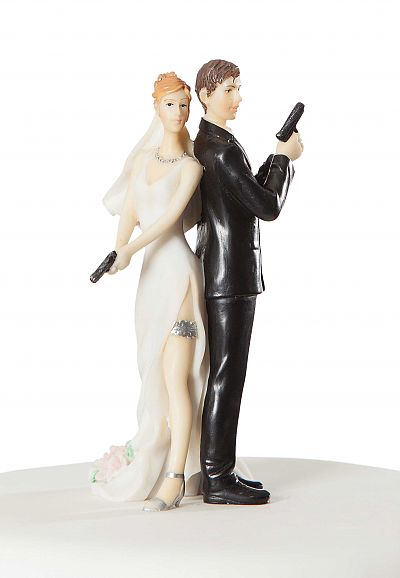 Now that you're an educated, confident, prepared consumer, it's time to actually go to your bridal gown shopping appointments. No matter how informed you are, the situation tends to get real as soon as you're faced with your first great white wall of wedding dresses. Just breathe and remember – you're on a mission! These in-store wedding dress shopping tips show you how to find the perfect wedding dress without getting distracted or overwhelmed and giving up, or worse, giving in.
The more, the UNmerrier. We recommend only taking 2 or 3 of your closest friends and family members or most trusted fashion advisers. Remember, every person you take with you is another mouth that may or may not voice an opinion in line with your vision. You want honest, supportive help to assist you in your wedding dress buying mission. That big group of awesome people you threw the virtual dress shopping party with? Leave most (if not all) of them at home.
Look like you. Show up to your wedding dress shopping appointment how you usually look. This is not the time or place to skip or suddenly invent a regular beauty routine. You want to look like yourself on your wedding day. Even if you're going to glam it up with special makeup or do something else to help you look and feel even more beautiful on The Big Day, choosing a gown in your regular makeup (or lack thereof) will give you a good baseline. That being said…
Dress the part. More often than not, it is your designated bridal consultant and not your friends and family who will be helping you in and out of dresses. So, modesty is key. You will also need to bring or dress in anything and everything that may change how a gown looks, feels, or fits. Wear nice, comfortable and clean underwear, your favorite strapless bra or corset, and shapewear you may use for the wedding.  Bring your wedding shoes if you already have them, or a pair of shoes featuring the same heel height you will likely wear with your dress. Also bring bobby pins and hair ties to experiment with hairstyles and don't forget the camera! Pictures (if allowed) will be all you have of the dress to help you plan while you wait for it to come in.
Your day, your way. Don't be a bridezilla, but don't lose control of the appointment. Keep your entourage in check and be kind, yet firm with your consultant. Go into this experience with an open mind, clear budget, and pictures of your favorite dresses. Be sure your consultant knows all the important details like a summary of you and your fiance's story, your wedding date, and any details you have planned or are planning (think venue, colors, theme, etc). Work with him or her to determine common elements between your dress pictures. Most importantly, be firm on budget as well as clear and outspoken about what you do and don't like in each dress you try on. Reiterate the style and price you're looking for whenever the appointment gets out of hand.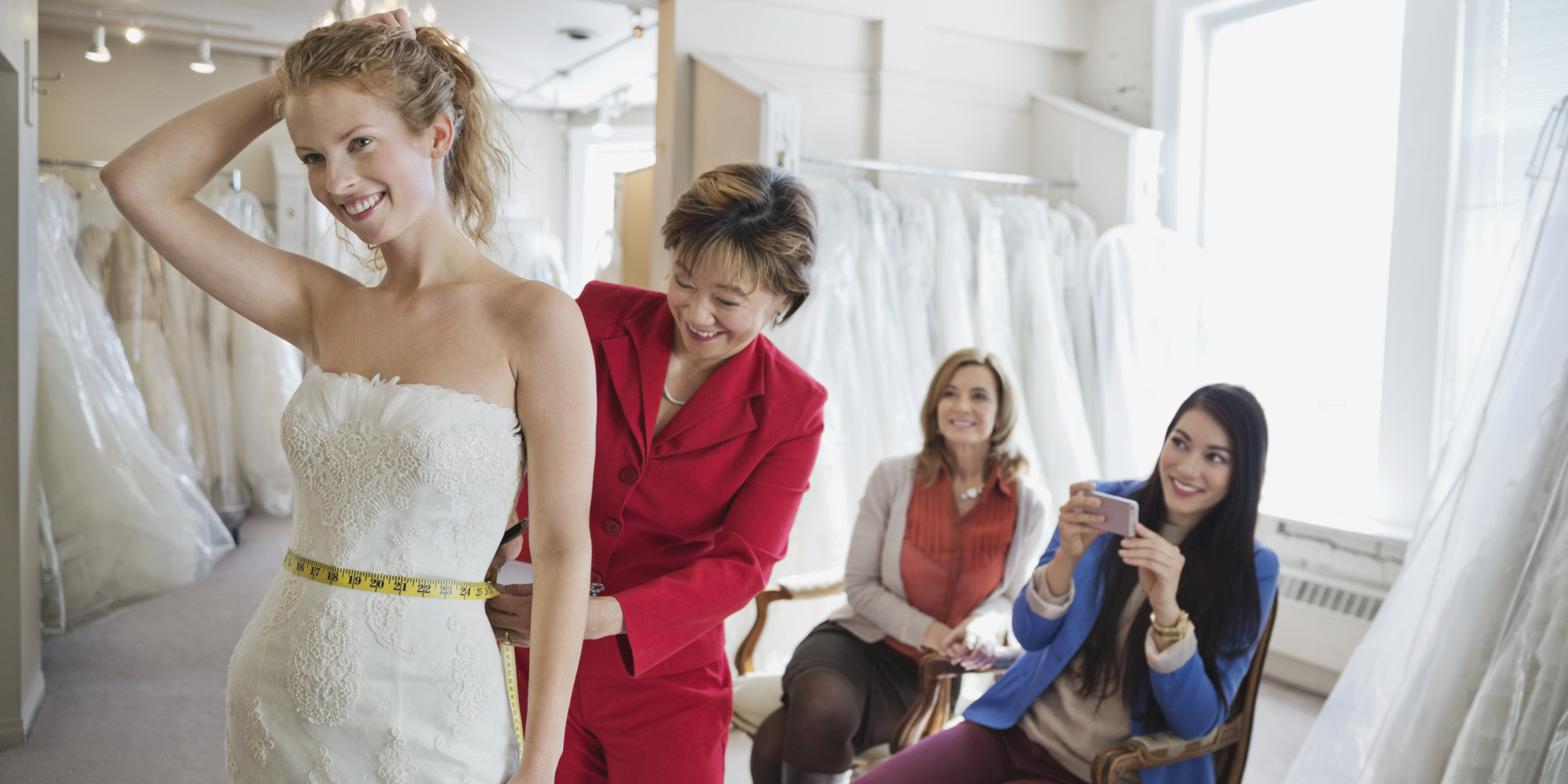 Do NOT try on ANY dresses outside of your budget unless you are prepared to pay the difference. EVER. Ignoring this rule leads to more heartbreak than you would think.
Think outside the box. We know, you've worked really hard to figure out your wedding dress likes and dislikes. However, what all those pictures you threw away or scoffed at don't show is how that wedding dress looks on you. Put your beliefs about a silhouette, fabric, or style to the test by trying it on. It may confirm what you already think you know, or you may surprise yourself. Plus, remember that your bridal consultant is a trained expert on wedding fashion. Give any recommended dresses they pull a chance, so long as they're in budget.
Give it a rest. Wedding dress shopping is a big deal. It's often a crazy, exciting, overwhelming, stressful, and/or emotional experience. If you can't (or won't!) sleep on it when you think you've found The Dress, at least step away and give it a good think. We promise that wedding gown will still be available to order when you get back. Well, with exception to special circumstances like trunk shows or sample sales, of course. This is a big style and budget decision, so give it the gravity it deserves. Don't just get caught up in the moment.
Bridal size doesn't matter. Order whatever size fits you now. Remember, bridal sizing is often extremely different than ready-to-wear or "street" sizing, so don't get number shock if you get measured and your size seems inflated. Your dress should be ordered in whatever size fits your largest measurement number. For example,  if your hips are a size 12 and the rest of you is an 8, you will be ordering your wedding dress in a size 12. Alterations are a natural part of the wedding gown buying process – regardless of your fitness plans or love of pinching pennies. Dresses are always easier to take in than let out, if letting out is even possible, and there are simpler ways to save money on your wedding. Your bridal gown is meant to be a custom frock that is made specifically to fit your unique figure. Enjoy it.
Read the fine print. ALL of it. You know that contract we mentioned? Don't just sign it – read it first. Look for the payment agreement, ship date, additional fees, etc. and ask about anything you don't understand. Once you sign the contract, protect your investment by keeping a copy of the signed version and paying with a traceable method like a check or credit card.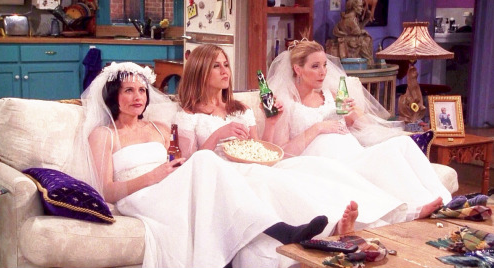 HAVE FUN! Whether or not you are a shopaholic, remember what this mission is about and how it will become an important part of you and your partner's love story. It can be stressful keeping up with all these wedding dress shopping tips, but ultimately you are searching for the dress you can picture yourself walking down the aisle to say your vows in. That's a pretty amazing thing. It's definitely something you want to celebrate in the moment with your trusty, 2-3 person entourage. 😉
The Aftermath: or, What Not to do When You've Finished Shopping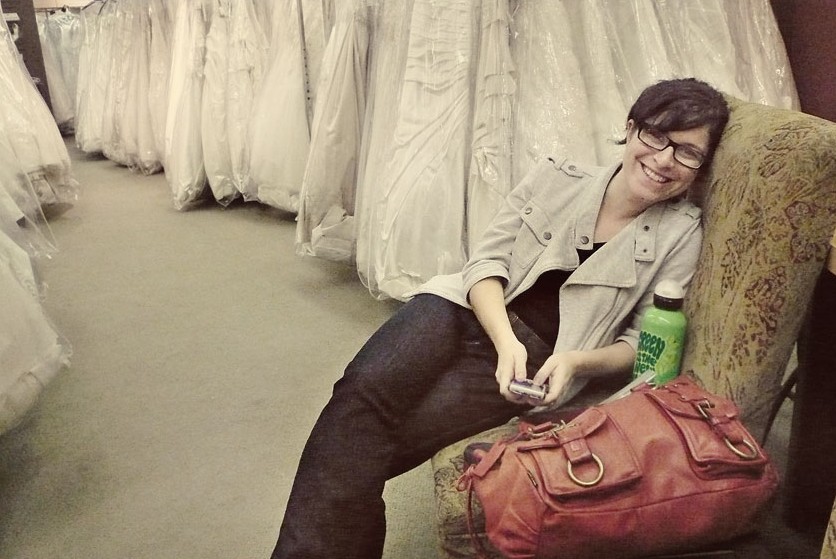 Congratulations! You've finally found and survived purchasing The Dress. All that's left is waiting for it to come in. Ah, the waiting. Even if you are typically a patient person, you are now a bride. This means that instead of waiting under normal circumstances, you are waiting in a world chock full of fashion, excessive decision making, and perfectionism. Don't let that get to you! Here are some post wedding dress shopping tips to help you survive the wait:
Remember, if you followed most of these tips, you really did pick the right dress. Don't question it. You tried on dresses in a safe environment, were outspoken about your budget and your likes and dislikes to your consultant, and finally found the perfect dress for you to wear on your wedding day.
Not everyone has "The Moment" shown in movies or T.V. shows with the dress they select. Your "moment" may be a calm, cool, and collected "Where do I sign?" with no tears or jumping for joy. You're looking for a wedding dress, not a picture perfect "This is it!" moment. If it happens, great. If not, don't worry. Save those emotions for your actual wedding day.
Consider writing down everything you remember about picking your dress as soon as possible after you buy it. What does it look like? How does it make you feel? What parts of your body does it fit perfectly? Why did you pick it? Having a solid record of these things will help keep any doubt in check, especially if pictures weren't allowed.
If pictures are allowed, keep both a digital and a printed copy of you in your dress on you at all times. Not only will the picture help chase away any doubt, but it will also help you keep perspective and cohesion when planning the rest of your wedding.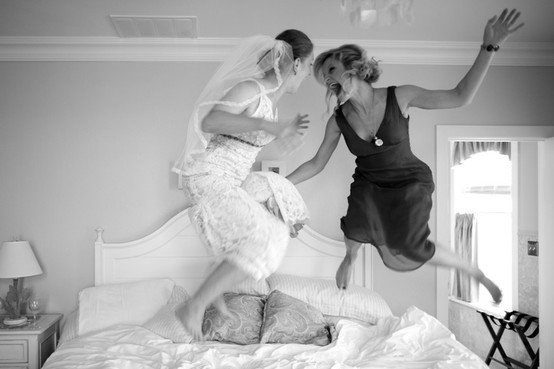 When in doubt, talk it out. Another reason for only bringing 2-3 of your closest peeps with you to your appointment? Because these are the people you will need to call if you start to question your decision, can't remember certain details, or simply just need to relive the joy that comes with checking such a momentous task off your list. They're there for you, and they know wedding planning is crazy, so don't be afraid to lean on them for support.
Don't try on any more dresses! Not even for fun. No matter how secure you are in your wedding dress purchasing decision, the temptation of all that tulle, taffeta, satin, and lace is real. If trying on more dresses doesn't make you question your decision, it will make the wait for your dress seem longer. It's really not even a good idea to look at other dresses, but that's almost impossible when you're wedding planning.
If you're obsessing, stop! You have a whole wedding to plan and obsess over. The dress is just one detail.
If you truly do have real concerns about the dress, our advice is always to wait until it comes in and try it on. Even if there are multiple things you don't like about it, alterations departments can work wonders.
Now that you have all the wedding gown shopping advice you could possibly need, want, or handle, it's time to get started! We hope this guide has been helpful and insightful to you so that you can make an informed, confident decision. As always, feel free to contact us with any questions and we wish you the best of luck on your search!