One of the prettiest trends seen on the Bridal Fashion Week runways includes the gowns in our Light & Airy Wedding Dresses for 2020 collection.
The fabrics alone make these dresses look and feel effortlessly graceful. Gowns with layers of tulle & organza seem to float around you. This year's delicate laces are as feminine as they come.
Maybe the best thing is that these styles are just as beautiful hemmed to floor-length or with a short sweep train. They're perfect for the bride who doesn't want a long train that needs to be bustled or carried.
And with DaVinci dresses, that's easy. Just ask your retailer to show you the styles that are the easiest to shorten so you can twirl on the dance floor without extra weight.
When you buy your Wedding Dress from DaVinci Bridal…
You know that your gown will be created by one of the premiere bridal dress companies in the world. We use only top quality fabrics fashioned into high fashion design using high-end construction. We guarantee you'll love their affordable prices. A DaVinci is the bridal dress retailers love to carry because best of all, most of these dresses are available for rush delivery at no extra charge!
Light & Airy Wedding Dresses for 2020: Easy to Wear Ball Gowns
DaVinci Bridal Style #50608: Tulle A-Line Ball Gown Wedding Dress, Sheer Modest Bateau Neckline, Deep V-Back. Bodice with Lace Applique, Sequin Accent. Multi-Tier Tulle Skirt, Chapel Train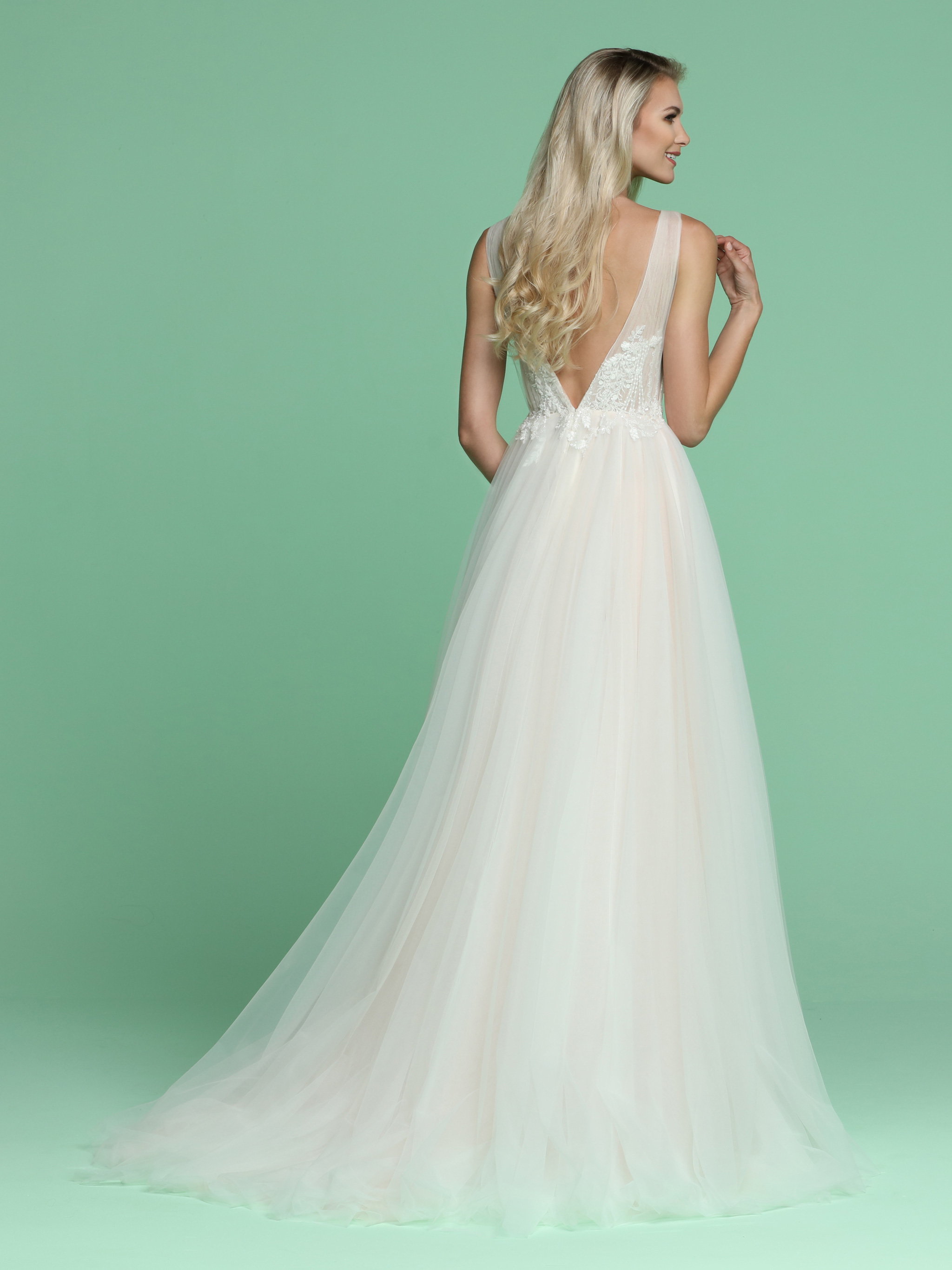 Available in: Ivory or White
To see more details Click HERE for DaVinci Bridal Style #50608
DaVinci Bridal Style #50614: Tulle A-Line Ball Gown, Strapless Sweetheart Neckline, Beaded Lace Bodice. Multi-Layer Tulle Skirt, Chapel Train. Available in Two-Tone Color Option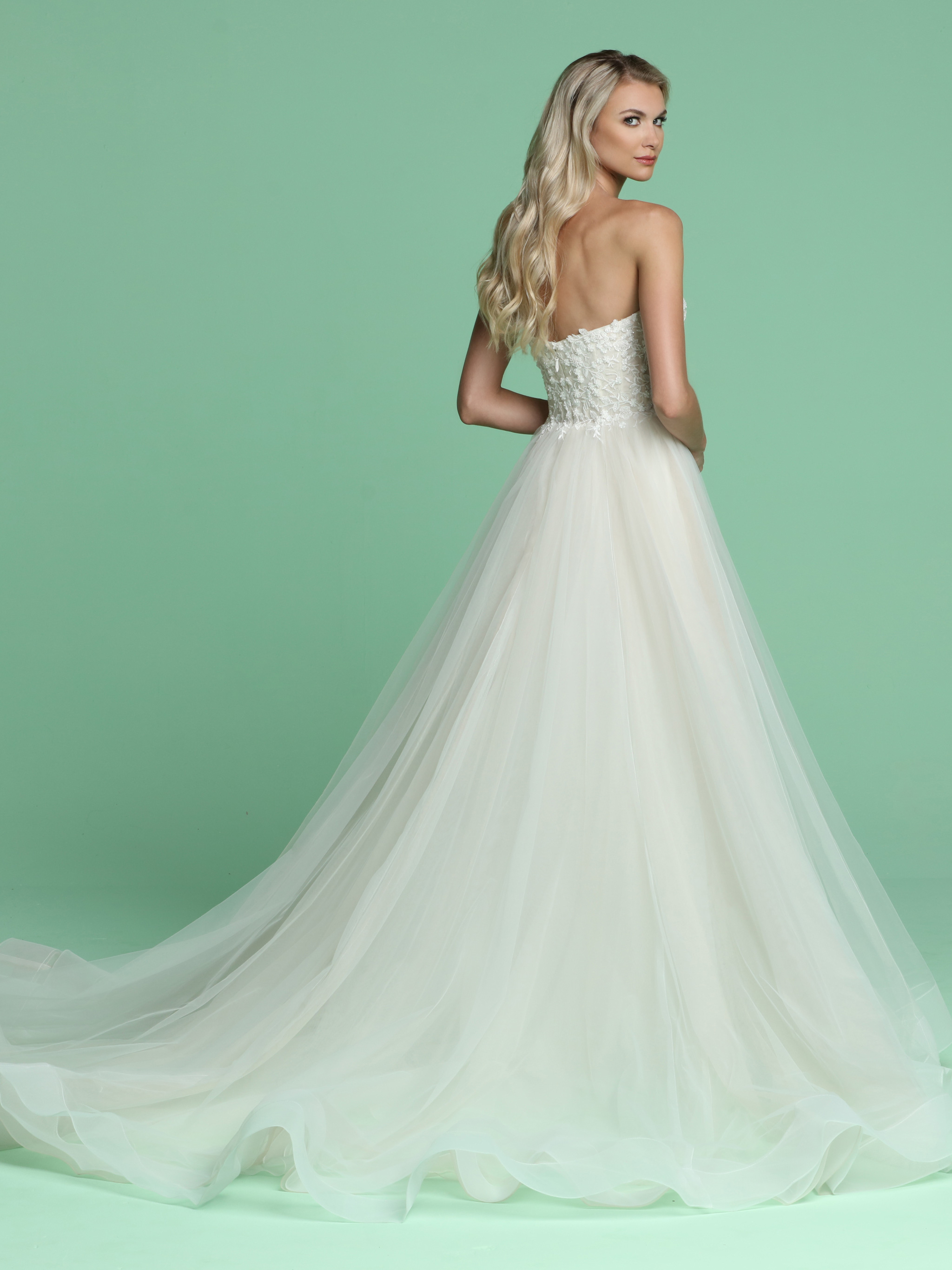 Available in: Ivory or Two-Tone Ivory/Nude
To see more details Click HERE for DaVinci Bridal Style #50614
Light & Airy Wedding Dresses for 2020: Soft & Sparkly Glitter Tulle Dresses
DaVinci Bridal Style #50619: Glittering All Over Sequin Tulle A-Line Ball Gown, Sweetheart Neckline, Criss Cross Back Straps, Chapel Train. Available in Two-Tone Color Option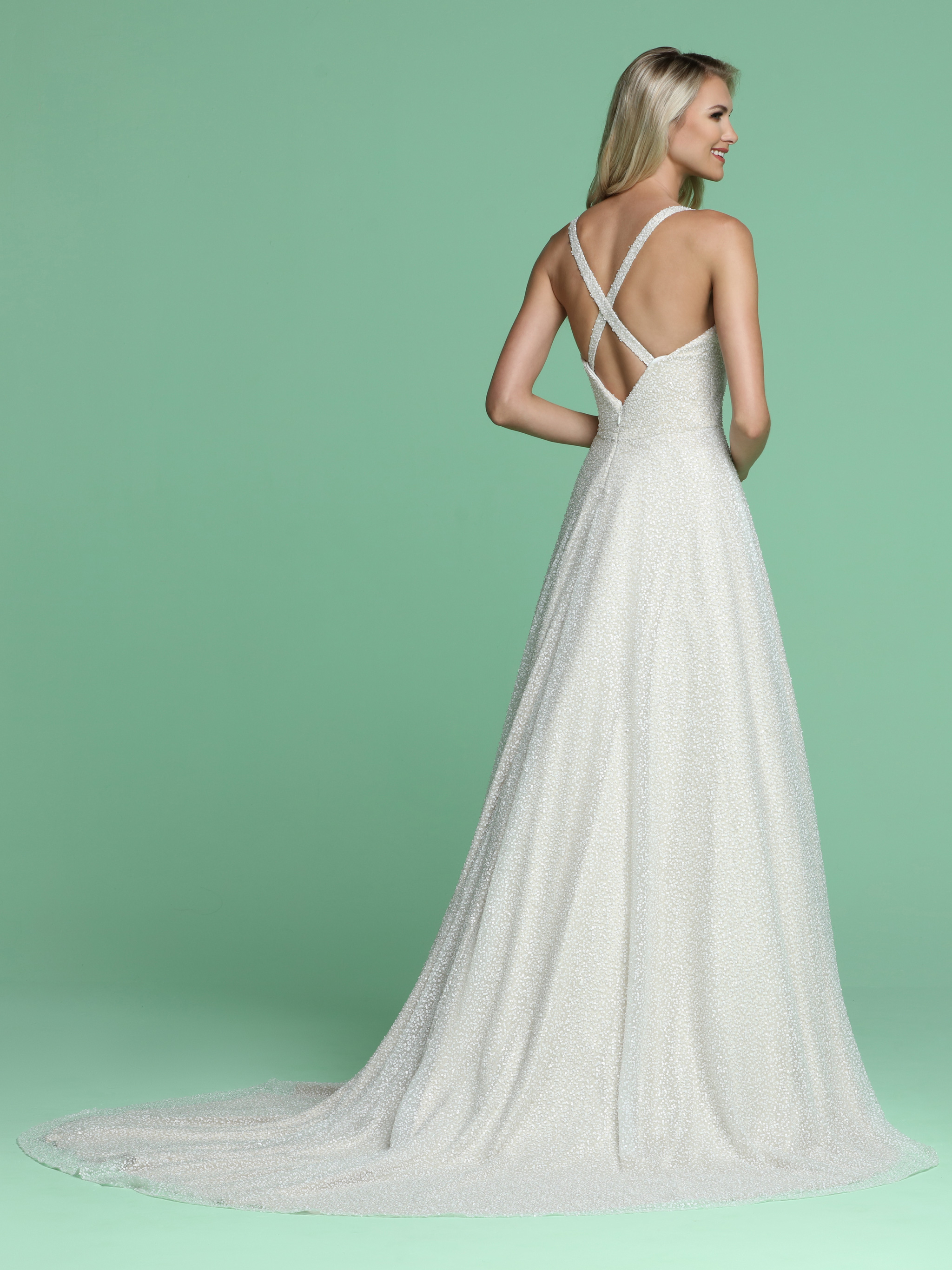 Available in: Ivory or Two-Tone Ivory/Blush
To see more details Click HERE for DaVinci Bridal Style #50619
DaVinci Bridal Style #50628: Glitter Tulle & Lace A-Line Ball Gown Wedding Dress, Straight Across Neckline, Straps, Sequin Accents. Layered Glitter Tulle Skirt, Chapel Train. Available in Two-Tone Color Option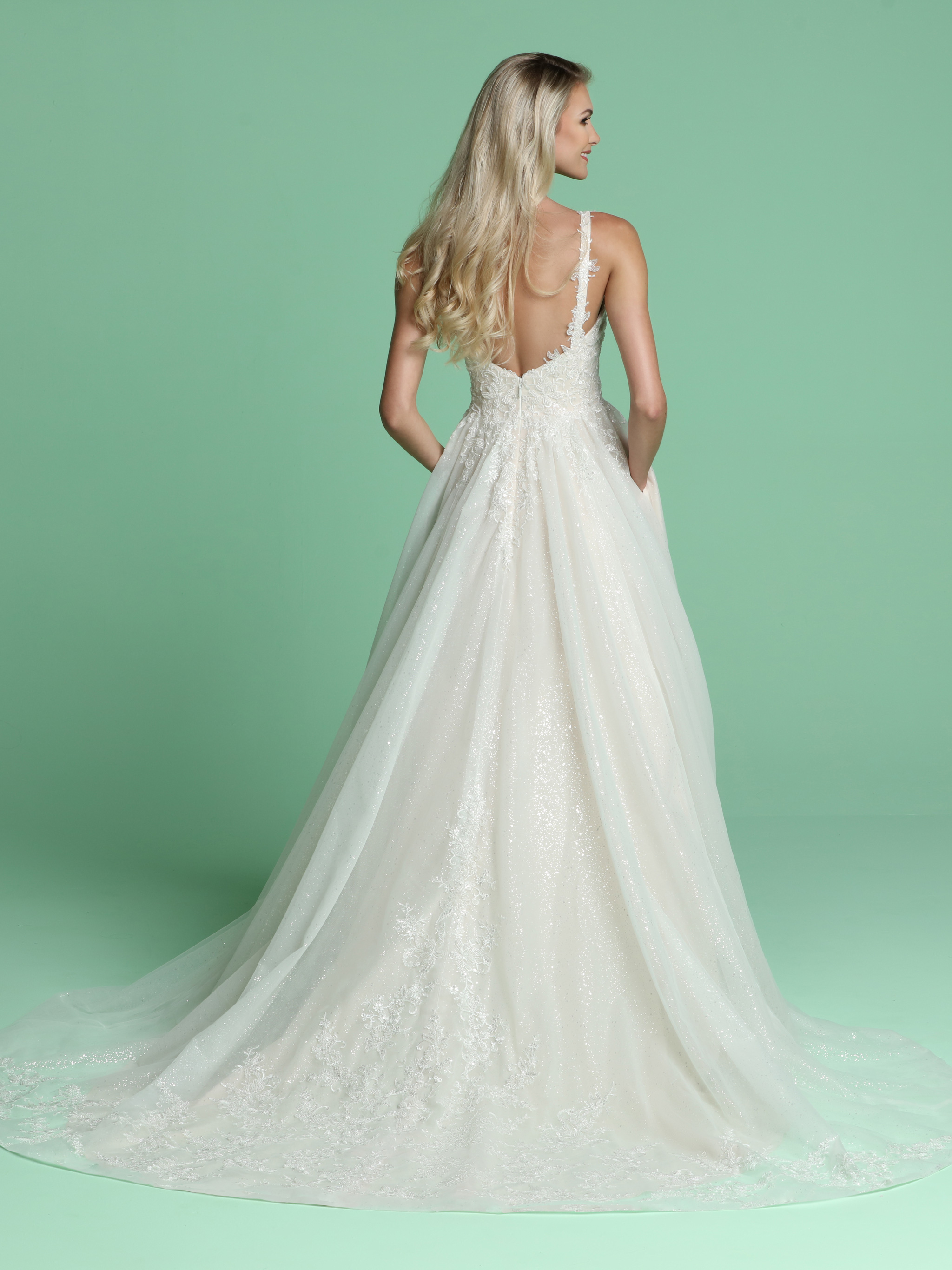 Available in: Ivory or Two-Tone Ivory/Champagne
To see more details Click HERE for DaVinci Bridal Style #50628
Light & Airy Wedding Dresses for 2020: Light as Air Lace A-Line Designs
DaVinci Bridal Style #50464: Tulle & Lace A-Line Wedding Dress, Lace Bodice, Beaded V-Neckline, Beaded Straps, Low Scoop Back, Tulle Skirt with Lace Applique, Beaded Waistband, Chapel Train
Available in: Ivory, White
To see more, Click HERE for DaVinci Bridal Style #50464
DaVinci Bridal Style #50513: Tulle & Lace A-Line Wedding Dress, Floral Lace Applique Bodice, V-Neckline, V-Back, Sheer Straps. Tulle Ball Gown Skirt with Floral Lace Applique, Smooth Hem, Chapel Train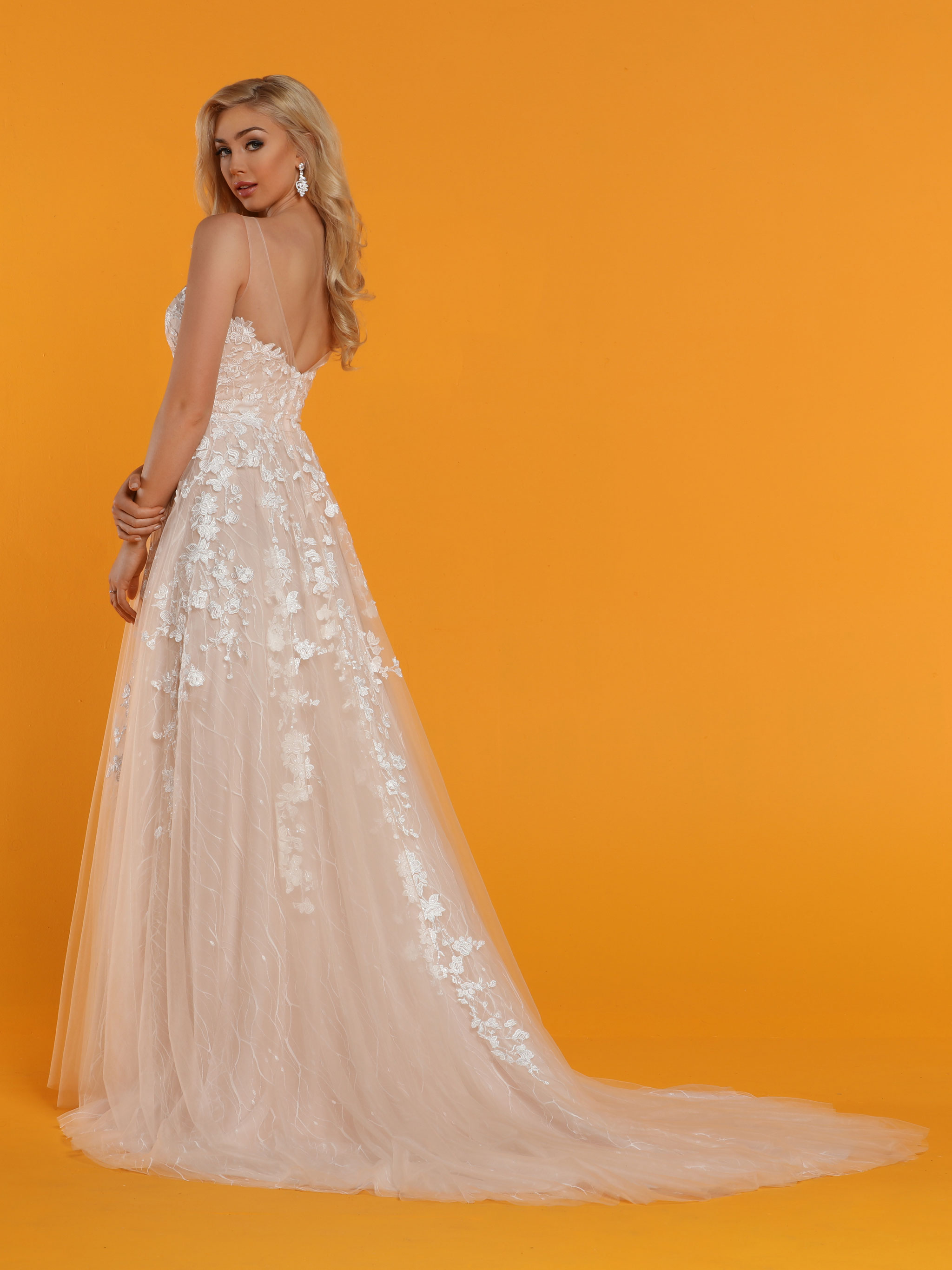 Available in: Ivory or Two-Tone Ivory/Blush
To see more details Click HERE for DaVinci Bridal Style #50513
DaVinci Bridal Style #50408: Lace & Tulle A-Line Wedding Dress, Lace Bodice, Sweetheart Neckline, Off the Shoulder Lace Straps, Scoop Back. Wide Satin Ribbon Waistband, Gathered Tulle Ball Gown Style Skirt, Chapel Train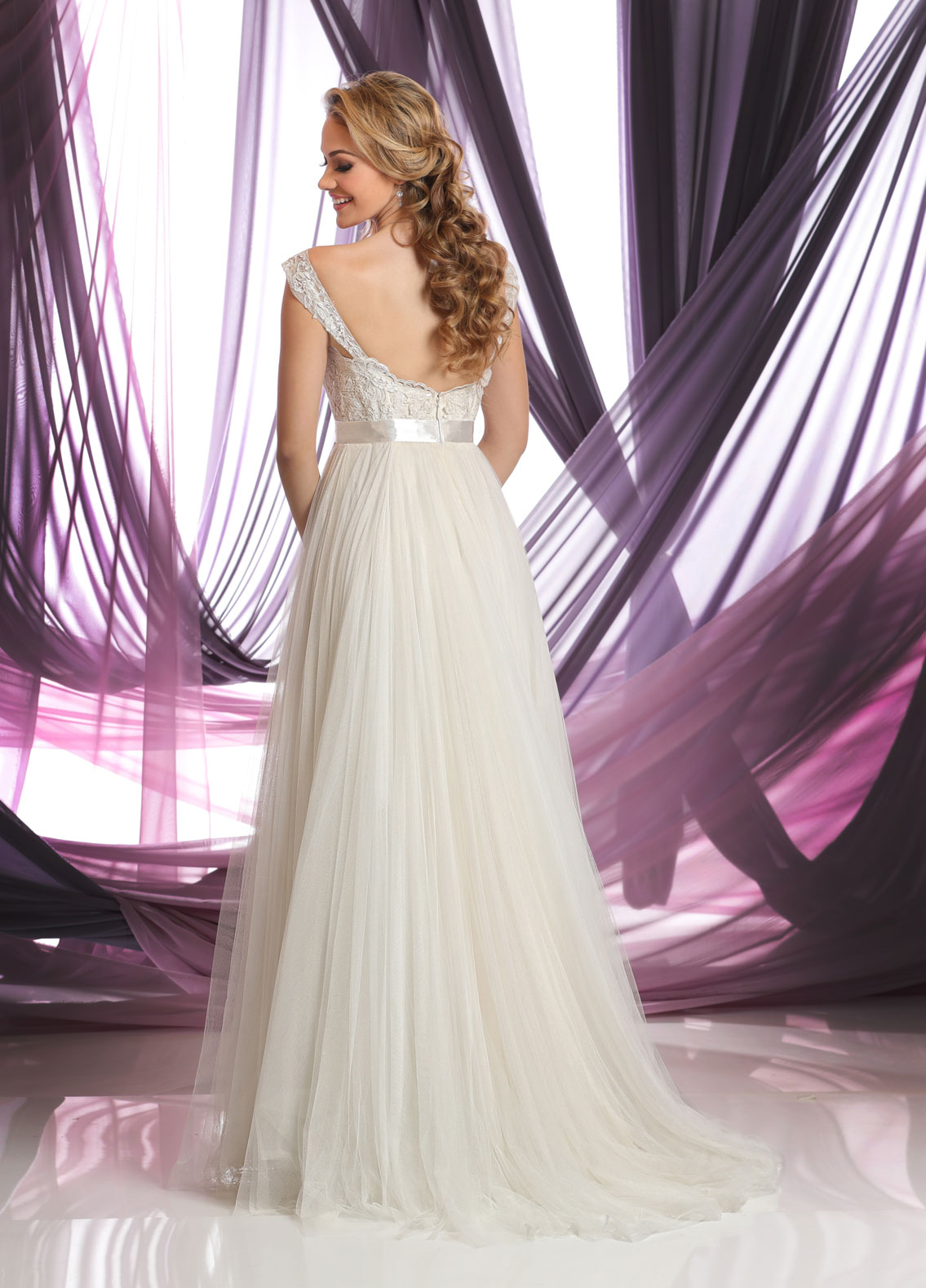 Available in: Ivory, White
To see more details Click HERE for DaVinci Bridal Style #50408
DaVinci Bridal Style #50536: Tulle & Lace A-Line Wedding Dress, Fitted Lace Bodice, Sweetheart Neckline, Spaghetti Straps, Open Back. Full Tulle Ball Gown Style Skirt, Lace Applique, Chapel Train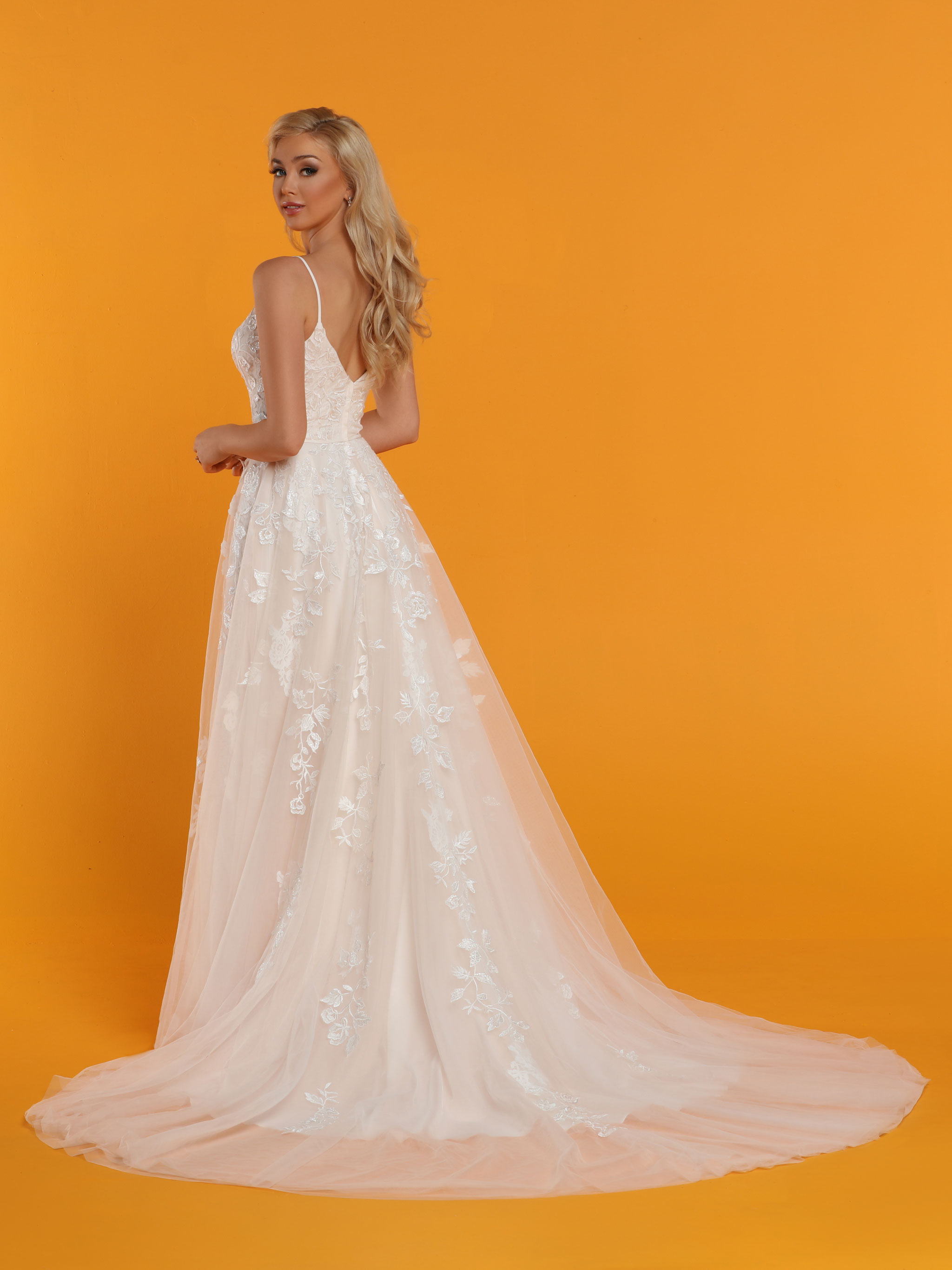 Available in: Ivory or Two-Tone Ivory/Blush
To see more details Click HERE for DaVinci Bridal Style #50536
DaVinci Bridal Style #50361: Tulle & Lace A-Line Wedding Dress, Beaded Lace Bodice, Sweetheart Neckline, Beaded Straps, V-Back, Beaded Strap Detail. Sheer Tulle A-Line Skirt, Beaded Lace Applique, Chapel Train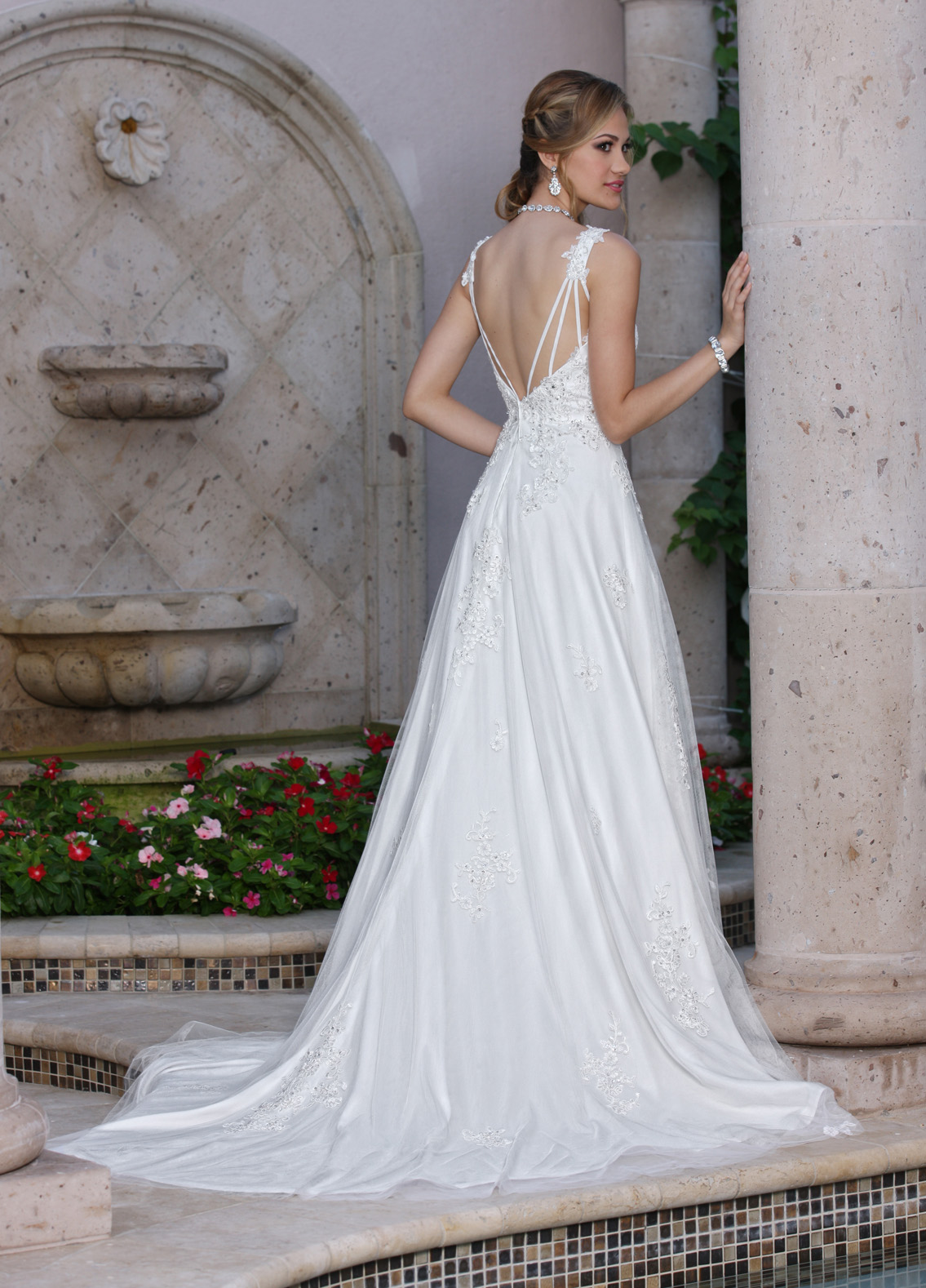 Available in: Ivory, White
To see more details Click HERE for DaVinci Bridal Style #50361
Light & Airy Wedding Dresses for 2020: Streamlined Sheath Dresses
DaVinci Bridal Style #8465: Organza A-Line Wedding Dress, Ruched Strapless Bodice, Satin Waistband Belt, Fabric Flower Accent, Covered Buttons. A-Line Skirt, Diagonal Draped Front Layers, Chapel Train 
Available in: Ivory, White or Two-Tone Ivory/Cafe, White/Cafe, Ivory/Bridesmaid, White/Bridesmaid
To see more details Click HERE for DaVinci Bridal Style #8465
DaVinci Bridal Style #50427 Lace & Tulle Fit & Flare Wedding Dress, Strapless Sweetheart Lace Bodice, Wide Ribbon Waistband, Back Ties. Tulle Skirt with Lace Applique, Chapel Train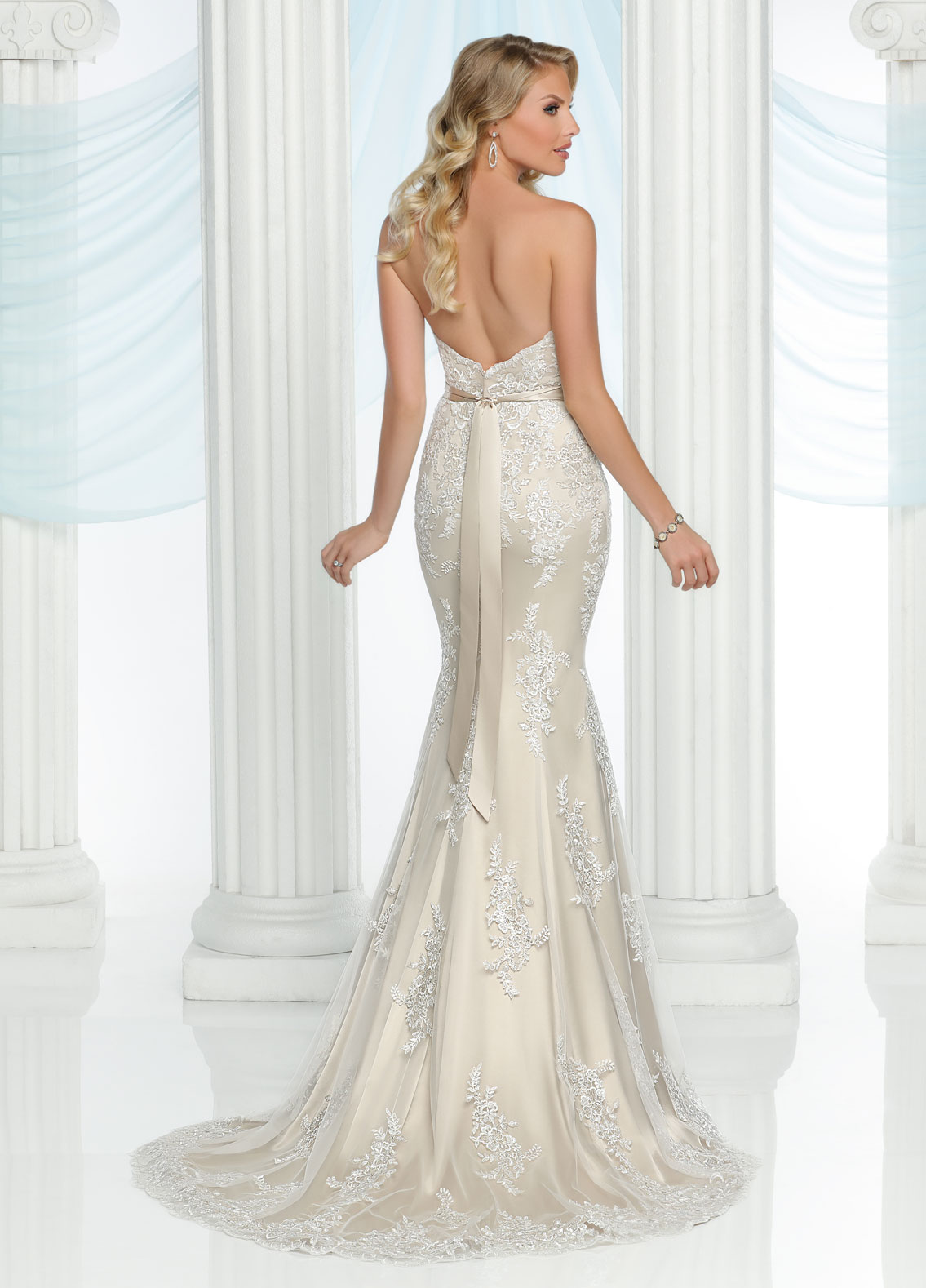 Available in: Ivory, White or Two-Tone Ivory/Antique, White/Antique
To see more details Click HERE for DaVinci Bridal Style #50427
Have you seen our new bridesmaids dresses? Click HERE or on the image below for an Exclusive First Look 2020 DaVinci Bridal Bridesmaid Collection:
You'll find our entire collection of wedding dresses, starting with our 2020 collection, on our home page. Click HERE or on the image below to shop DaVinci Bridal Wedding Dresses & Gowns: