You've checked your itinerary & packed your bags for your honeymoon, but … do you know how to preserve your wedding gown?
Even if you decide to donate your dress, there are important considerations:
Your wedding gown & other accessories like your veil must be cleaned immediately after the wedding.
Body oil and sweat will be absorbed into the fabric, at least to some extent.
If left unwashed, oil & sweat will create yellowish stains that may be permanent.
Not preserving your wedding gown pretty much means you're throwing it away.
The good news is, wedding gown cleaning and preservation is something you can plan ahead of time. Here are a couple of ideas:
Some wedding and event planners will handle the task for you and can get a good rate with their favorite dress preservation company.
You can set up the process in advance then assign a friend to drop your dress off while you're on your honeymoon, just the same as you'll have someone return all the tuxedos.
So let's talk about just what you need to do to make that beautiful wedding gown—either fashioned by a couture designer or handmade with lots of love—last a lifetime, both for you to enjoy and to perhaps pass down to your daughter or someone else one day.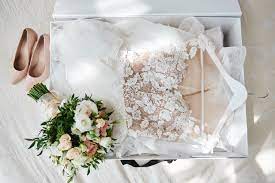 How to Preserve Your Wedding Gown: Find an Expert
Ask friends for recommendations. Research reviews for reliable preservationists in your area. This is one time you do not want just any old dry cleaner. Remember the fortune you spent on that dress? Or the hours you took to hand sew it? You need a wedding gown specialist to do it right.
Ask questions regarding the specific details and fabric of your dress.
You want to make sure that every inch of your dress is cleaned correctly. 

The preservationist absolutely

must

know how to work with various bridal fabrics.

They also need to know which cleaning methods should be used specifically for your type of gown.
Remember: You don't have to have the specialist pick up your dress.
Either your wedding planner can do it (providing you're not charged too much extra), or you can assign a friend to drop off your dress. Just make a note in your planning notebook and then choose the most reliable person you know. You don't want to entrust just anybody with this particular treasure!
Double-check the Cleaning & Preservation Contract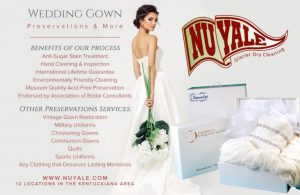 When it comes to preserving your gown, it's more than crucial to have everything in writing.
Be sure to ask your preservation expert if you need to sign a waiver. If they don't do the cleaning themselves, some companies will refuse to take responsibility for preserving the gown if it's cleaned by some other firm, even if it comes to them undamaged in any way. Also, ask if the preservation company offers a warranty in case your dress becomes damaged a year or two down the road. For instance, ask if they'll take responsibility for insect or moisture damage because they didn't package the gown properly.
Do

not

sign any contract that voids the warranty if you open the sealed dress.

Wedding gowns and other important formal wear items should be taken out and aired once a year.

Never take a phone quote as final.

It's far better to visit the company office so you can see samples of their work and know that your gown will be thoroughly inspected and receive the best care possible.

Then you can talk about price.
How to Preserve Your Wedding Gown: Your Wedding Dress is Worth the Price!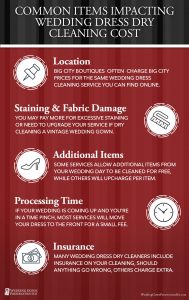 On the average, expect to pay between $225 and $300 for cleaning and preservation.
Some bridal boutiques can offer a discount if you use their specialist.

One important factor that determines price is the fabric, ornamentation, and degree of stain damage.

Overall, gowns with fewer or no embellishments are less expensive to clean than those with heavy beading or fabrics like brocade or velvet.
Prices also vary by area, so certain places in the country may be more or less expensive depending. 
You'll probably pay less to have your gown preserved if you live in a small town in the Midwest than if you live in a busy metropolitan area like New York City.
Don't Wait Too Long to Clean Your Dress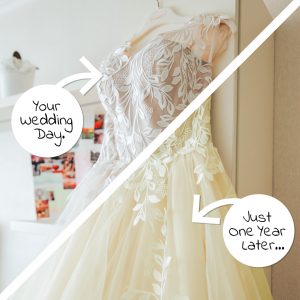 The longer you delay in cleaning the gown, the more stubborn the stains.
The longer a stain sits on

any

fabric, the more it sinks into the fibers of the fabric itself, and bridal fashion fabrics are

the

worst

!

Never mind delicate silk—even that stunning polyester blend will grab onto dirt, spills, and moisture and not want to let go.
How to Preserve Your Wedding Gown: Important Do's & Don't's
There are still a few things you can do to stave off this problem, though:
Never wrap your wedding dress in plastic.

Never means

never

—not even if it's muddy, and not even "just to run it from the house directly to the cleaners." Plastic traps moisture and moisture promotes mold. And yes, you can grow mold on a wedding gown in just a couple of days.

Always hang your gown on a padded hanger.

Otherwise, you'll distort the weave of the fabric. (It doesn't matter if the interior of the hanger is plastic or wood—it's the padding that matters.)

Leave all stains alone.

Just let them be. The preservationist will deal with them.

Never self-treat mishaps with chemicals.

Unless you absolutely have to, do your best to treat a wedding day dress accident

only

with a little

water

. As most preservationists will tell you, wedding dresses that have spots treated with White-Out or an emergency cleaner are their most difficult cases. Stains treated with a remover are actually harder to get out than those left alone. If you absolutely

must

use a product on your dress, make sure to let the preservationist know

before

the cleaning process begins.
How Wedding Gowns are Cleaned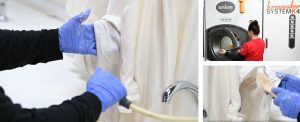 The professional will analyze the fabric, beading, and other embellishments to determine the best cleaning method.
This doesn't happen quickly, though. Specialists also start at the hem because, for obvious reasons, the hem is the one part of your dress that

will

get dirty, and for sure it's the part that soils the most.
Then the pro will hand scrub your gown and spot treat any stains.
These might include sugar from your wedding cake, or wine, grass, mud, body oils and perspiration, and makeup. If left untouched, these things will damage your dress more and more as time goes by. This is another argument for getting that wedding dress to the preservation company no later than a day or two after the wedding.
Your veil, garter, and other accessories might be cleaned together with the dress.
After everything is thoroughly washed, each item is either steamed or pressed.

The dress and accessories are then carefully folded and placed in an acid-free archival chest or a hanging bag. Both will have a special display window that

must

be acetate and not plastic.

Sealing helps keep the dress free from insects and dust, but it's not as crucial as proper packaging. So even if it's not completely sealed, your dress and veil will still be in good condition.
Store Your Dress Carefully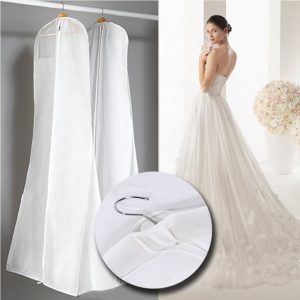 After a few weeks, your dress will be ready to be either picked up or delivered.
Some brides prefer picking it up themselves to check on the dress personally.

Once it's in your possession, keep the dress box or bag away from heat and light and out of basements and attics.

Heat and light—even heat alone—will cause fading and discoloration.

No matter how well the box is sealed, moisture from a basement or attic

will

leach in and affect the fabric and trim.
As a general rule, it's preferable to keep your wedding dress in a box because hanging can cause the dress to sag and stretch over time.
No matter where you store it, though, make sure there's enough circulating air because even if they're perfectly preserved, fabrics need to breathe, too.
The best storage spot for your dress is in a room with normal temperature control that's also dry and void of direct sunlight.
Under the bed or in a dry closet is a  reasonably safe place.

Some brides opt to put their dress in a cedar chest or footlocker to protect against sharp objects, smoke, and water.
How to Preserve Your Wedding Gown: Pass It On or Treasure It Yourself
Preserving and storing your wedding dress is mandatory if you plan to pass it on to future generations or if you think you might give it away or sell it. Some brides take some time to treasure their dress at home—perhaps a few months—then donate it to a nonprofit resale shop or sell it on either online or on consignment in an upscale boutique.

Others keep their dress just to look at and reminisce along with cards and photos and other wedding day treasures.
Whatever your choice, please do take the time to treat your wedding gown like the princess it made you feel when you wore it on what was, most likely, the most important day of your life!
Need some creative storage inspiration? Click HERE or on the image below for 30 Ways To Display Your Wedding Dress And Accessories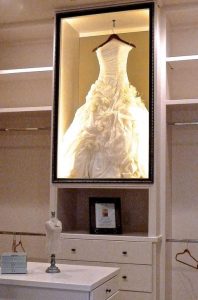 For the very best planning ideas for your wedding and tips for adapting to circumstances that may have delayed your big day, Click HERE or on the image below for DaVinci Bridal blog: