Venues
Top 12 Destination Weddings Around the World
For many brides, a destination wedding is a dream come true. So if you can make it happen, then why not go all out? Instead of spending money on a large and lavish local wedding, why not get married while on vacation with your closest family and friends?
It's important to figure out where you want to go first, though, so you can plan your theme, your wedding dress (or dresses!), and your bridesmaids dresses accordingly. 
To help you choose between large and local, or lush and exotic, we've compiled our 12 top picks—in no particular order—just for you!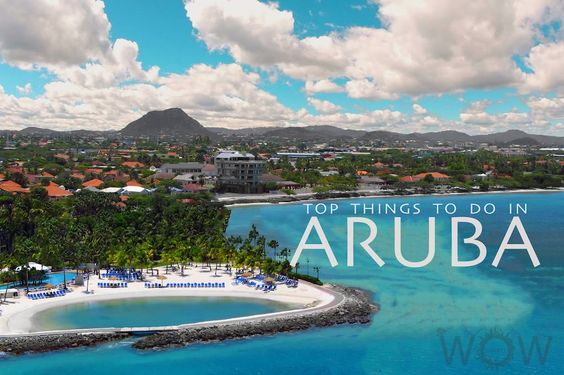 Aruba is known for its amazing beaches and premier tourist services. But do you know why this Dutch Caribbean Island is so popular? It's because of its predictable weather: there's sunshine all throughout the year, so there's no need to worry about renting a tent!
According to Reader's Digest Canada, the best destinations to consider in Aruba are the Bucuti & Tara Beach Resorts, perfect for intimate and adult-only affairs. If you're looking for something more family-friendly, though, then opt for one of the Divi Group's resorts.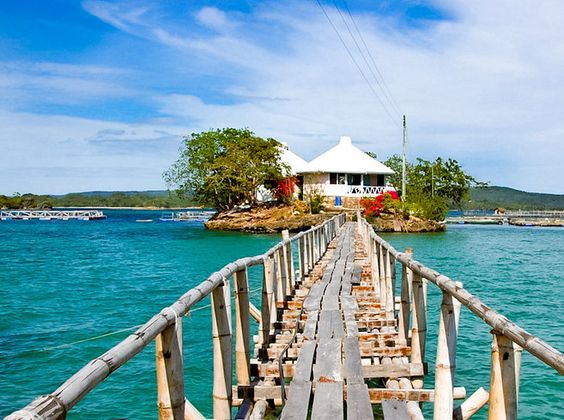 If you long to be married on a tranquil beach, then the Philippines may be the perfect place for you. With 7,107 islands for you to choose from, this Southeast Asian country boasts the best white sand beaches, including the famed Boracay Island.
In addition to Boracay, you can choose from Bohol, El Nido, Coron, Cebu and Amanpulo, famous for Hollywood celebrities like Angelina Jolie and Brad Pitt who prefer paparazzi-less retreats.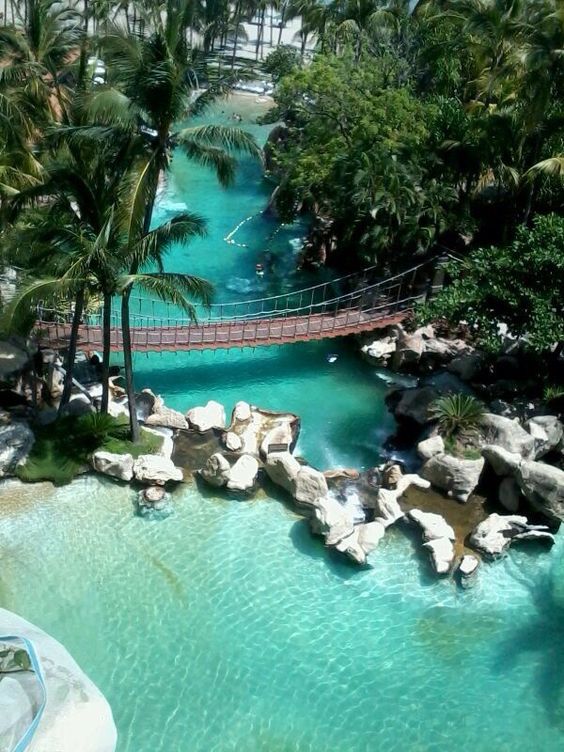 What makes Mexico such a great destination wedding is its proximity to the United States, exponentially increasing the likelihood of your guests coming to your wedding. You also won't have any problem bringing in vendors from the United States, either!
Los Cabos and Cozumel are known for their beautiful beaches, which makes them a popular choice for destination weddings. However, Conde Nast Traveler writes, "The most desired location in Mexico is Riviera Maya."
If you choose a villa at the Viceroy Riviera Maya, you can host the reception on the beach, by the pool, or in one of the resort's three restaurants.
Another alternative is The Grand Velas Riviera Maya, an all-inclusive resort that offers eight venues to choose from—including a chapel in the Mayan jungle!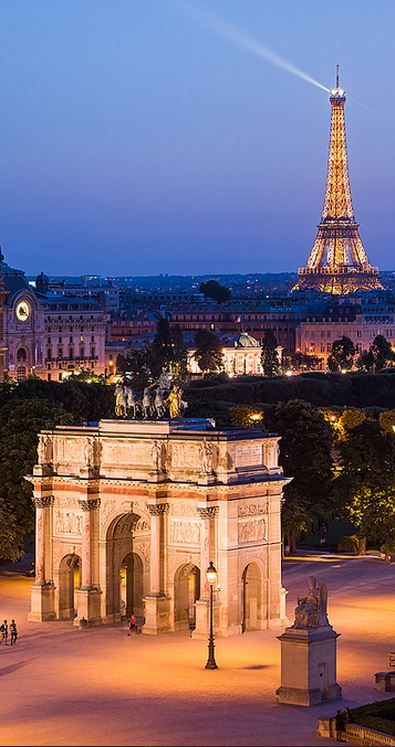 When most people think of France, Paris immediately comes to mind. It may be the city of love, but there are several other destinations in this lovely European country that may be better suited to a low-key romantic wedding.
CNT writes, "There's also Vaux-le-Vicomte, a sprawling 17th-century estate an hour outside the city [of Paris] and in high demand for couples who want their own castle-inspired occasion."
Instead of heading to the French capital, why not host your wedding in the South of France? Choose from Cote d'Azur—more commonly known as the French Riviera—Provence, Nice, St. Tropez, and Monaco. The French provincial culture offers an air of romance that bustling Paris cannot.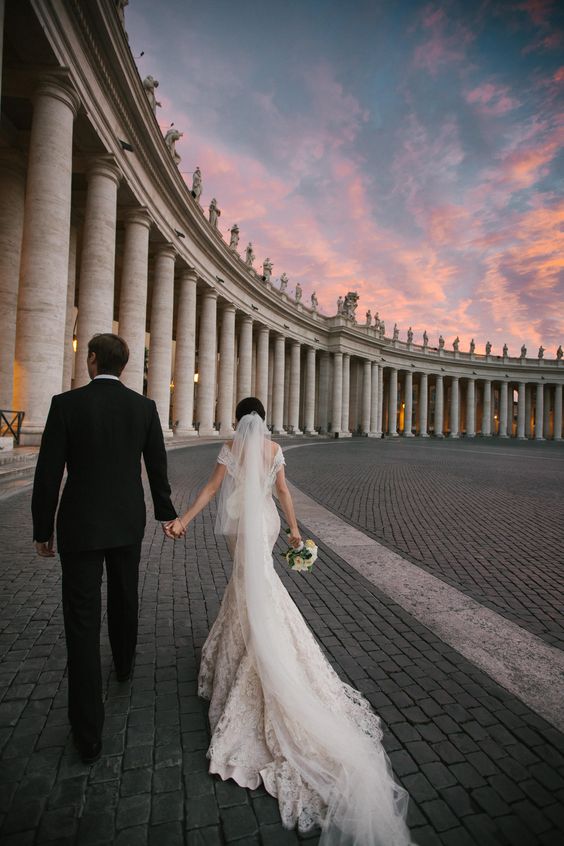 There are several places you can go to in Italy for a destination wedding. There's Florence, Venice, Tuscany, Lake Como, Positano—the possibilities are endless. You could even turn the romance up a notch by taking a cue from William Shakespeare's "Romeo and Juliet" and get married in Verona!
Rome has always been a beautiful destination for any occasion, most especially for weddings. "To really make your big day special," suggests Elle, "travel 35 miles north of the city to La Tartaruga Sabina."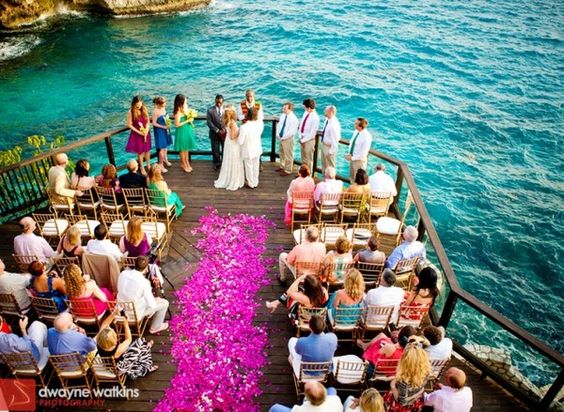 Jamaica has invariably been one of the most popular Carribean wedding destinations, and with good reason. Picture exchanging your vows at sunset, surrounded by the ocean, and serenaded by the waves crashing onto the shore.
If you're considering a Jamaican wedding, take TripAdvisor's advice and book it at the five-star Half Moon, A RockResort in Montego Bay.
At the Jamaica Inn, you can exchange vows at sunset while standing on a staircase overlooking the water. If you can entice 100 guests to attend, the entire place will be all yours!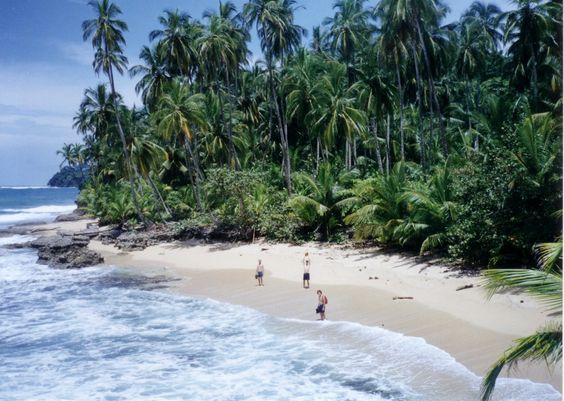 Costa Rica is perfect for adventuresome couples that want a wedding that embodies their lifestyle. There are myriad activities for you and your guests: waterfall rappelling, hanging bridges, snorkeling, white water rafting, trekking, hiking, surfing, kayaking, zip-lining, coffee tours and more!
CNT suggests The Andaz Peninsula Papagayo Resort as it's only a 20-minute drive from the airport. But even better, the hotel offers overlook views of the tropical forest. Planning would be a breeze as the hotel offers wedding packages, planning services and customized ceremonies.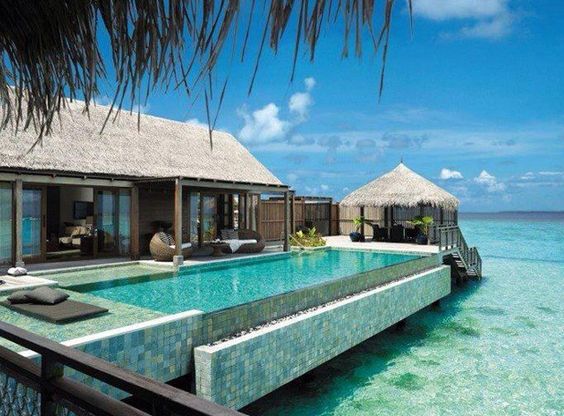 If you're an more energetic bride, then Puerto Rico could be the place for you! Filled with history and stunning color, Puerto Rico is a combination of lush rainforests surrounded by ancient forts and cobblestone streets, all a short distance to the relaxing beaches on the coast.
Readers Digest suggests the old city of El Convento for a historic yet romantic wedding. This luxury venue gives homage to the island's colonial roots.
If a contemporary wedding is more your style, there's the San Juan Marriott Resort & Casino located on the scenic Condado Beach or the W Resort on Vieques Island.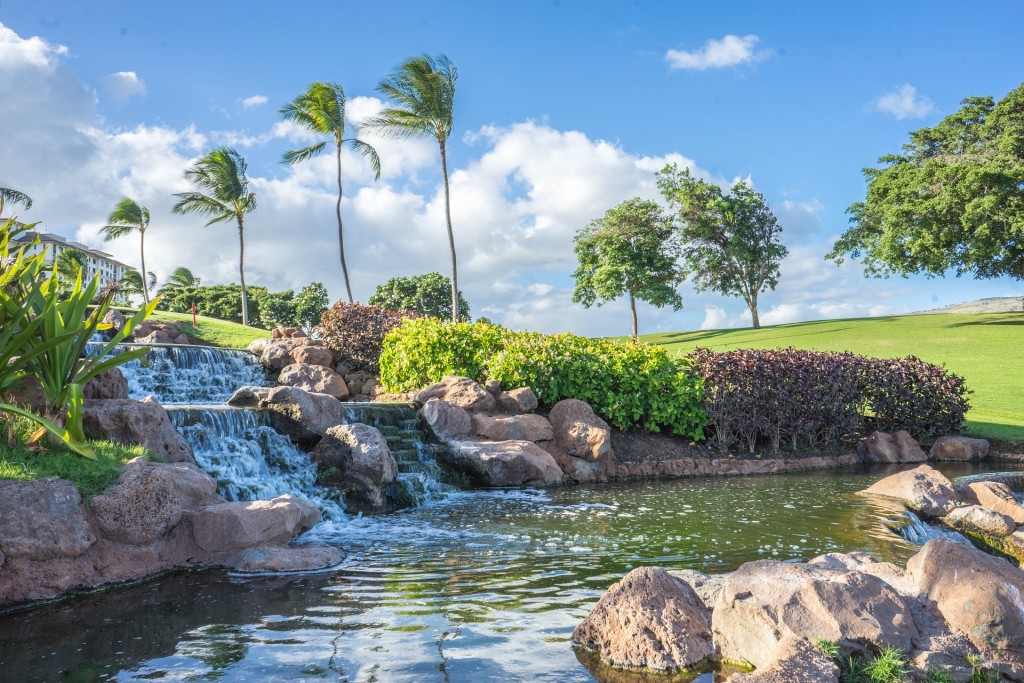 Just like Italy, Hawaii offers multiple destination wedding locations. The islands of Maui, Oahu, and Kauai are especially popular.
Hawaii also boasts many and varied activities for your guests during their stay. They can chill by the beach and hike, snorkel and surf.
CNT suggests the Four Seasons' three wedding-worthy locations, including one on Maui. The Halekulani is perfect for brides who want a beachfront view sans sand in her wedding dress.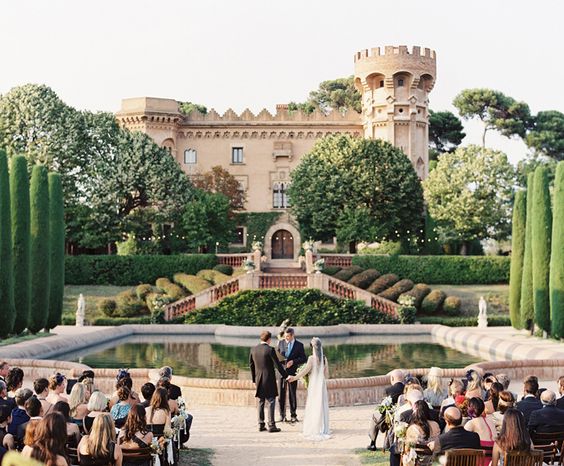 Thanks to its culture and rustic architecture, Spain simply oozes romance. Choose from romantic destinations such as Seville, Barcelona, Valencia, Madrid, Granada—and Ibiza is perfect for a beach wedding!
If you're looking for the perfect church, Elle suggests the Santiago De Compostela in Galicia, "home to a nearly millennia-old cathedral that's, in a word, stunning."
If the cathedral budget is a bit steep, Pop Sugar has the perfect option: rent an Airbnb venue for your wedding! South of Barcelona, you'll find this Sant Pere de Ribes Manor will give you a rustic, romantic feel for only $1,825!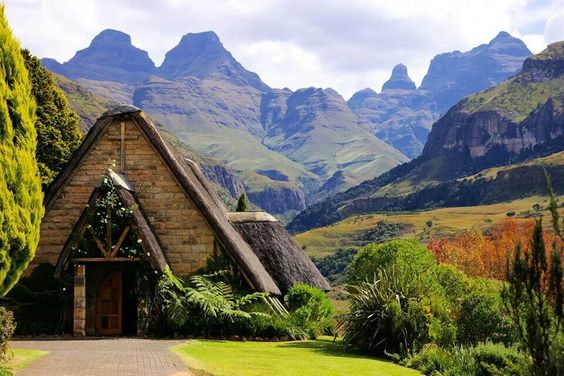 South Africa is the perfect place for those looking for an awe-inspiring countryside surrounded by stretches of vineyards. But South Africa is so vast you might not know where to start.
Here's a tip: Take a look at the fantastic resorts with all-inclusive wedding packages. That way, you'll be able to stay on budget and save a little money. Also, make sure that you're close to any activities you might want to enjoy while you're there.
If you decide to switch locations while on the continent, though, try an African Safari. It may just be one of the best things you've ever done in your life!
Elle suggests staying over at Cathedral Peak Hotel with its onsite wedding chapel and reception area. There's also a nine-hole golf course boasting picturesque views of the Drakensberg mountains. And you can always go to the spa to unwind before your big day.
Greece has always been a number one consideration for beach weddings. The famed Greek Islands of Santorini are the most popular, thanks to the breathtaking and minimalist architecture of the Grecian homes overlooking the water.
Just like the Philippines, Greece offers several islands to choose from for your wedding venue. If Santorini feels a bit too overrated, try Mykonos, Paros, Sifnos, Naxos, Chios, Crete, Athens, or other gorgeous locales
According to TripAdvisor UK, one of the best wedding resorts in Greece is Atlantica Imperial Resort & Spa in Kolymbia. On the other hand, a good option for a more contemporary feel is St. Nicolas Bay Resort Hotel & Villas in Agio Nikolaos, Crete.