Wedding Dress Necklines are one of the most important things to keep in mind then shopping for the perfect wedding dress to make you look your most beautiful.
You want to look more than "nice." You want to look knockout stunning!
Of all the decisions to make about your wedding dress—fabric, silhouette, waistline, sleeve style, even the length of the train—your choice of wedding dress neckline may actually be the most important. This is what frames your face, and wedding photos lean more toward close-ups than long shots. Everything has to come together so that you look and feel fabulous in the wedding gown of your choice.
Here are 14 classic wedding dress necklines for you to use as a basic guide. And remember—sometimes you can combine the best of both with tricks like illusion fabric—so always ask your bridal salon for ideas.
Ready? Let's talk necklines!
Wedding Dress Necklines: V-Neck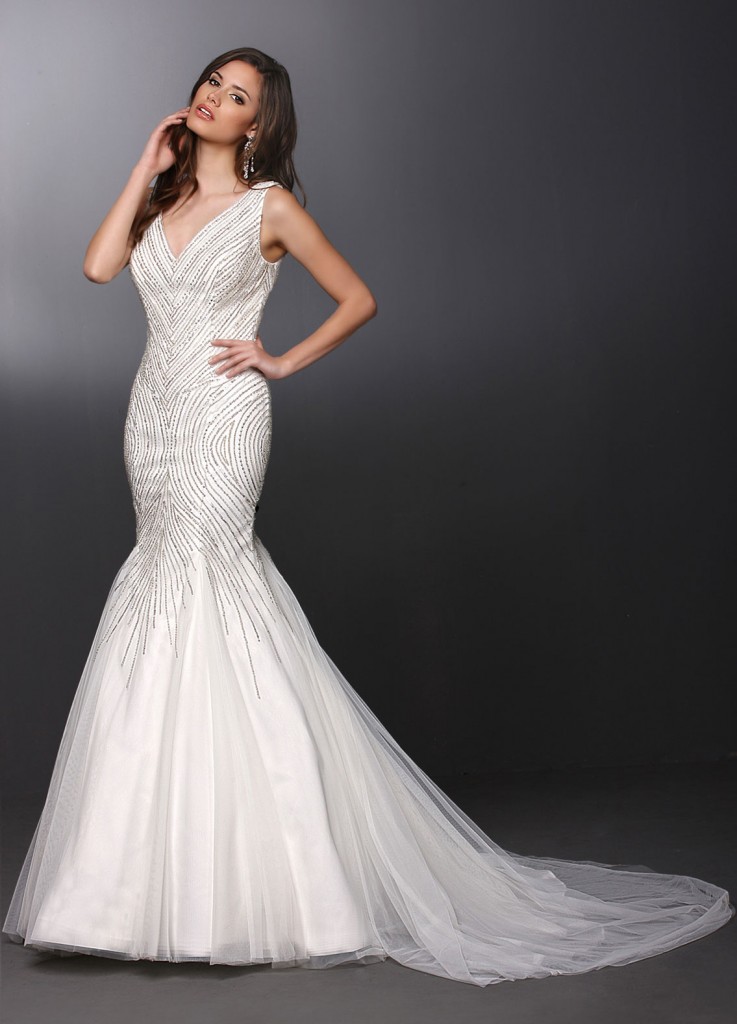 One of your first considerations when choosing your wedding gown neckline is your bust size. You can always make a bit of an adjustment with a push-up, padded or minimizing brassiere, or a corset, but your natural bust size factors heavily into the most flattering neckline for you personally. If you're in the B to C cup range or have an hourglass figure, a V-neck is stunning. It's also ideal for shorter brides because it creates the illusion of height. A V-neck also flatters brides with broader shoulders, brides with a more generous bone structure in the torso, and can also enhance a smaller bosom.
Wedding Dress Necklines: Queen Anne Neckline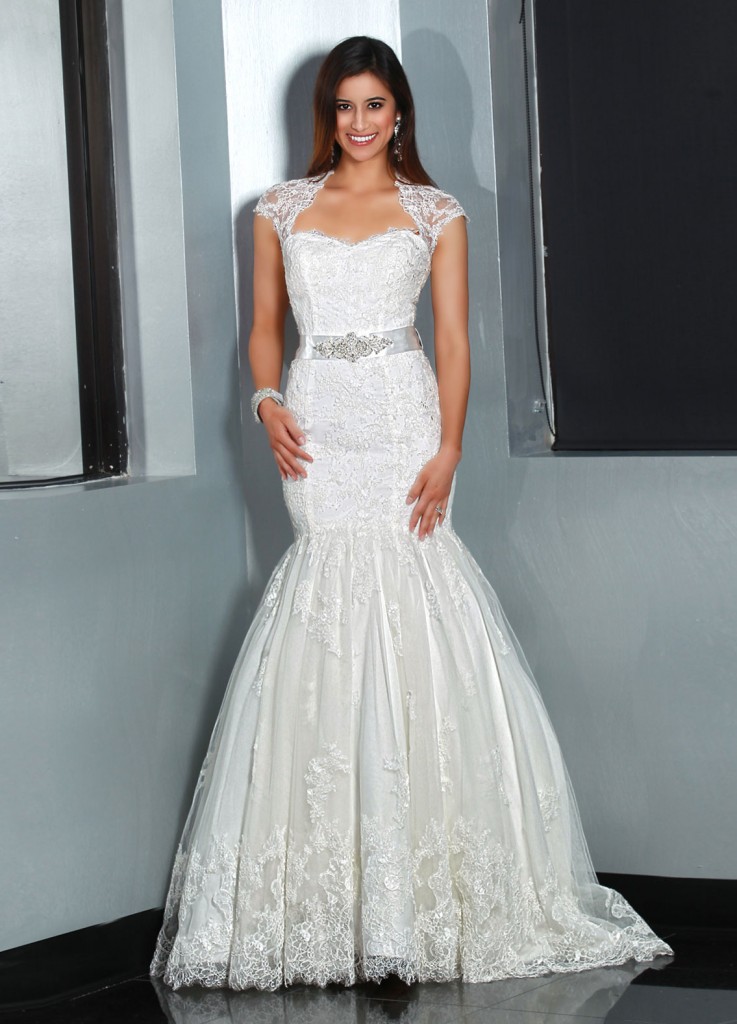 This neckline is very popular nowadays for younger brides. Those with fuller busts can still wear their shapewear because the straps can be effectively hidden. Some brides combine the Queen Anne line with a sweetheart shape with a tucked-in neckline that sits higher on the shoulders.
Wedding Dress Necklines: Off-the-Shoulder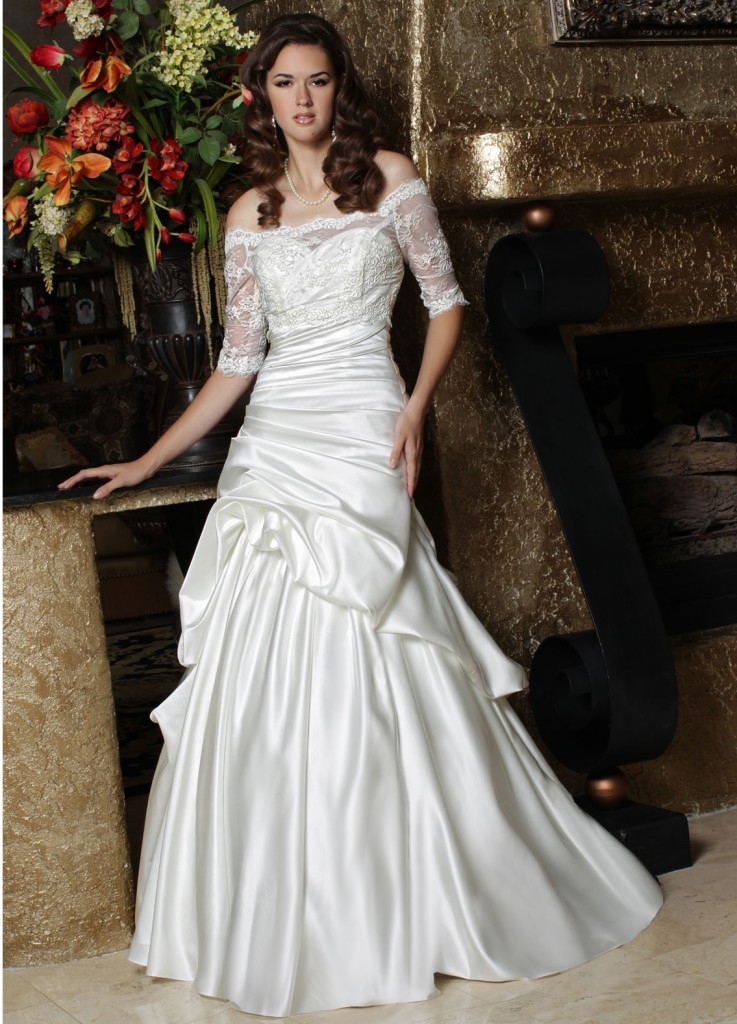 This neckline emphasizes the bride's collarbone and shoulders. Medium to full-busted women look beautiful with this neckline. But take note: those with broader shoulders and fuller arms might not choose this style—or might want to ask her bridal salon consultant for adaptive suggestions—as this style as may exaggerate wider shoulders and fuller upper arms. A good tip used by fashion designers—if you love this look but are uncomfortable with bare shoulders—would be a personalized shawl to use during the ceremony and perhaps for formal photos.
Wedding Dress Necklines: One-Shoulder Gowns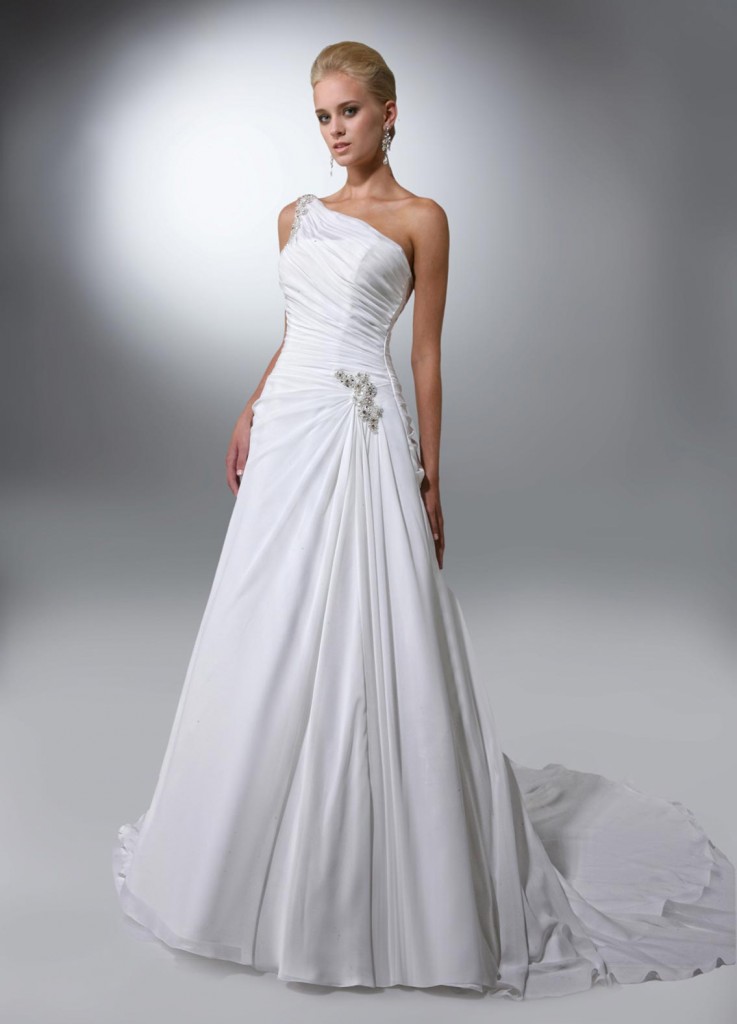 A one-shoulder wedding gown accentuates the collarbone, can rest over either the left or right shoulder, and is stunning for brides with more generous bust lines and those with a pear-shaped silhouette. If you have broad shoulders or generous upper arms but love the look, consider asking your bridal salon seamstress to create an illusion bodice.
Wedding Dress Necklines: High Neck Gowns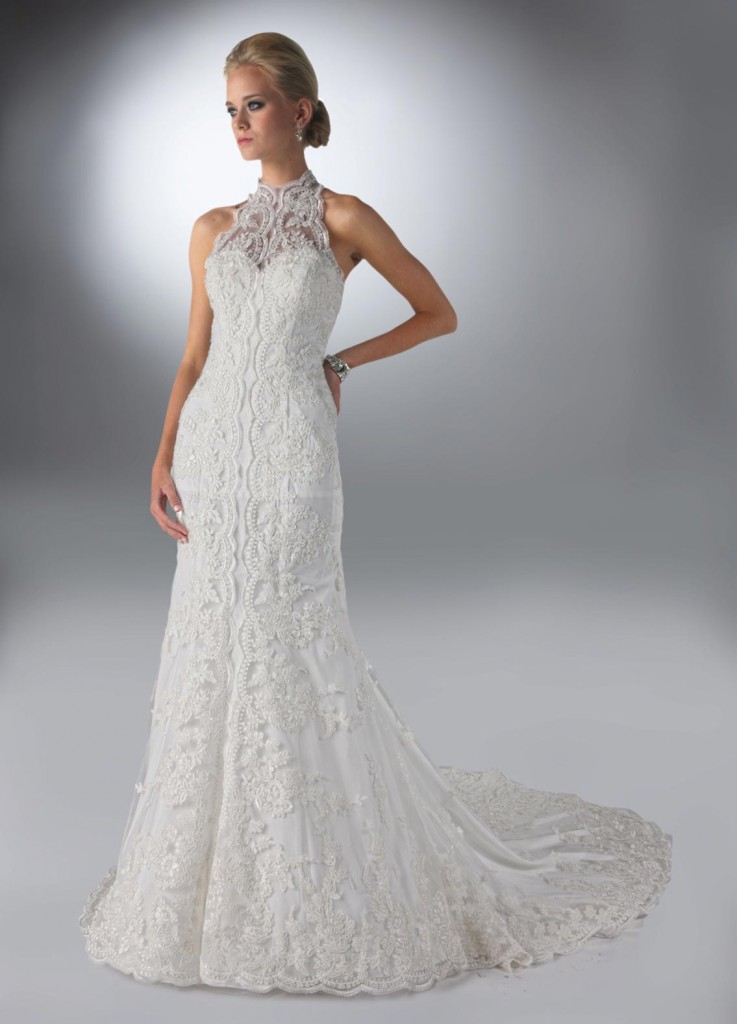 Women with broad shoulders look stunning in this neckline! The high neckline with deep armholes is similar in appearance to a turtleneck. This neckline is recommended for brides with a long face or thin neck and also for those with a smaller bust size.
Please note: The gown shown is a combination high neck and halter. But high neckline wedding dresses come in myriad styles with long sleeves, short sleeves, and many other options.
Wedding Dress Necklines: Portrait Neckline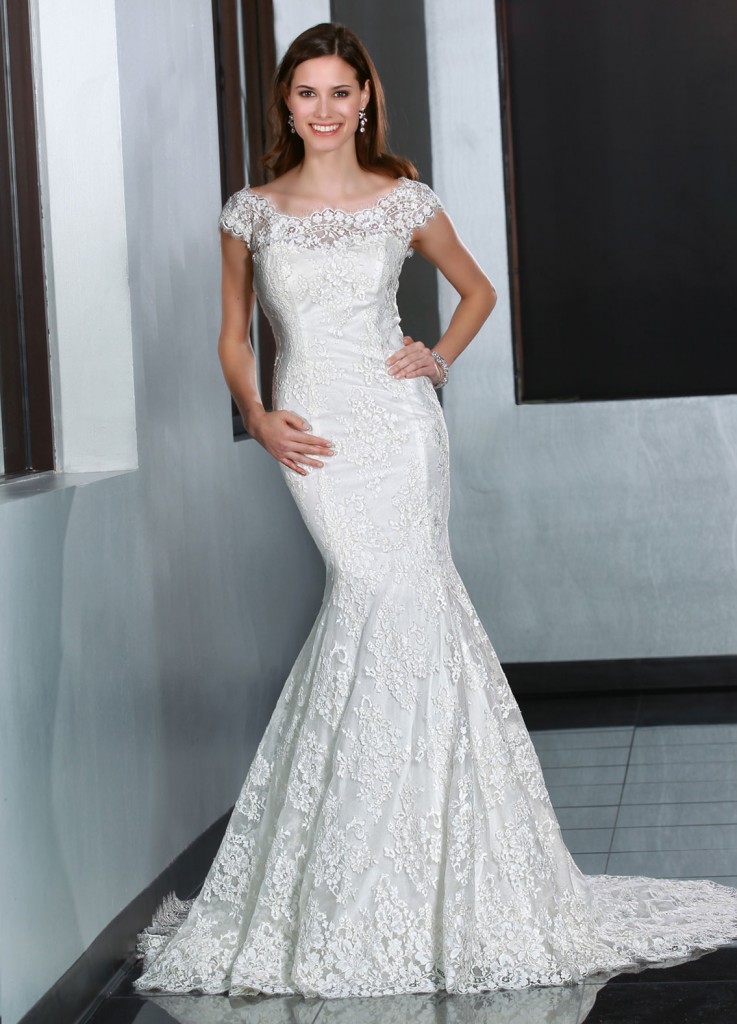 A portrait neckline is named after the style of formal photos where the woman's face, neck, and collarbone are featured but you don't see the dress she's wearing. Similar to an off-shoulder, this style uses more fabric and is characterized by a wide, soft scoop from the top of one shoulder to the other. A portrait neckline is stunning on brides with fuller arms and prominent collarbones.
DaVinci Bridal Style #50403An illusion neckline is similar to a strapless style but offers more coverage. Sheer fabric or lace is fashioned over the upper part of the bodice. It can also be a continuation of an illusion overlay on the entire dress. This particular neckline subtly envelops the body and can be used to highlight delicate, intricate  laces.
Note: In the introduction to this article, we mentioned using "illusion" to soften a neckline and as a way to combine two styles. The dress in this photo illustrates that concept as it's essentially a strapless gown with an illusion bodice and sleeves.
Wedding Dress Necklines: Square Neckline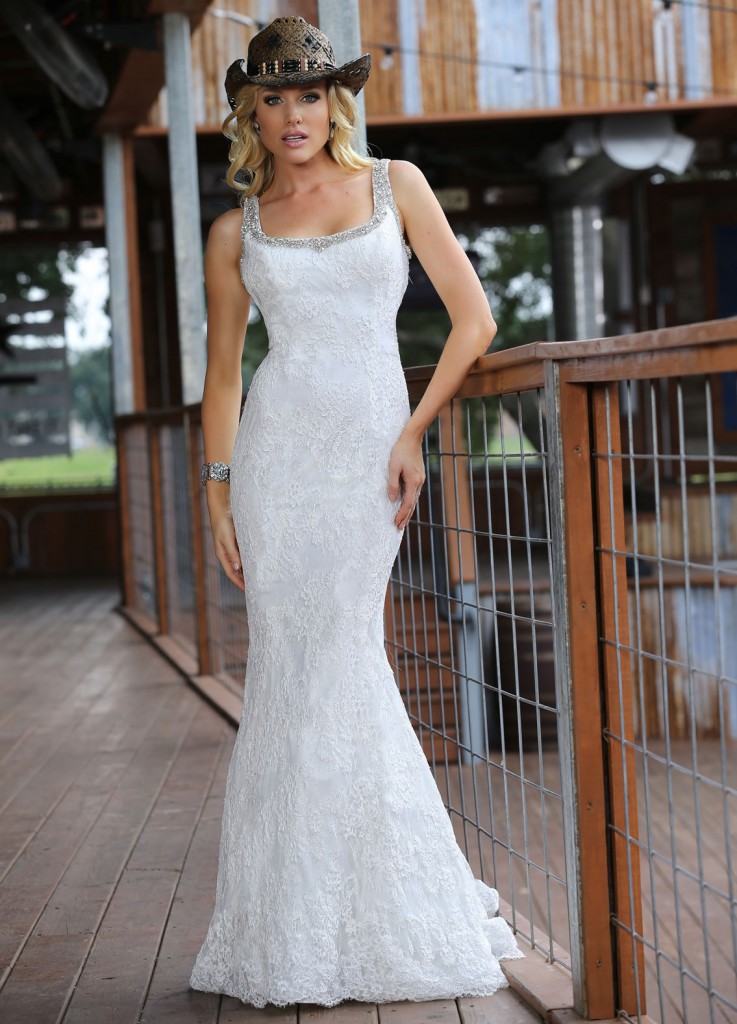 A square neckline wedding dress has a straight horizontal bodice that meets with either shoulder straps or sleeves at a ninety-degree angle. This style shows off a lovely neck and beautiful skin, gives the illusion of narrower shoulders, and is also stunning for brides who want to create the illusion of a longer neck. This neckline also adds dimension to a woman's bone structure and elongates the features of brides with rounder faces and jawlines.
Wedding Dress Necklines: Sweetheart Neckline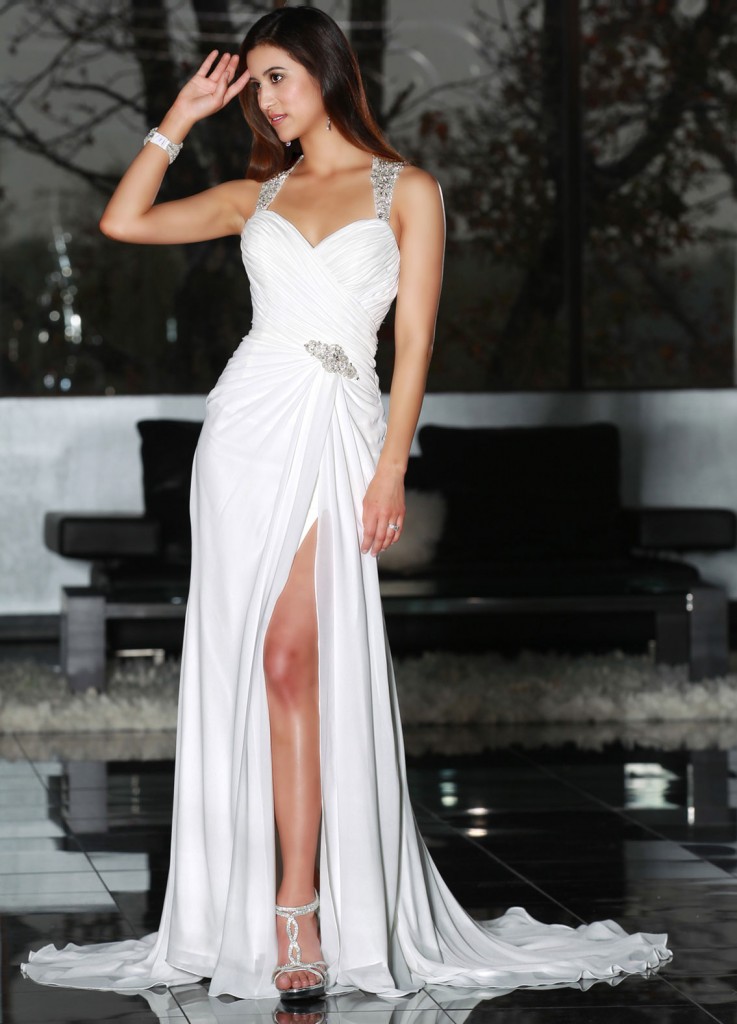 So named because the top line of the bodice resembles the curves of a heart, the sweetheart neckline is timeless and romantic, and is quite popular with brides of all ages. It accentuates the décolletage and is lovely for brides with a generous bust line. Sweetheart necklines are often strapless, may be styled with a slender asymmetrical strap (often a spaghetti strap), and is stunning on brides with a shorter chin and neck. Petite brides can also create more curves in a sweetheart wedding gown.
Wedding Dress Necklines: Sabrina / Bateau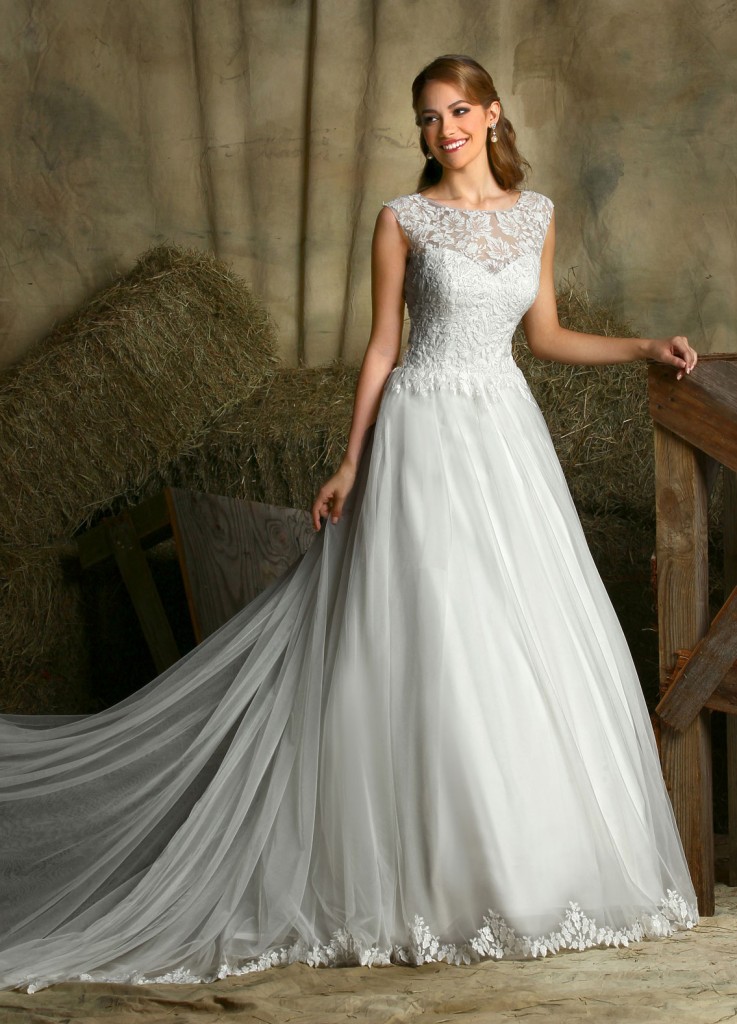 Similar to an off the shoulder dress, but staying more on top of the shoulders, a bateau or Sabrina neckline is an elegant choice for a traditional wedding ceremony. It's a sophisticated look that can be styled with or without sleeves and offers a bit more coverage, although some brides might want to use a sheerer fabric or lace for a hint of skin. The bateau or Sabrina neckline enhances the bust, making it perfect for less generously proportioned brides
Wedding Dress Necklines: Halter Neckline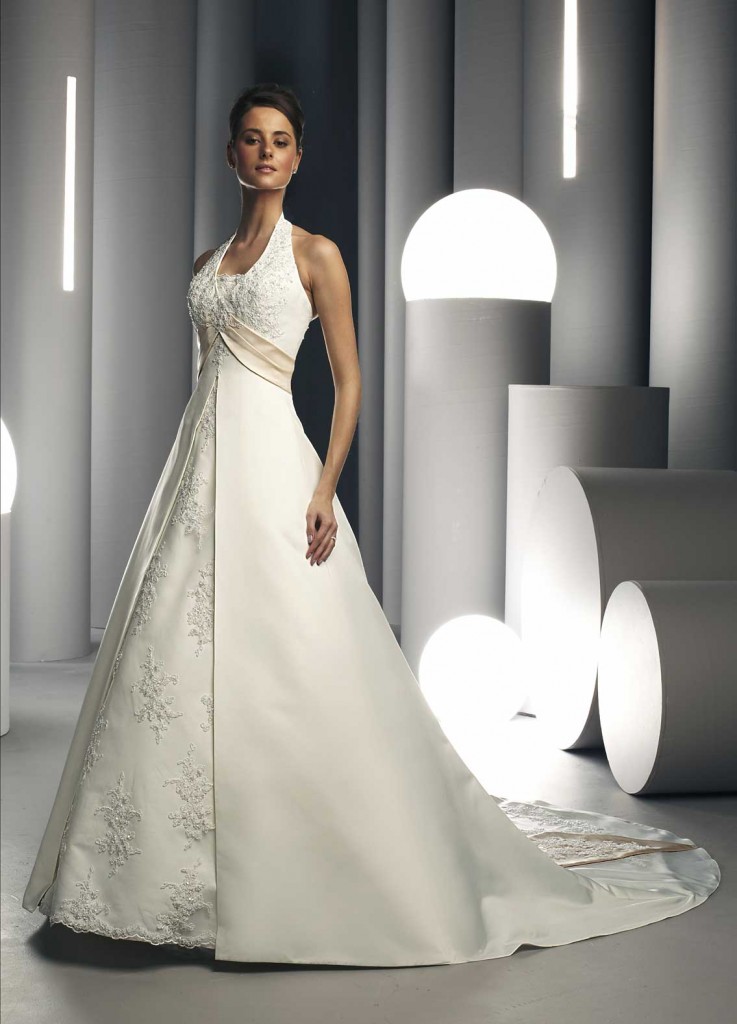 The halter neckline features some type of strap around the back of the neck leaving the shoulders exposed and the back of the gown open. It's lovely on tall brides with broader shoulders, and petite brides benefit as well because the halter style elongates the torso by highlighting the shoulders and upper arms.
Wedding Dress Necklines: Scoop Neck Gowns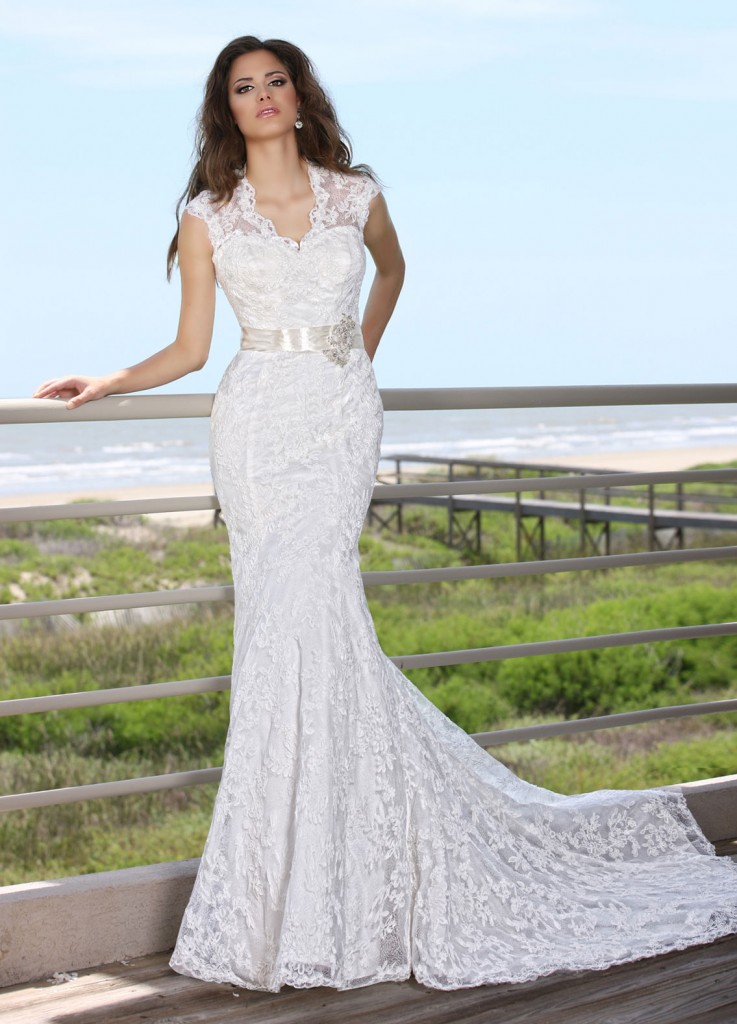 A scoop neckline works well on almost all body silhouettes. It exposes a lovely touch of collarbone and also elongates the neck. Brides with narrow shoulders may love this style, as well as brides with athletic silhouettes and also those with hourglass figures. A scoop neckline also enhances the bust line.
Wedding Dress Necklines: Jewel Neckline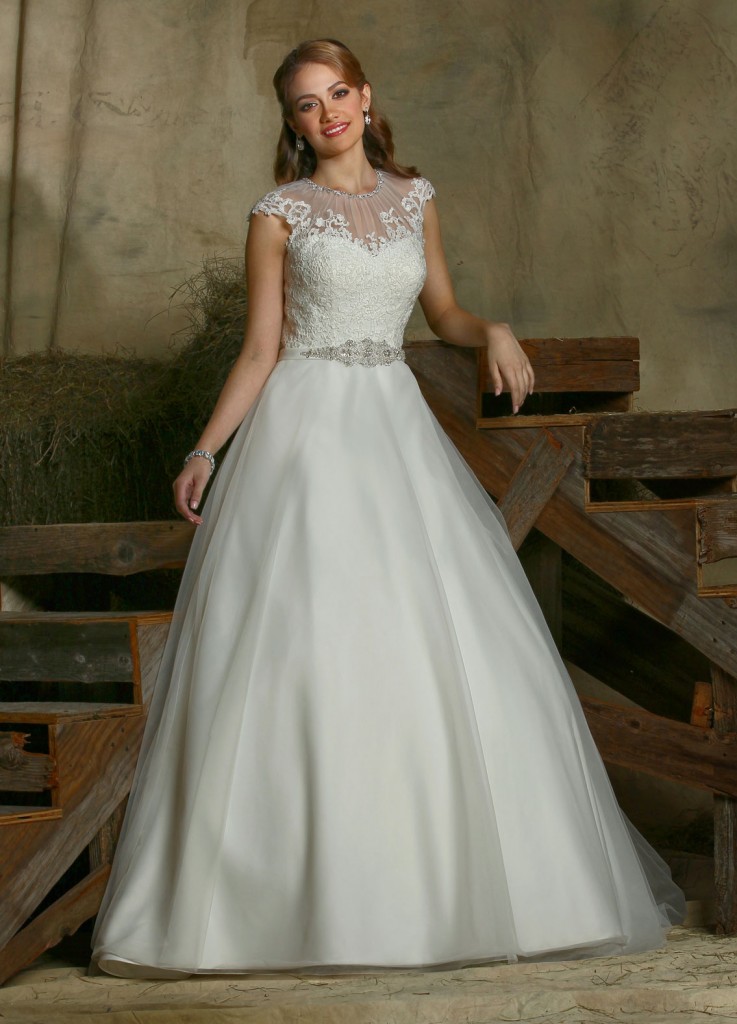 Also known as a "T-shirt neckline," the jewel neckline is so named because the top of the bodice sits high as if following the line of a necklace. The rounded style finishing at the base of the throat beautifully creates the illusion of a more generous bust line.
Wedding Dress Necklines: Strapless Gowns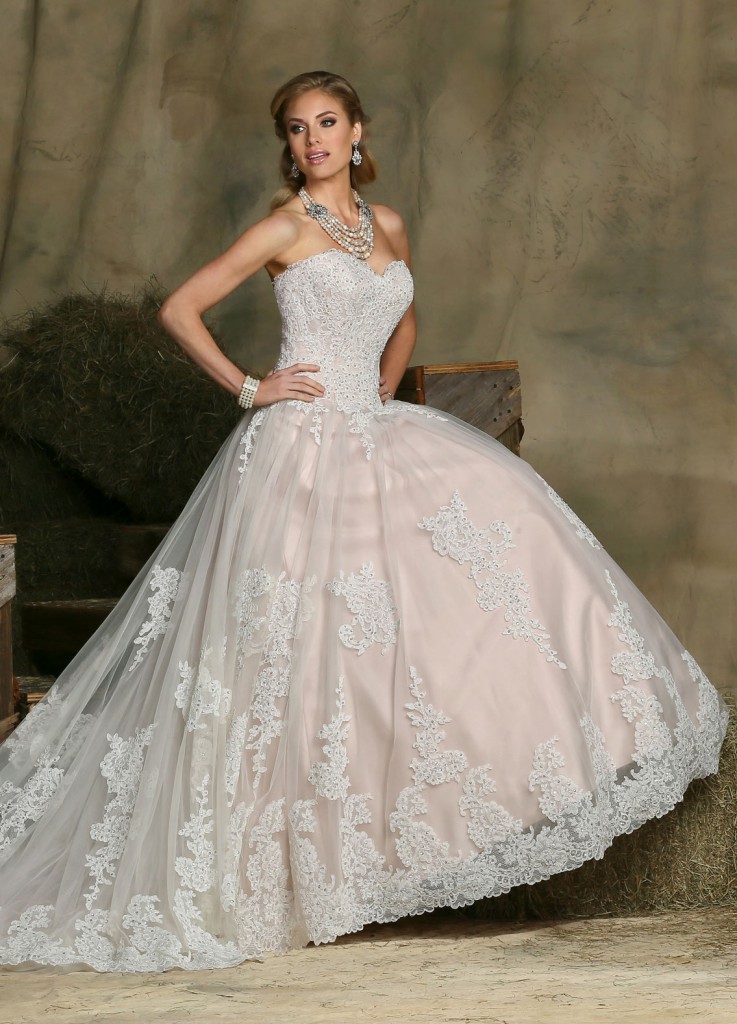 Strapless gowns are romantic and elegant and are perfect for brides who plan on wearing a statement necklace or glamorous earring and bracelet set. Almost any hairstyle works well, especially a down-do because a strapless gown exposes the entire neck, décolleté and upper back.
Tip: No matter your size, make sure you have secure, supportive lingerie as a backless wedding dress has no upper bodice to balance the weight of the skirt.
Once you have decided on the perfect neckline for your wedding dress, your next consideration should be comfort. Some necklines may look beautiful, but are harder to move around in if you're self-conscious about exposure. Talk with your bridal salon consultant regarding suggestion and tips on how to enhance your figure through the design of the entire dress.
Your wedding is a once in a lifetime event, so creating a fabulous gown is an imperative! And no matter your silhouette, there is a perfect dress waiting just for you!
To shop our entire collection of wedding dresses, Click HERE or on the image below