Uncategorized
Style for Miles: 4 Marvelous New 2017 Bridesmaids Gowns
If you're a bride looking to outfit her attendants in a dress that is absolutely not your average bridesmaid design, you've come to the right place! We're proud to introduce to you 4 of our most amazing and original designs of the 2017 wedding season, all with unique and exciting detail. From a flirty two-piece sheath to outstanding off the shoulder detail, our dresses are perfect for the bride looking for something just a little bit different. Of course, each and every gown meets our DaVinci standards of high-end construction, quality fabrics, comfortable fit, and wonderfully budget-friendly prices. Additionally, almost all of these dresses are available for super-quick delivery at no additional charge, so even if you're planning your entourage attire at the last minute, you'll still look like you took months to choose the perfect dress for each of your special ladies!
A Note About Colors: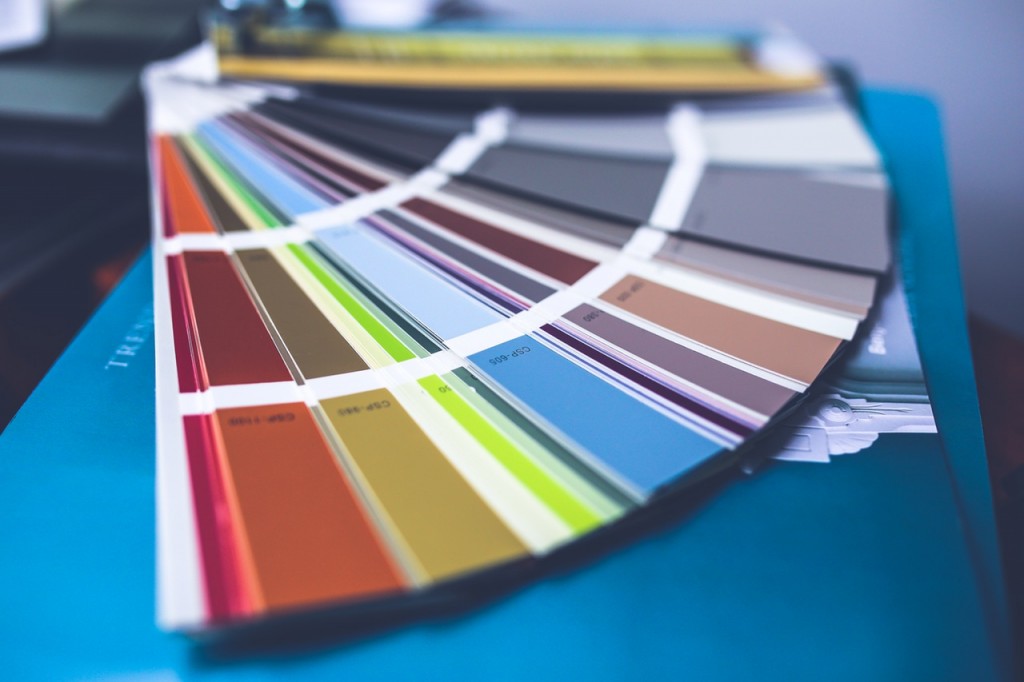 As you enjoy our new designs, please remember that the color shown is not the only color your ladies can wear. The majority of our dresses are available in more than 50 colors and color combinations! Choosing the dress you want in the color you love best is easy: Just visit your nearest DaVinci retailer and ask to see swatches!
To find the retailer nearest you, click here, then enter your city, state, or zip code: https://davincibridal.com/blog/store_locator
1. Split Shoulder Sheath: Style #60301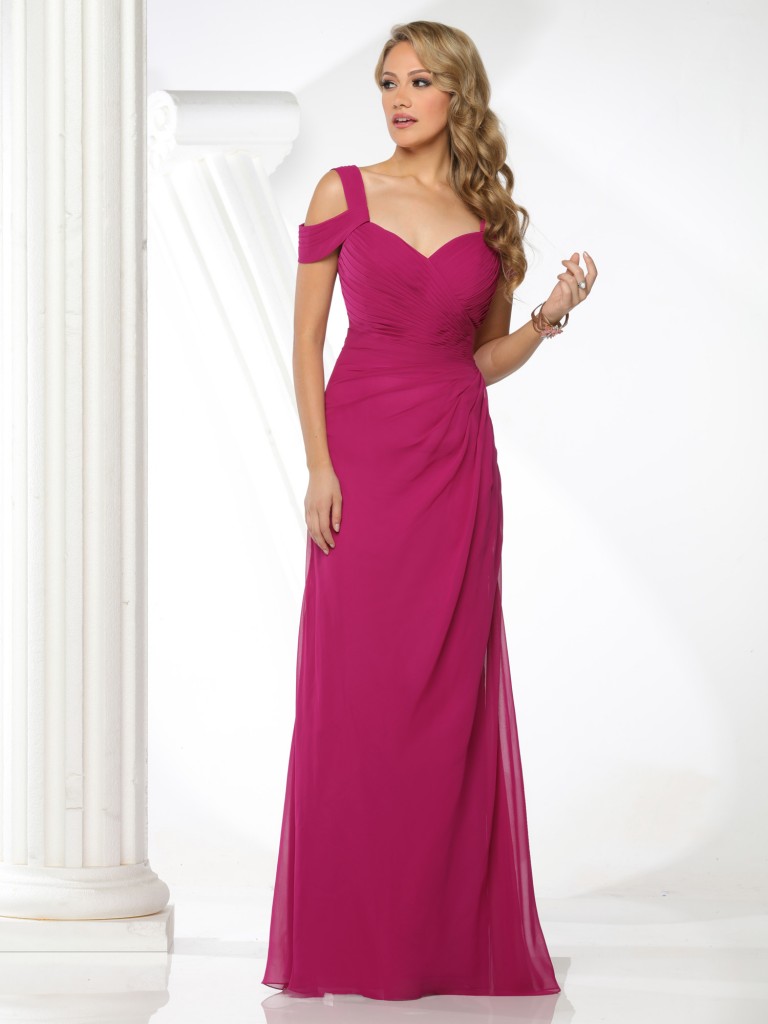 One of the most unique shoulder designs in our line, this gorgeous chiffon A-Line sheath has all the style you're looking for. The ruched sweetheart bodice continues with asymmetrical ruching at the waist then drops in a swath of chiffon skirt to the floor length hem. Comfortable wide set straps provide security and are accented with wide, gently ruched off the shoulder straps on either side. The deep V-back finishes with a hidden zipper and a subtle widening of the seams to create a fuller skirt at the back.
2. Grecian Criss-Cross Halter: Style #60290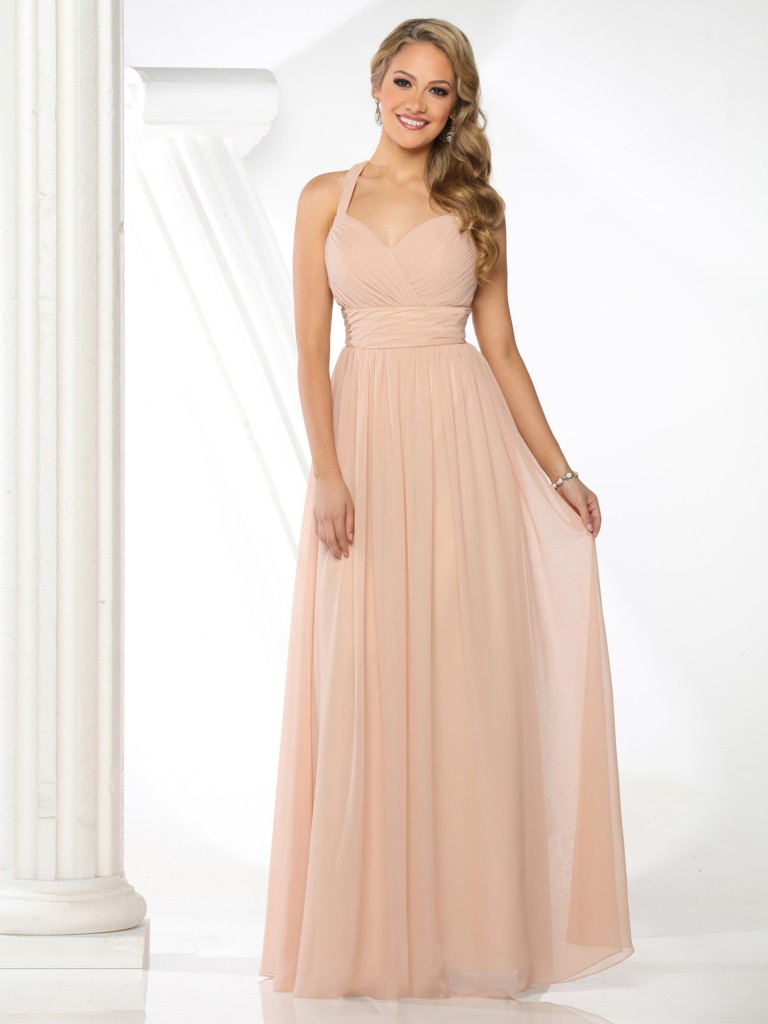 This beautiful Grecian style A-Line sheath couldn't be more comfortable! Entirely fashioned of the softest chiffon, the ruched sweetheart neckline leads to widest gathered straps that create a halter in front then flatten as they crossover for a beautiful and comfortable back interest. The wide ruched waistband adds a touch of an Empire silhouette while the full, gathered chiffon skirt flows softly to the floor length hem.
3. Off the Shoulder Spaghetti Strap: Style #60285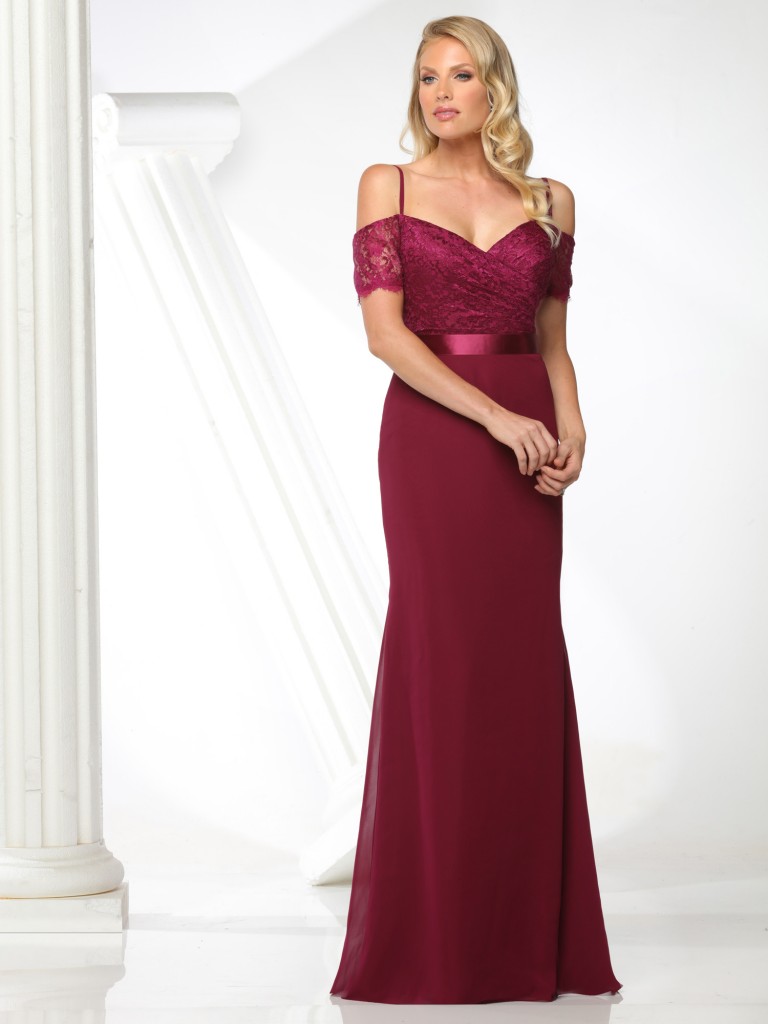 This stunning A-Line sheath combines the sexy look of a strapless, off the shoulder look with spaghetti straps for a secure fit.  The bodice, fashioned entirely of lace, features a ruched sweetheart neckline in front and a low V-back interest. Lace sleeves nestle between shoulder and elbow while a ribbon accents the natural waist. The skirt is one long uninterrupted line of chiffon hemmed to floor length while a hidden zipper closure makes for an easy fit.
3. Two-Piece Lace Sheath: Style #

60283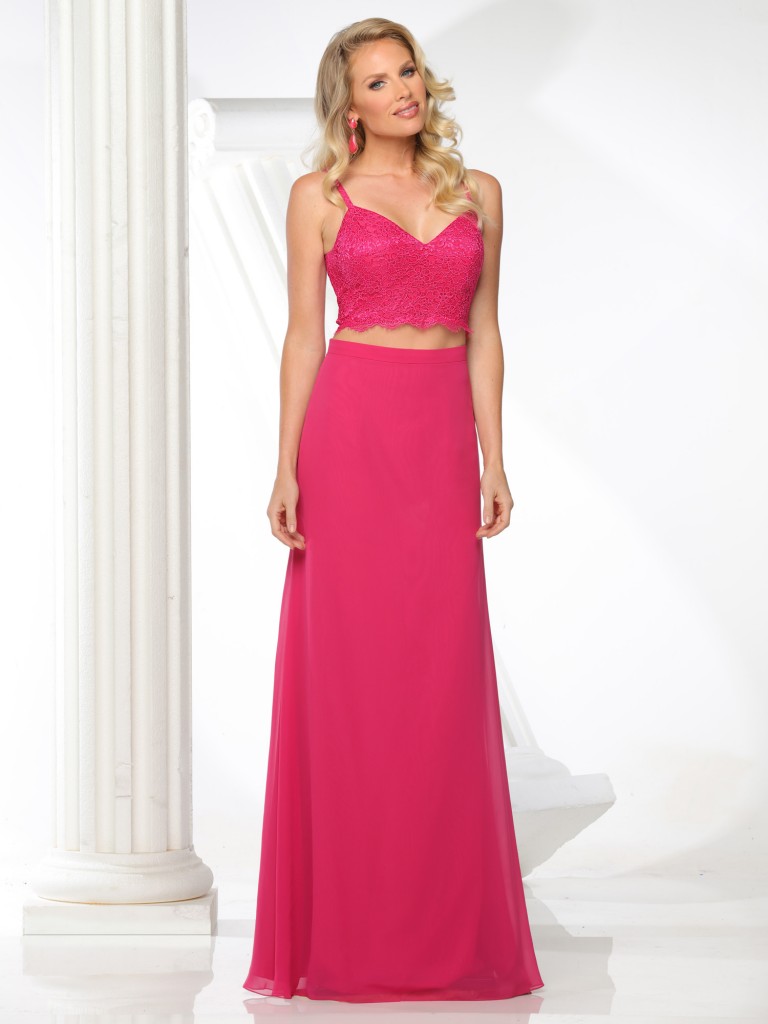 The first of its kind in our Bridesmaids Dresses line, this flirty little two piece sheath is perfect for the fashion-forward bride's attendants. The V-neck bodice is all-over lace including the spaghetti straps. A modified sweetheart neckline in front, the bodice dips to a V-back with a comfortable zipper closure and scalloped lace trim at the bottom edge. The A-Line skirt, one long swath of chiffon, sits at the natural waist leaving just a sliver of sexy midriff between bodice and skirt.
For more unique bridesmaid attire ideas, check out our evening gown alternatives:
DRESSES Not Just Another Bridesmaid Dress Sequin Evening Gowns for Your Attendants
If you'd like a few guidelines to help you choose which dress is most flattering for each of your attendants to wear, check out this blog that includes mix-n-match advice as well as ideas for personalizing each look:
http://www.davincibridal.com/blog/bridesmaid-gowns-a-basic-guide-to-dressing-your-ladies-in-waiting/