Getting engaged calls for serious congratulations—and lots of champagne! And of course, you're dying to tell everybody on the planet because they will be totally happy for you. But just like everything else wedding-related, there are "etiquette rules" when it comes to announcing engagements, and they're all pretty much things not to do. So before you go telling the whole world, read these 10 engagement announcement no-no's so you don't step on anybody's toes and ruin what is definitely one of the most exciting announcements you'll ever make.
1. Don't Announce Before It's Truly Official
You two may have been talking about marriage for a long time. Maybe you even went ring shopping. Maybe he actually put down a deposit. But until that gorgeous sparkler is on your finger, don't say a word—unless you've made a mutual agreement because a formal proposal isn't your style. Even then, before you go telling even a few people, ask him if it's OK.
Sweet old-fashioned tip: If you're announcing to a group, let him share the news. After all, how much more romantic could it get than, "I've asked her to be my wife" or for him to say, "We're getting married" rather than you "doing all the talking"—???
2. Don't Announce at Someone Else's Engagement Party
It's just bad form. This is their day, and if someone notices your brand new sparkler, that's OK, but try to keep it quiet. People will actually respect you if you say, "Thank you, but this is their night so let's focus on them."
Advice that isn't easy: If you just got engaged, like maybe just before you went to the party, seek out the engaged couple whose party it is and tell them privately—but only if you're really good friends. Otherwise, hard as it may be, keep your hand in your pocket—or keep the ring in his pocket—or leave the ring at home. One night won't make any difference, trust us.
3. Don't Announce at Someone Else's Wedding
This is pretty much the same rule as for an engagement party. Now, if you're totally BFFs with the bride—like maybe the maid of honor—and she suspects this might happen, take her aside at the reception (not at the ceremony venue!) and show her your ring. She might just do the announcing for you!
But—if you're "just a guest" then the same thing holds if it's an engagement party: Keep it under wraps just for one more evening.
4. Don't Announce Without Telling Your Parents First
This is also just plain good manners, but don't obsess if your first instinct is to call your BFF before you call your dad. Just don't tell the world before you tell your parents. Also, do your best to go in person to show each set of parents the ring and tell them the good news. A personal visit shows the most respect. If that's not possible, then a phone call is fine, but do call them right away.
Even if you're not close to one or both of them, they're your folks, and you owe them the courtesy of a phone call as soon as reasonably possible.
5. Don't Announce on Social Media Without Telling Your Friends First
And by this, we mean to tell them in person or at least on the phone and call everybody close to you before you post that engagement selfie. Just think how you'd feel if the first people to know about your close friend's engagement were the ones who happened to look at her Facebook page before you did. Not so great, right?
(By the way, by now we're sure that you've caught on that a lot of this is just common sense, but some things bear repeating, so hang in there with  us, OK?)
6. Don't Announce at a Business Meeting
Your friends at work will be thrilled, and for sure you should tell them. But never make announcements about your personal life during a formal meeting of any kind. This is especially important if you're either a little lower on the office totem pole, or conversely, higher up in management. If you're more of a general worker, you want to show respect, especially to your superiors. If you're a woman in management, you want to set an example of proper decorum.
Trust us—there will be plenty of happy dancing in the break room. Just don't let it happen in the conference room.
7. Don't Announce in a Way that Disrupts the Workplace
What we mean by this is not to let your enthusiasm—or your co-workers' enthusiasm—get out of control. Your job comes before your joy over being engaged, at least during business hours. Don't make too much of a big deal and don't let your friends make too much of a fuss. Tell everybody to meet after work, and you'll dish all the dirt about his proposal.
8. Don't Announce Without a Decent Manicure
Even if you can't get to a salon, before you go flashing your ring around—or taking selfies—do a little something to tidy up your nails. Even a little soap and water, a nail file, and a buffing block can do wonders. Then start planning a good nail care routine so that you'll be proud to show off your ring at a moment's notice to anyone and everyone.
9. Don't Announce With a Weird Engagement Selfie
Don't get fancy with the first photo of your ring. You'll have formal engagement photos taken later on. Just do something sweet and something that's "the two of you."
Here's a link to some of the best Instagram announcements we've seen: http://www.brit.co/instagram-engagement-announcements/
Tip: The best engagement selfies show both of you! Because if it's only your hand in the photo, it can easily look like you're "just showing off the ring."
Here's a cute one that could double as a "Save the Date" photo: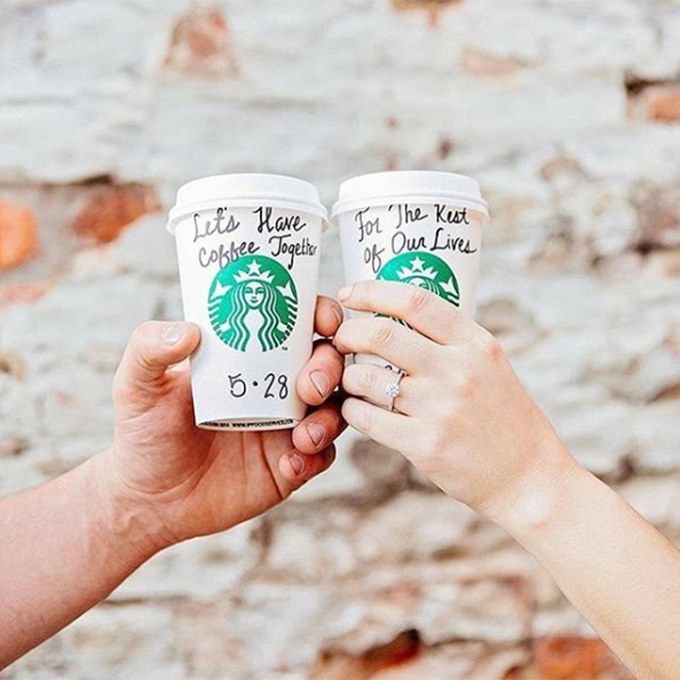 And this one is just about as sweet as they come: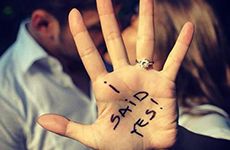 Which leads us to our very last engagement announce no-no:
10. Don't Announce in a Boastful Way—or Put Him Down  
We really don't have to spell this out. You've already heard other women bragging, so you know what not to say about the size of the stone or the setting or anything else. You also don't want to put your man down in any way. Let your girlfriends (or your parents!) be the ones to say, "Well, it's about time!"
In case he invites you along ring shopping, here's a little primer on The Four C's when it comes to diamonds: http://www.davincibridal.com/blog/choosing-diamond-rings-four-cs-plus-3/
You'll also enjoy this very informative blog about busting the biggest engagement ring myths that cause more problems than you can imagine: http://www.davincibridal.com/blog/top-5-engagement-ring-blunders-how-to-avoid-them/