Dresses, Wedding
Classic Contrast: 8 Bridesmaids Gowns with Black Lace Options
From interior design to artwork to high fashion, a touch of black is one of the most classic ways to "ground" a color scheme and weddings are no exception. If you think about it, with very few exceptions, wedding menswear calls for black shoes, so why not take that hint and add a little black to your bridesmaids' attire? Black lace over a contrast lining, subtle black lace straps or a full black lace back—all these touches add depth to your color scheme and can be picked up in hints of black lace in your decorations. Your bridesmaids will love you for it, too, because they can wear black shoes, one of the most surefire "wear it again" options there is. We've chosen 8 of our bridesmaid's dresses that incorporate different ways to add black lace. All are created with our signature quality fabrics and high-end construction, are amazingly comfortable and are most definitely affordable. Also, most of these designs are available for rush delivery at no extra charge, so if your wedding is right around the corner, you can still have chic dresses that look like you took months to design! Find all of our Bridesmaids dresses by clicking here. 
Additional Color Options
Of course, you can choose another color lace other than black! Most of our bridesmaid dresses come in more than 50 colors with about a dozen lace color options. The combinations are almost endless, so if you love the design but envision white lace instead—or ivory or teal or any one of our other lace colors—the dress is yours to design!
This otherwise unassuming A-line chiffon and lace sheath is made magnificently stylish with a full lace overlay bodice and a sexy slit skirt. The modest sleeveless scoop neck bodice consists of floral and leaf lace over a contrast lining while the full skirt falls from a natural waist and features a sexy off-center thigh high slit.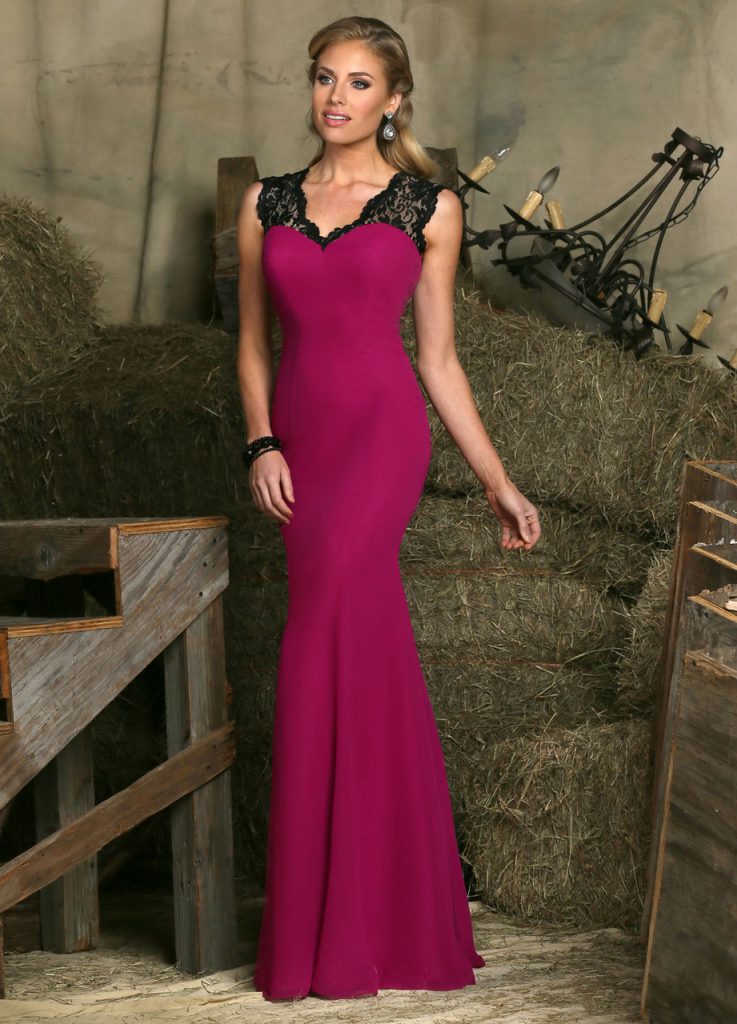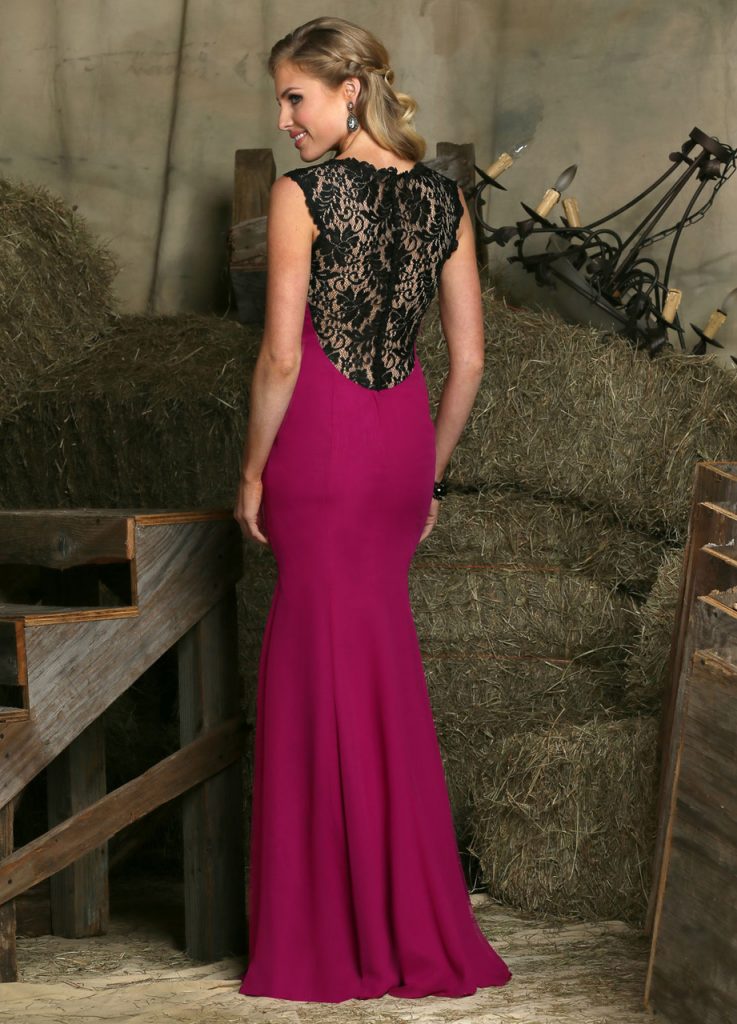 This figure-flattering A-line sheath combines the look of a strapless sweetheart gown with lace accents that create wide straps for a V-neck. The extra low cut back is made modest by a full lace panel while the skirt gently hugs the hips then falls to the floor in a delicate sweep train.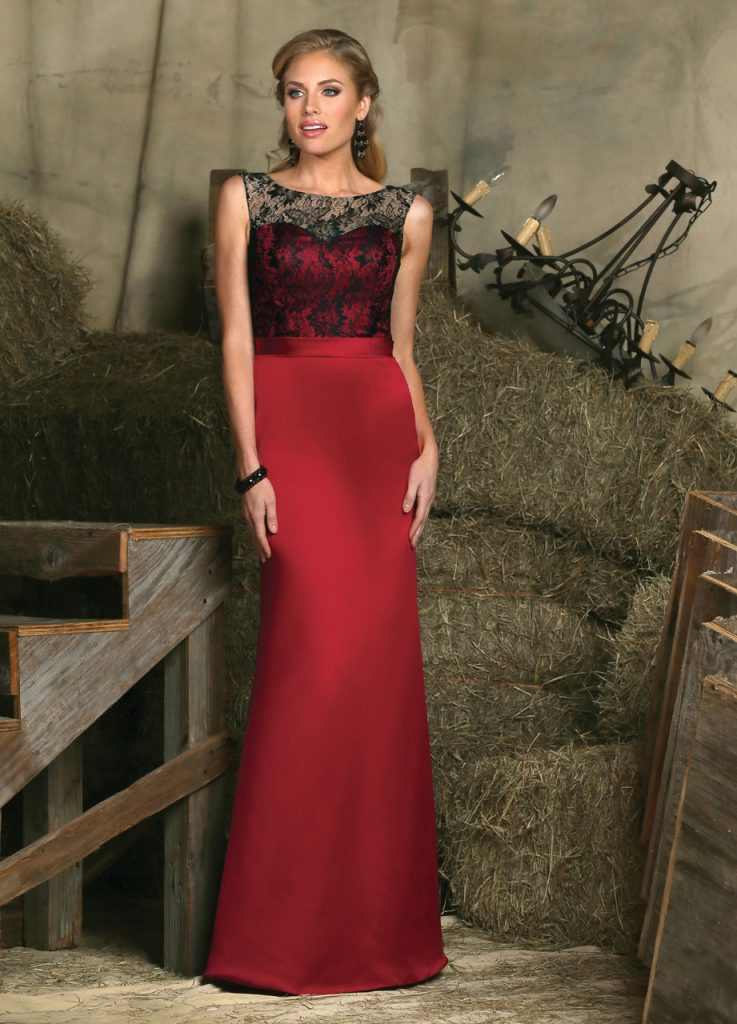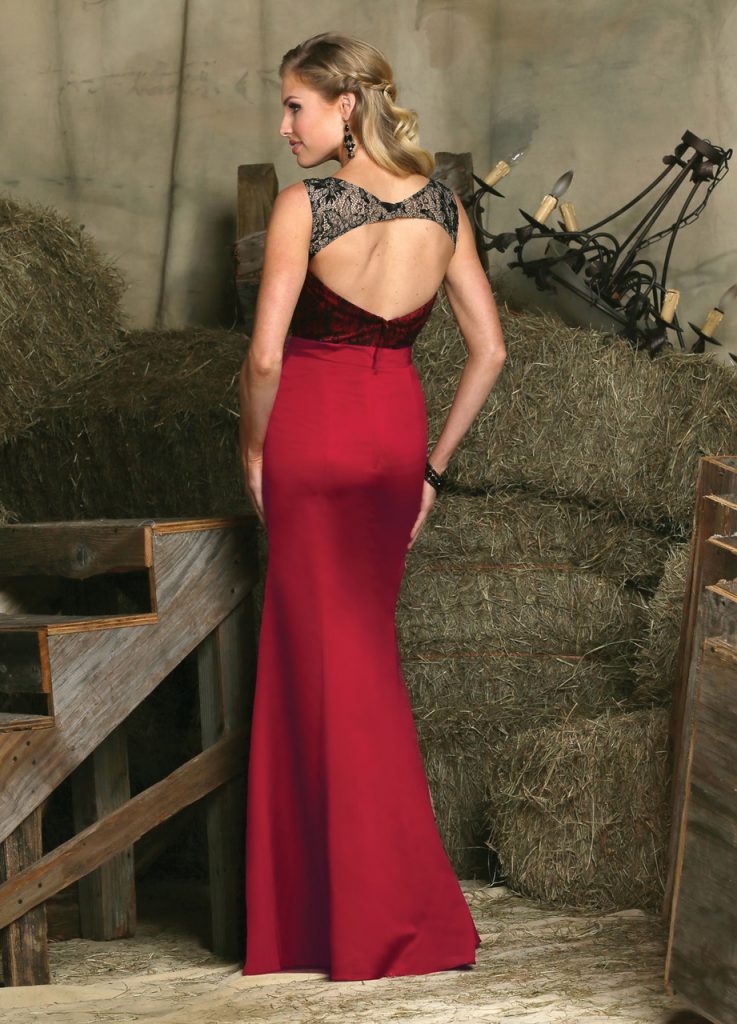 This A-line satin sheath features dramatic sheer lace over a strapless sweetheart bodice. From the front, the lace is fashioned into a wide bateau neckline for a modest touch, then splits at the back into a modified heart-shaped keyhole. The skirt falls from a natural waist, flaring just a bit below the hip and then ends at floor length.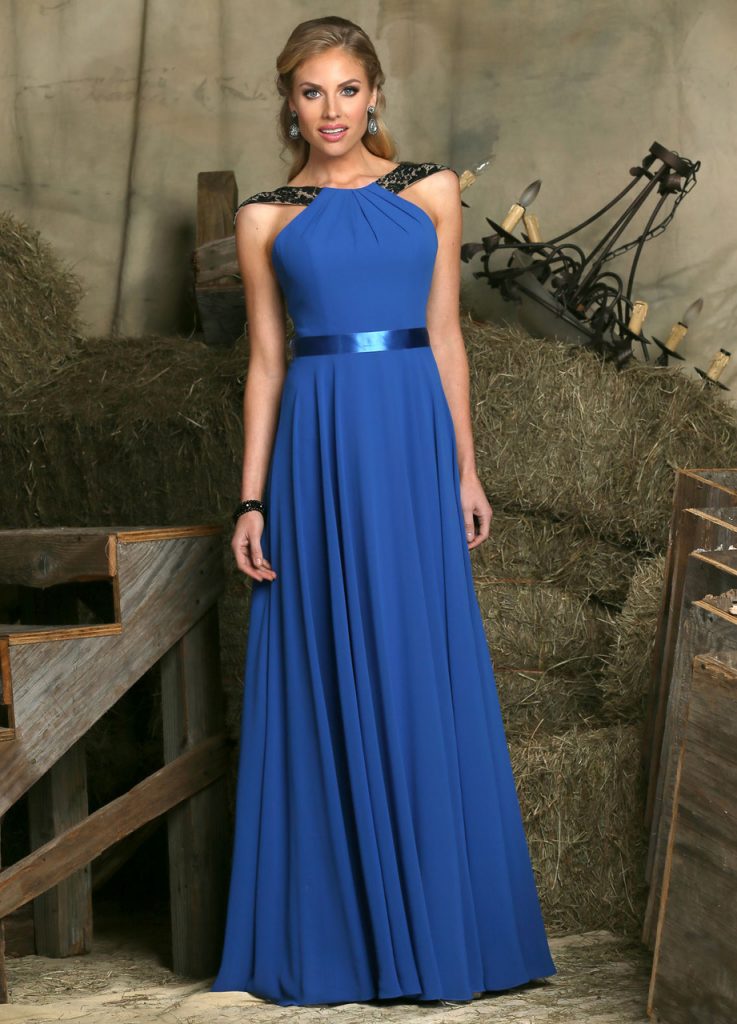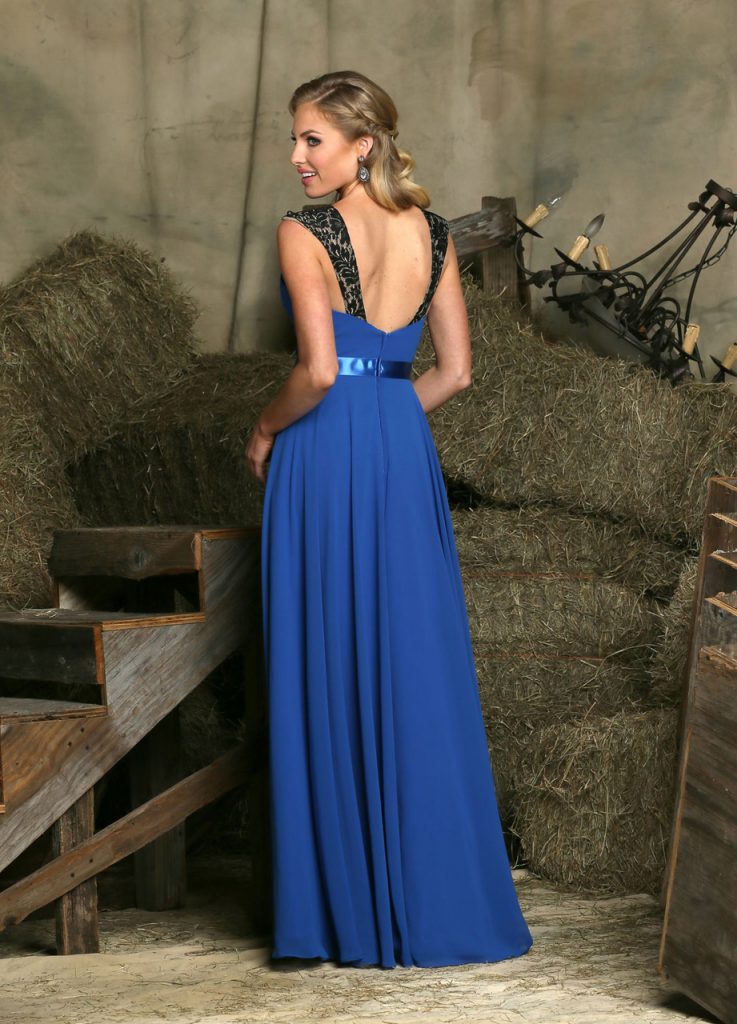 A playful A-line, this chiffon gown has a modestly high halter neck front bodice with lace straps that are set wide on the shoulder and then follow around to highlight the open scoop back. The full skirt falls to floor length from the natural waist that's accented with a wide satin ribbon waistband.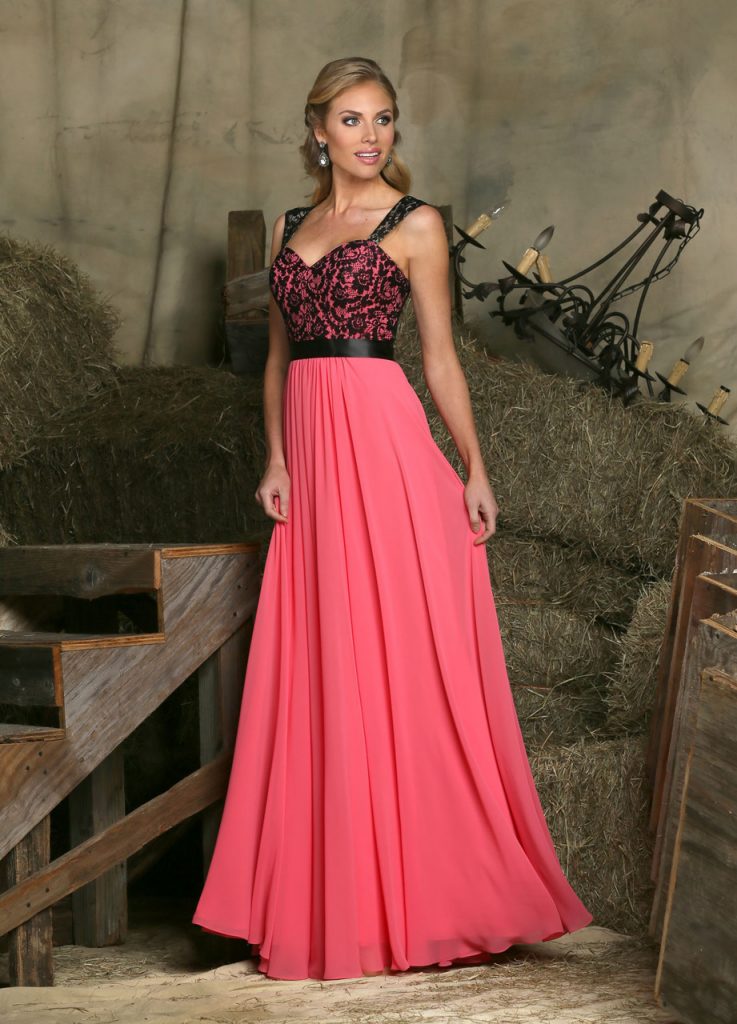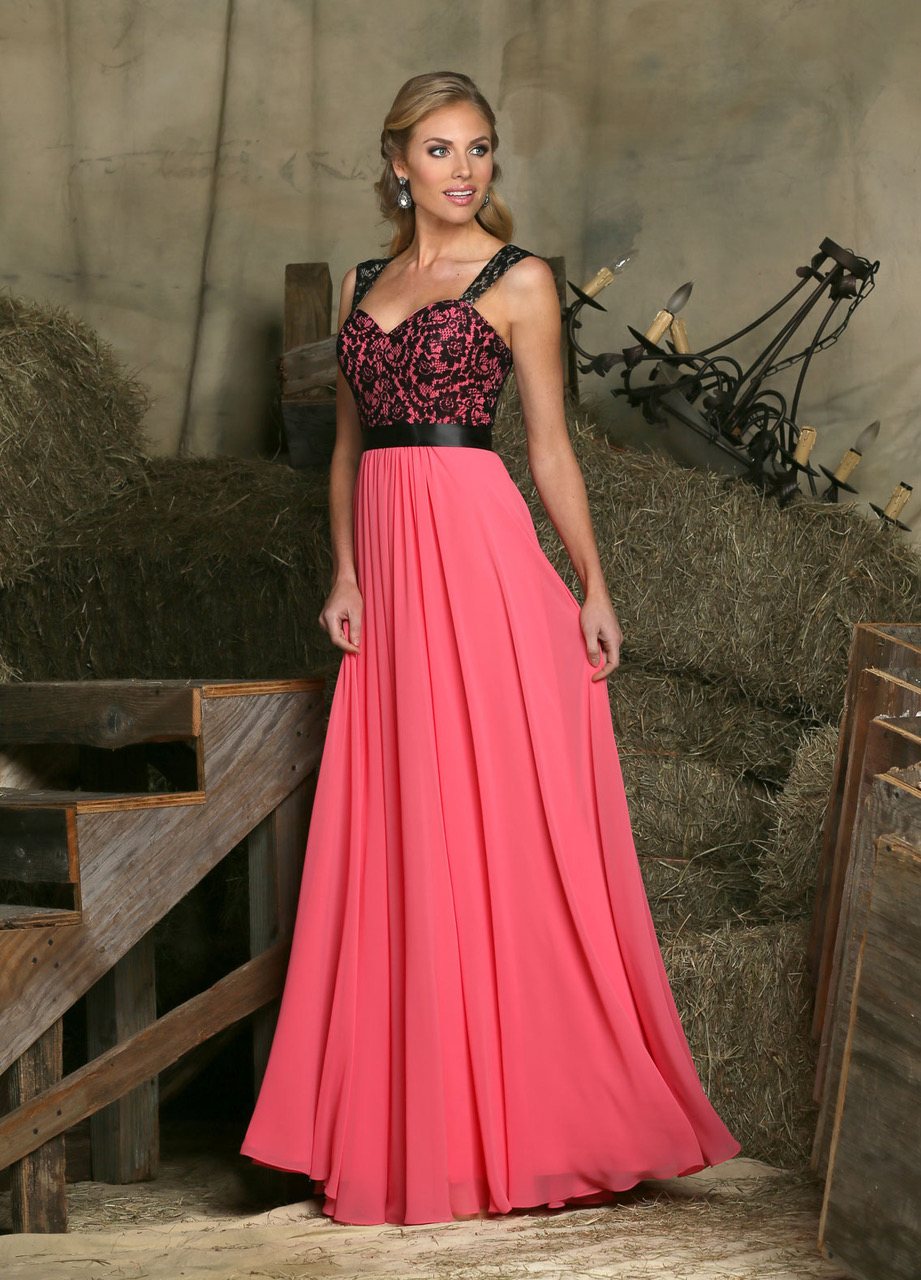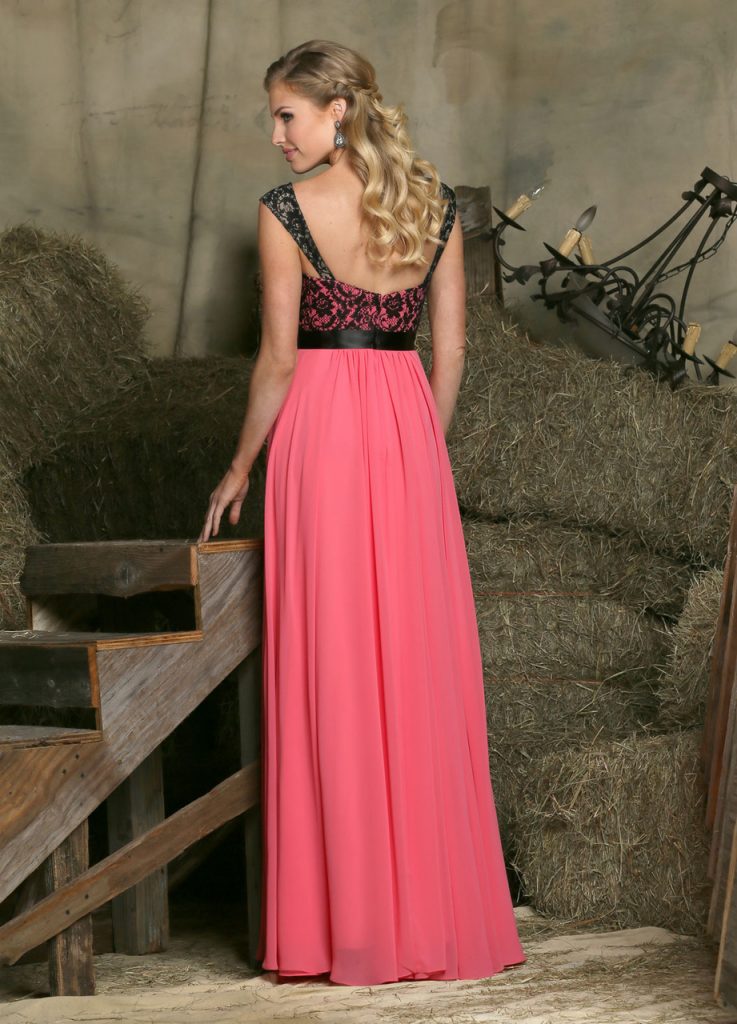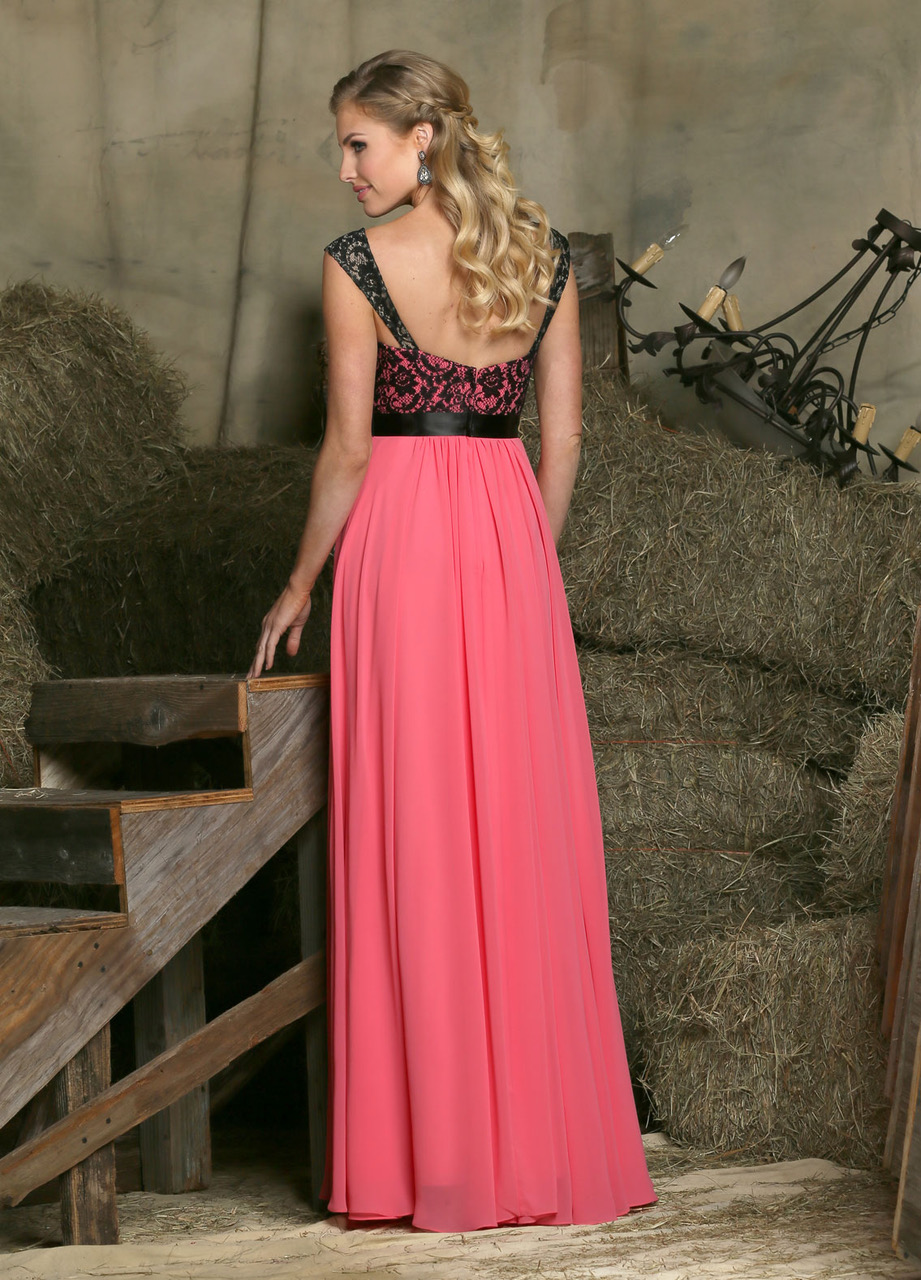 The demure sweetheart neckline on this lovely A-line gown is accented by a lace overlay and set off by lace straps that lead to a charming open back. The full chiffon skirt falls to floor length from a wide, ribbon-accented waistband and is gently gathered front and back for extra fullness.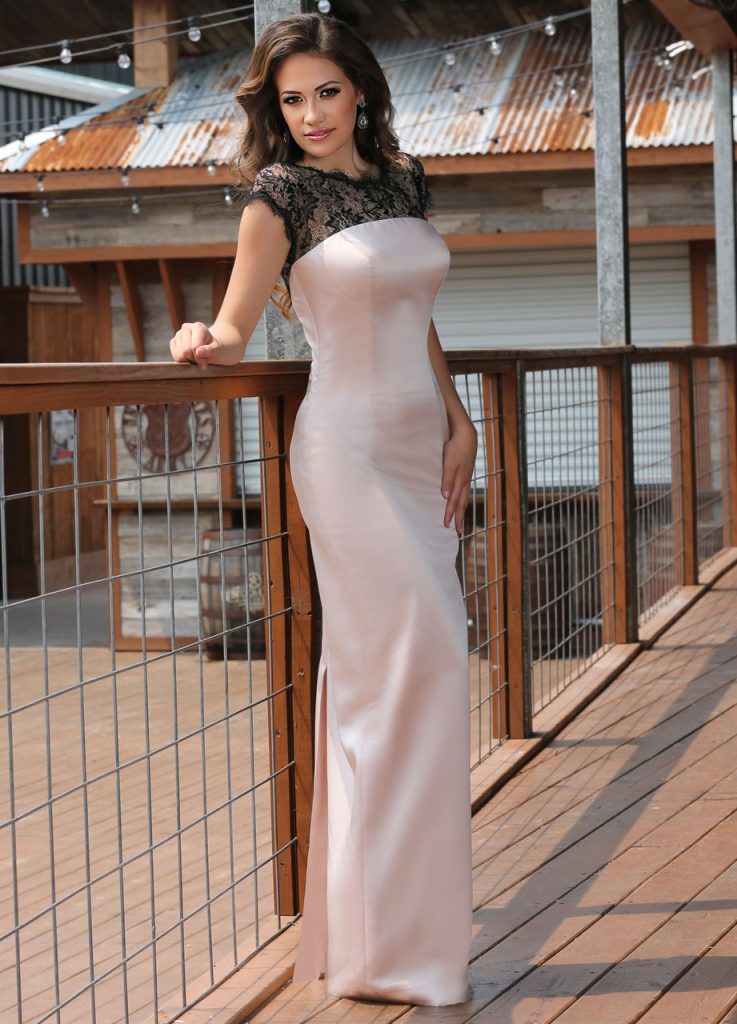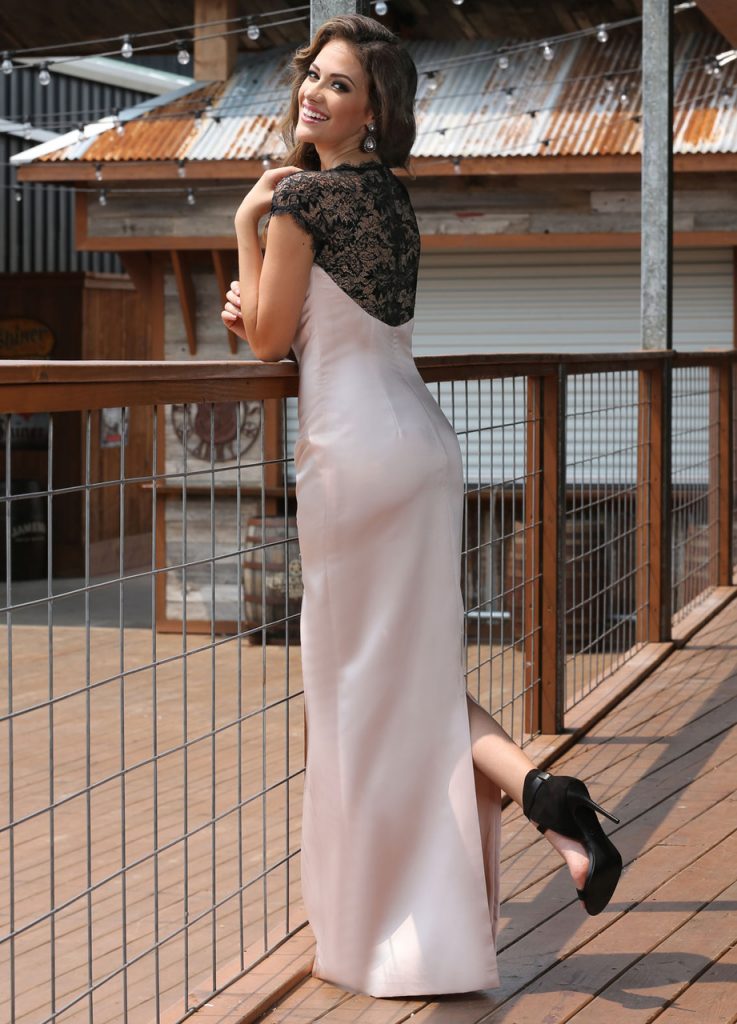 Chic and unique—the perfect description for this fashion-forward A-line sheath. The satin body of the dress features a straight across, strapless look neckline, a daring scoop back, and a sexy skirt with a knee-high center back slit. A lovely lace overlay creates a modest bateau neck that's cut wide to graze the shoulders and create a cap sleeve effect before filling in the scoop back with demure floral lace.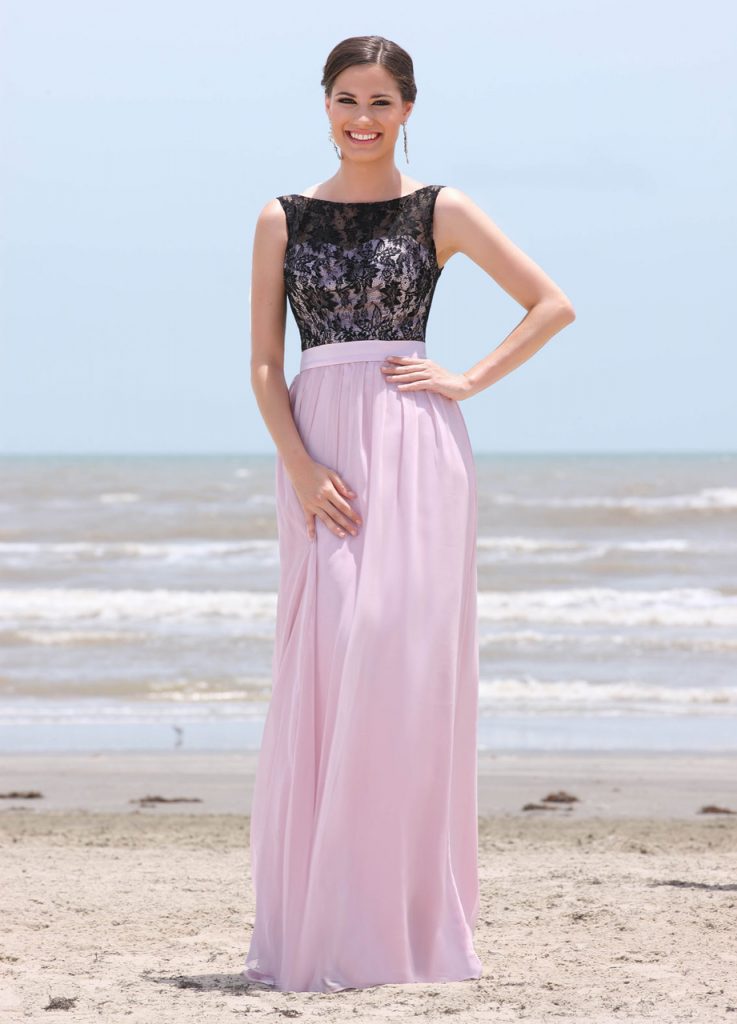 The bateau neck created by a contrast lace overlay adds just the right touch of comfort and modesty to this strapless sweetheart A-line gown.  The generously gathered chiffon skirt falls to floor length from a wide band at the natural waist.  
Of particular note: This dress offers  an amazing number of color combinations because you can choose from different colors for the dress, the lace overlay, and the underlace! Check it out here: CLICK HERE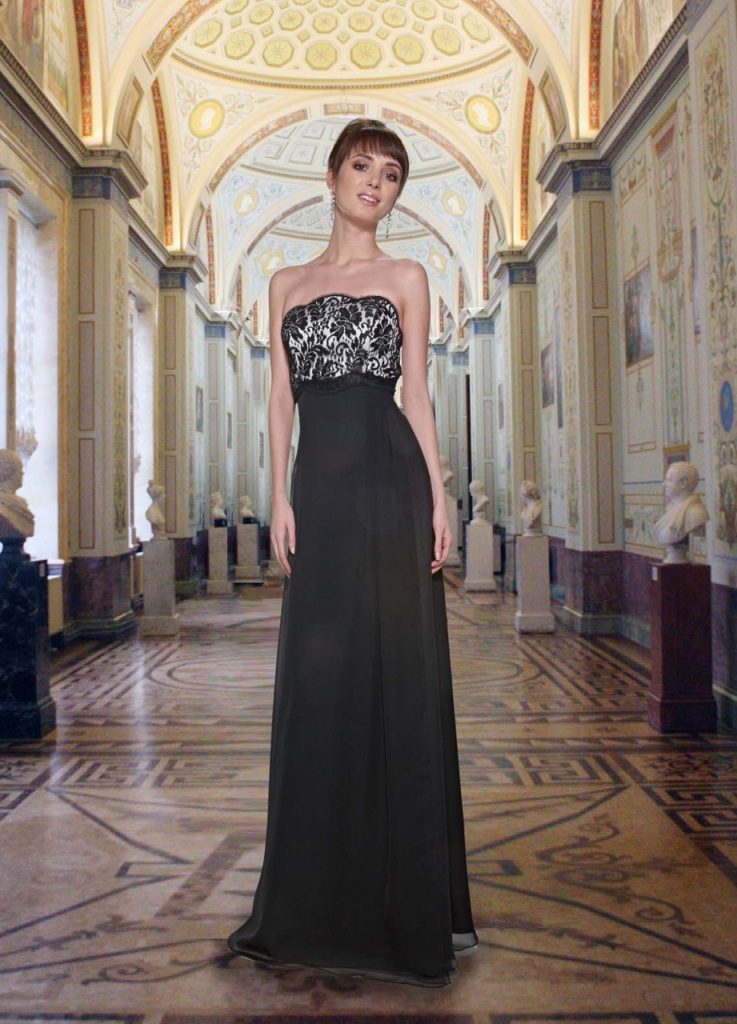 A stunning formal gown, this strapless A-line sheath features a unique bodice that's scalloped at the modest, straight across neckline and again at the empire waist. The chiffon skirt falls in soft, smooth lines to the floor length hem.
Looking for a lovely little number for your engagement party? Check out these fabulous dresses: CLICK HERE
And don't miss our brand new line of wedding gowns for 2017! You can see them all here: CLICK HERE