These stunning peony beauties will enhance your wedding day dècor and floral bouquets with their sweet-smelling fragrance and luxurious blooms + dense foliage.
How To Choose the Right Peony For Your Wedding Theme
Finding the perfect wedding flower that becomes the center of attention in your floral bouquets is key when putting together ideas for your wedding theme. It's more than just finding the right shade of pink or blush – it will define your bridal style and enhance aesthetics that will serve as a background for wedding photos.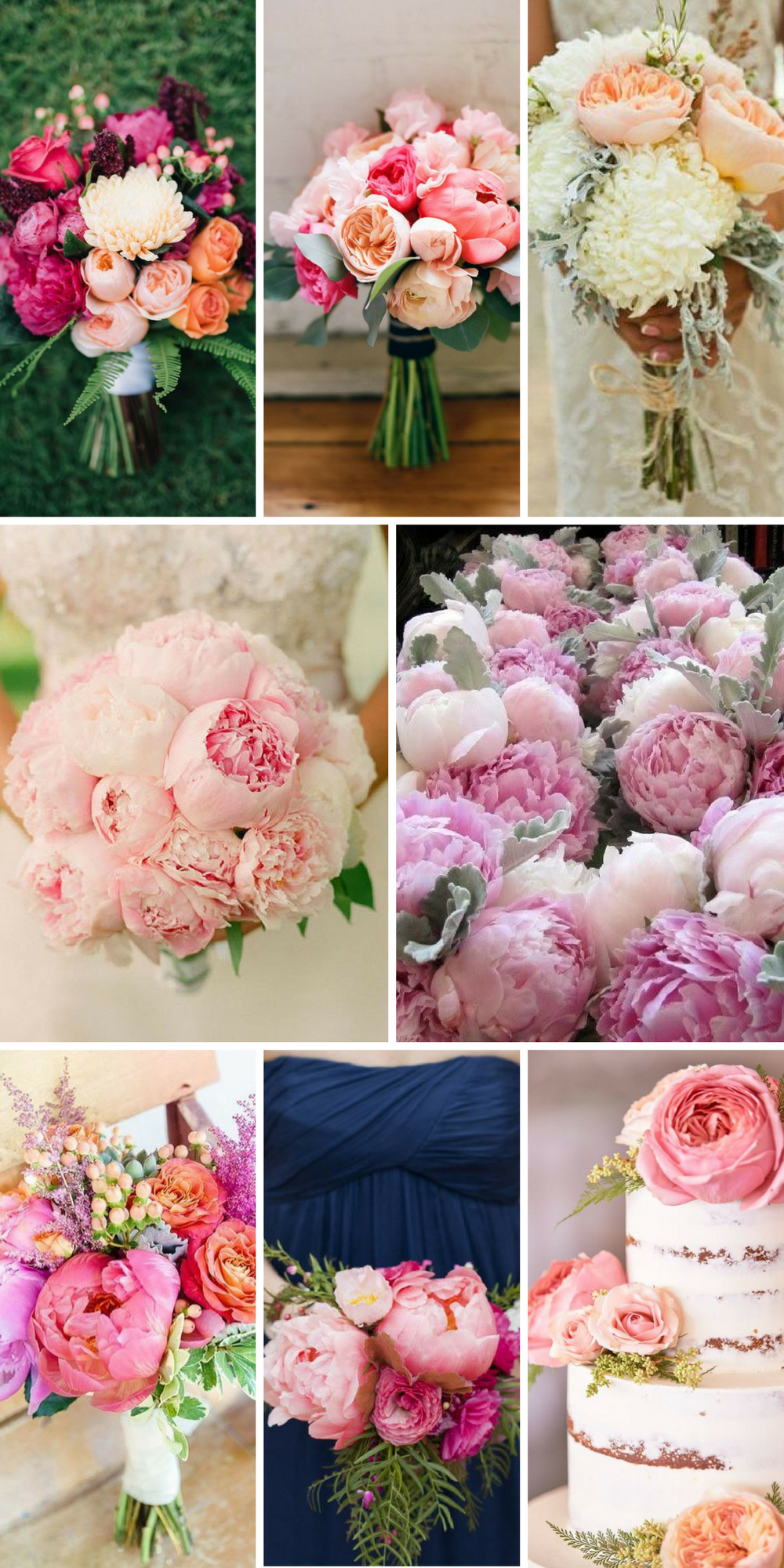 Peonies are one of the most luscious and distinctively fragrant flowering plants. Horticulturists claim there are 33 to 40 unique peony species and most are considered to be herbaceous perennial plants, yet some are woody shrubs. Many brides and event planners select these hearty blooms for floral designs because of their beautiful range of colors, the intoxicating scent of their floral delights & massive puffy buds.
Every variety of the genus Paeonia can be an option for unforgettable wedding flower decor. Use this guide below to decide which species of peony is right for your bridal style.
1. 'Krinkled White' Lactiflora Herbaceous Peony
This spectacular single peony has petals with slightly crinkled edges and a giant yellow pistil center.
2. 'Mon Jules Elie' Herbaceous Peony
This traditional variety is an old world winning species, winning awards since 1888 and the coveted Award of Garden Merit from UK's Royal Horticultural Society.
3. 'Shirley Temple' Herbaceous Peony
Gorgeous double white peony blooms infused with shades of soft pink has the perfect combination luxury and beauty for the perfect bridal bouquet.
4. 'Alexander Fleming' Herbaceous Peony
If you are looking for a deep apple blossom peony in perfect shades of bright pink, this double flower hybrid is the choice for you.
5. 'Henry Sass' Herbaceous Peony
Another full double flower bloom, this peony variety is loved for it's extremely large and fragrant white petals. Perfect for an all-white bridal bouquet!
6. 'Felix Supreme' Herbaceous Peony
This punchy bright pink peony variety is a well-known favorite for its range of fuschia blooms and frothy texture. The perfect accent flower for any bridal bouquet or arrangement.
7. 'Red Charm' Herbaceous Peony
Add these ruffled and crimson flower petals to the list of award-winning peony species with their full peaked centers and spicy-sweet fragrance.
8. 'La Lorraine' Herbaceous Peony
Fall in love with the 'La Lorraine' peony – its creamy white and blush petals are the perfect choice for your wedding bouquet.
9. 'Glory Hallelujah' Herbaceous Peony
This intense pink peony beauty blooms late in the Spring – Perfect for a May wedding.
10. 'Sea Shell' Herbaceous Peony
The "Sea Shell" Herbaceous peony features bright pink blossoms with a large orange pistil center and the perfect selection for an extremely fragrant wedding reception.
11. 'Sarah Bernhardt' Herbaceous Peony
One of the most popular species of Paeonia is the legendary 'Sarah Bernhardt' peony. It was initially bred in 1906 and named after a famous French actress from that era. You can never go wrong with featuring the 'Sarah Bernhardt' variety for your wedding day decor.
12. 'Raspberry Sundae' Herbaceous Peony
This luscious pink + blush ombre variety features double flowers with cream tones are perfectly paired with the Nemesia caerulea 'Compact Innocence' in white and the 'Compact Pink' peony species.
13. 'Pink Parfait' Herbaceous Peony
This peony species features giant double blooms, layered with pink and rosy cream petals.
14. 'Madame Emile Debatene' Herbaceous Peony
The stunning tufted pink center blooms into crowning double flowers, the perfect combination of fluffy and bright petals for a stand-out bridal or bridesmaids bouquet.
15. 'Lady Orchid' Herbaceous Peony
Soft, creamy pink double flowers that exude a delightfully light fragrance, these blooms are as classic and timeless – perfect for your special day.
16. 'Karl Rosenfield' Herbaceous Peony
Ruffled, deep fuschia double blooms look like fluffy bowls surrounding the bright yellow pistil center. These will really 'pop' against your white wedding dress.
17. 'Kansas' Herbaceous Peony
This rich carmine red double bloom peony variety is the perfect substitute for red roses. The 'Kansas' Herbaceous peony will create a bold statement in any floral arrangement!
18. 'Jan Van Leeuwen' Herbaceous Peony
Fragrant single blooms with satiny white petals and giant yellow pistil centers – an excellent choice to accent your floral bouquet.
19. 'Festiva Maxima' Herbaceous Peony
Another traditionally popular peony variety, the 'Festiva Maxima,' features huge white+ivory double flowers tipped with vivid crimson marbling and are extremely fragrant.
20. 'Buckeye Belle' Herbaceous Peony
This bountiful peony is a semi-double variety with velvety, dark crimson blooms features a unique petal balance – perfect for the wedding cake or even as a hair accessory for your bridesmaids. This show-stopper will command attention on your wedding day!
21. 'Bowl of Beauty' Herbaceous peony
Bowl-shaped, fuchsia-pink blooms surround fluffy tufts of creamy white petals; these are also highly fragrant flowers and are a great choice for an outdoor wedding.
22. 'Blaze' Herbaceous Peony
Reminiscent of a traditional hibiscus flower, this peony variety has ruffled red petals around a bright yellow pistil center.
23. 'Yellow Doodle Dandy' Itoh Hybrid Peony
Are you thinking about picking a yellow-themed color palette for your wedding? Pick the 'Yellow Doodle Dandy' hybrid that features large double flowers that expand up to 8 inches in diameter when in full bloom!
24. 'Sequestered Sunshine' Itoh Hybrid Peony
Another iconic choice, this peony variety features a unique, multi-colored pistil center that is reminiscent of a bold anemone center. Perfect for a green-themed wedding!
25. 'Pink Double Dandy' Itoh Hybrid Peony
This pink and lavender semi-double bloom is a relatively new hybrid variety that spans about 6 inches in diameter when in full bloom. Exceptional coverage for wedding table arrangements!
26. 'Kopper Kettle' Itoh Hybrid Peony
If you are looking for a suitable accent flower in a peach, ivory or blush wedding theme, select this salmon colored semi-double bloom variety that features a rare soft yellow pistil center.
27. 'Going Bananas' Itoh Hybrid Peony
Go 'bananas' for these colossal, sunshine yellow semi-double blooms with a spicy-sweet scent. Perfect for a trendy yellow-themed wedding.
28. 'Cora Louise' Itoh Hybrid Peony
These breathtaking and fragrant white double blooms reveal deep fuschia ombre that surround the soft yellow pistils. Another marvelous option to choose for wedding day flower arrangements.
29. 'Bartzella' Itoh Hybrid Peony
This bright yellow double bloom features a spicy scent and sturdy stems – an excellent choice for bridesmaids bouquets.
30. 'Julia Rose' Itoh Hybrid Peony
This pink ombre peony variety has deep pink edges and a tight fluffy pistil center in yellow which features extra silky petals and a deliciously sweet fragrance.
Need more help with wedding day flower choices? Check out these other helpful DaVinci Bridal blog articles on wedding flowers:
Photo Credits: